India's changing business ecosystem and all the Onboarding fiasco – The When, Whys, and Hows, has been only clear as dishwater!
Rapid changes have ushered in, with the advancement of technology. As a result, the contemporary market trends require companies to necessitate and plot their skill-demand prior to induction and work accordingly to take precedence in the economic spectrum.
For a quick instance, a candidate is recruited and walks in as the company's employee. Although hired with preferred potential, the firm realizes that there's a dire need of a few months of training before the respective deployment for the candidate. This is when India's skills gap hits, right where it hurts. Here, onboarding comes as a long row to hoe, especially for the staffing and recruitment firms. Now, what browbeats this whole issue all the more is – With new onboards every day, how will India's skills gap manifest itself?
Simplilearn, one of the world's leading online training providers for digital economy skills, in close collaboration with People Matters, have come forth to solve these challenges, with their joint research study on 'Trends & Best Practices in Onboarding'.
Key Insights:
93% of companies have a formal onboarding process.
61% of companies indulge in different induction programs, meant for freshers as well as lateral hires.
Out of all programs meant for Onboarding, Orientation programs account for 70%, Day 1 organization experience accounts for 80% and employee engagement training like projects and mentoring sessions account for 68%.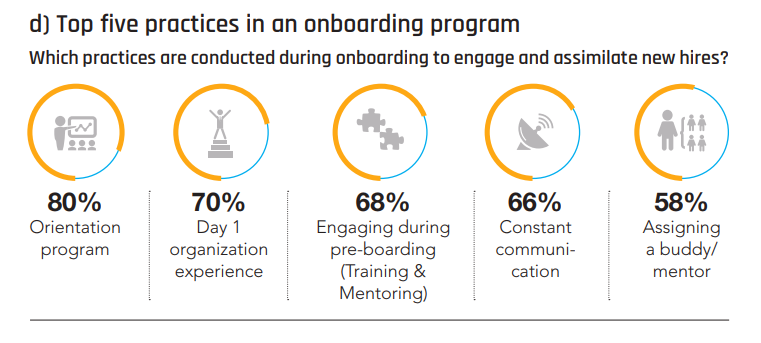 Among the many challenges posed during Onboarding, getting new hires surge to 44%, the involvement of managers accounts for 44%, while learning engagement activities go up to 42%. However, even with such onboarding programs, the satisfaction space of these companies lie at a rock-bottom level of 27%.
Onboarding – A Formality Rather Than a Key Strategy?
According to the report, technologies like could computing, A.I., automation are redefining conventional processes and giving an about-face to the traditional onboarding process.
The incorporation of technology in India's onboarding scenario hasn't yet made a grand entry into the Indian landscape. A staggering number of 76% of the companies stated that they do not have any dedicated onboarding technology solution.
The areas which, however, incorporate considerable technological solutions across onboarding programs include orientations which stagger at 57%, pre-boarding communication accounts for 46%, first day experiences accounts for 45% and lastly, expectation management and other relevant training lying at 44% and 36%, respectively.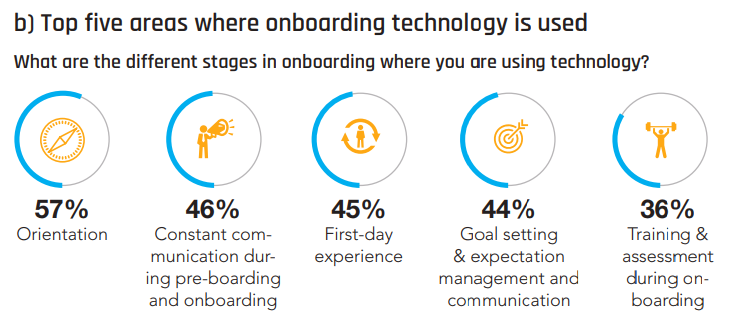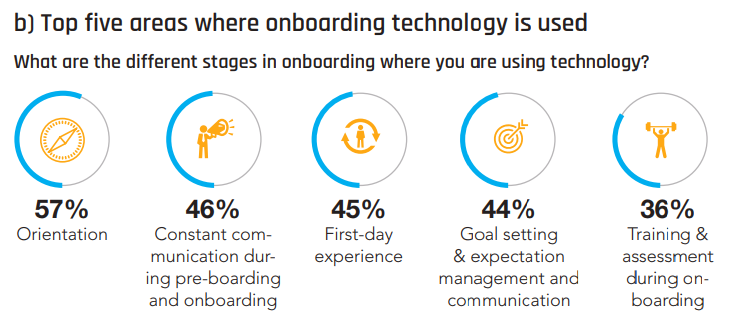 Owing to the changing business dynamics, organizations need to start skilling processes right when new hires pep up for joining the firm. To be on the safer side, Onboarding should start as soon as the campus hire accepts the offer.
Happy Hires; Peppy Productivity!
"Onboarding offers a great opportunity to augment competitive advantage by creating a committed talent pool that gives the desired performance. It remains an untapped area of creating an impact to the bottom line." – Ester Martinez, CEO and Editor-in-Chief at People Matters.
Bringing a best possible onboarding process into being is crucial and companies need to address it soon; given, its 'hanging by a thread' condition! First and foremost, the faster an employee onboards, is up-skilled (if necessary) and sent for deployment, the sooner the company can pocket in benefits.
What appears novel, as of now, is the idea of onboarding and the conventional thinking revolving around it. No, it doesn't take place at specific moments in an employee's career. And certainly, it isn't limited to just those first few days of induction. As a matter of fact, it unfolds itself as one end-to-end process.