The Social Media leviathan, Facebook Inc. (NASDAQ:FB) recently released it's earnings results for Q2 2018 and seems like, it is neck-deep in hot water!
The air around Facebook cannot be under wraps for a long time, given its public esteem. Facebook witnessed disastrous earnings for the second quarter of this year. With the deceleration in revenue growth and outpaced results, intense headwinds have been slowly eroding Facebook's foundation.
Facebook revenue in Q2 2018 clocked $13.2 billion, registering $5.1 billion in profits, although user growth for the quarter slowed down. To be thoroughly put, Facebook reports 2.23 billion MAUs (Monthly Active Users) at the end of Q2 2018, while DAUs (Daily Active Users) reached 1.47 billion, an 11 percent YoY increase. However, taking the geographical spectrum into consideration, there have been highs and lows in terms of revenue and user growth. Being wiped out of $150 billion within a day doesn't come any gentle. Despite, the undisputed forerunner of Social Media survived the blow, even if lands off-balanced.
Reportedly APAC regions have high user base but Facebook's ARPU (Average Revenue Per User) stands low. While Facebook's average revenue per user in the US and Canada region stands at $25.91, in Asia-Pacific it stoops as low as $2.62.
With such a situation, Facebook is threatened with a two-pronged problem. The company has to ensure more money from emerging economies, which boast of a higher number of users. At the same time, it has got more users involved in developed economies, which will guarantee further profit subject to ARPU.
A Stunted User Growth in APAC:
The company has still got its trump card in possession! A whopping gauge of Monthly Active Users which stands at 2.23 billion and predicts a steady growth in the Asia-Pacific region.
Worldwide Daily Active Users of Facebook go up by 11 per cent, as compared to last year and now stands at 1.47 billion. In the APAC region, advertising revenue was up more than 10 percent sequentially and a whopping 47 percent from a year ago.
Daily active users in the US and Canada remained quite stagnant for the first quarter of this year with 185 million user base. However, in the APAC region, Facebook's DAUs grew from 529 million in Q1 2018 to 546 million in Q2 2018.
Again, European users shrunk drastically, from 282 million to 279 million.
Overall DAUs grew to 1.47 billion, up from 1.48 billion.
Facebook's Revenue in APAC Hits Stonewall!
Losing money comes a hard blow for Facebook! Europe has a significantly stable market for Facebook.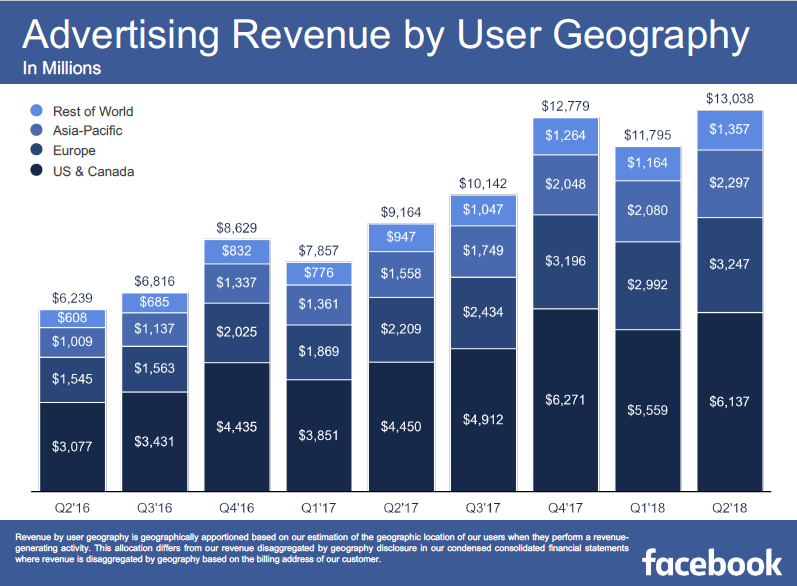 This is how much Facebook makes per user in its biggest markets:
US: $6.137
Europe: $3.247
Asia: $2.297
Europe, despite the fact that it is smaller than Asia-Pacific in terms of user-base, brought in more revenue. The region contributed $3.2 billion in revenue, versus approx. $2.2 billion by Asia Pacific.
Why Such Lopsided Equation?
Given the high user base, it is quite unlikely that Facebook's revenue growth is at a stall. Industry experts believe that the revenue growth will further slow down and operating margins will go narrow since expense is thriving.
The whole Cambridge Analytica fiasco and the increased zooming on privacy concerns lead to lower advertising revenue on privacy and security, which could also lead to lower advertising revenue.
The social network's ad growth engine, heading-in on with disruptions appears as one lucrative market. As per market experts, even if the stock does not bounce, Facebook is still a great investment. With strong user-engagement and advertisers, it can still garner in a hefty amount of revenues.
With significant issues being addressed as of now, how about imagining a social-media platform where resources matter to purchase privacy and other requirements? This will directly converge with the overall growth of any developing or developed economy – Be it Revenue or User.