What is the whole brouhaha around server-less computing and containers all about? Well, The quarterly report, titled as Currents, by DigitalOcean seems like providing a wisecrack here!
The June 2018 "Currents" report on trends among developers shows a boost up in container adoption. In addition to this, it also underlines the retention drive that developers seek from their jobs and the importance of boot-camp participation.
A method of operating system virtualization to run any application and its dependencies in resource-isolated processes is called Container. Containers play an important role in deploying the application quickly, reliably, and consistently regardless of deployment environment.
JavaSript: Most Popular Among Developers
Containers having started off with force, is now well-heeled, with 49 percent of developers working on it. As of now, containers are becoming a go-to tool for developers since it has been through rapid advancements, both in technology as well as management domain.
The easy accessibility, scalability and simplification to test application are the top two reasons behind the increasing popularity of Containers. 39% of people participated in the survey rate scalability as the topmost beneficial aspect of Containers.
Among those 49 percent developers using containers, JavaScript is the most popular language to be used, standing at 57 percent. It positions ahead of other languages like Python, PHP and Go which stand at 46 percent, 36 percent and 28 percent respectively.
About 60 percent users claim to be incorporating containers in both testing and development, while about 78 per cent who don't use containers now, plan of incorporating them soon.
The latest report, dubbed as the fourth edition of Currents, surveys about 5,000 respondents from around the globe. The survey incorporates data revolving around the respondents, the tools they employ and the challenges they face.
Is Serverless Computing Misunderstood?
The report also identifies the adoption patterns and challenges with Serverless Environment. Serverless computing, as of now, lies at the most rock-bottom layer of adoption. The DigitalOcean report states that of the many challenges a serverless computing poses, one of the biggest is monitoring and debugging.
Delving deep into the report, one can say that the developer base is parted in two units if server-less computing knowledge is kept in context. One half has a full-fledged understanding of the subject, while the other half is at zero level. Hence, the conclusion can be drawn that unlike container technology, server-less computing is at a prior level.
81% of those respondents who don't understand what Server-less technologies are, plan to do enlighten themselves with further research about it, states the report.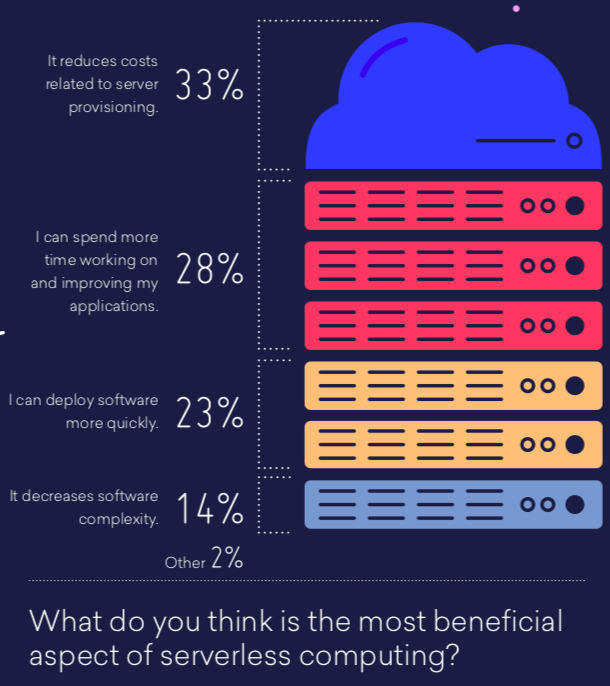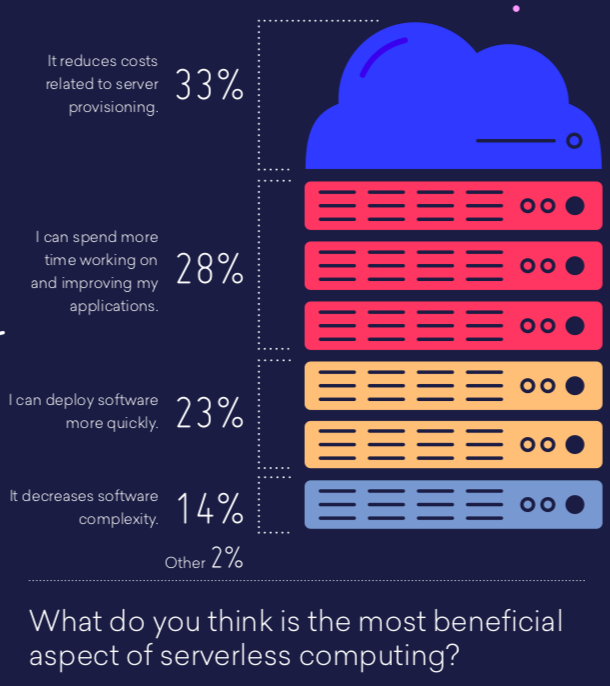 Interestingly, those who understand server-less computing find Cost Reduction and Less Time Required to Manage Server the two major benefits of adopting server computing environment. Interestingly 23% states that in server-less computing they can deploy their application more quickly as compared to the standard environment.
Additionally, server-less computing stands witness to age-related split among respondents. Users between 18-24 years of age have trouble in depending on a third-party provider, while the users between 55-64 years report migration complexity as the biggest challenge.
India Prefer Serverless Environment
Despite the fact that 67% of developers who participated in the survey didn't deploy any application in the serverless environment in the last one year, developers in India bet on Serverless environment more than any other country.
43% developers from India said they have deployed at least one application in a serverless environment in the last one year, which is the highest percentage as compared to 35%, 32% in the US and Canada, respectively.
Serverless Platform: AWS Lambda Dominates
DigitalOcean study also highlights the preference of people when it comes to Serverless platform and AWS Lambda emerges as an undisputed leader in this space. A whopping 58% of people said they use AWS Lambda as compared to just 23% who prefer Google Cloud Functions. Surprisingly, only 10% of respondents use Microsoft Azure in a serverless environment.
The findings of the report clearly indicate the challenges and fast-changing pattern in developer arsenal. Containers are becoming more popular with each passing year, but on the flip side, the adoption of Serverless technologies is at a very nascent stage. Littel over two-third of the developers, participated in the study from the US, Canada, UK and India, haven't deployed any application in the serverless environment in the last one year. Probably challenges related to Debugging and Monitoring in Serverless environment is keeping a majority of developers away from the adoption. With such invaluable findings out in the light, we can only hope that companies will soon iron out such challenges to make serveless environments more adorable for developers.