Huawei – the world's third largest smartphone manufacturer – is showing a remarkable growth in its smartphone sales. Recently, Honor, Huawei's sub-brand for the entry and mid-segment smartphone market, had sold 3 million units of Honor 10 in just a couple of months of its launch. And now during a recent launch event of Nova 3 in China, Huawei CEO Richard Yu announced that the company has sold 100 million units of smartphones in just little over six months of 2018. This is undoubtedly a record-breaking sales growth witnessed by the company ever.
Interestingly, Huawei has still five months to achieve its target of selling 200 million devices before the year ends. That's an increase of 47 million from 2017. The company is aiming to overtake Apple and Samsung, both, in the coming years.
During the event, Yu said that Huawei's mobile sales have grown 51 times in the last seven years.
100 Million Sales Cycle: From 12 Months to 6 Months
Way back in 2015, Huawei took almost 12 months to sell 100 million devices. The next 100 million sales came in less than 10 months (14th October 2016) and the following sales of 100 million units took just nine months (12th September 2017). This year, the company took just 6 months and 18 days to sell another 100 million devices – the fastest growth in the recent years. And with half the year is still left, the company has no intentions of stopping and aims to double this figure by the end of the year.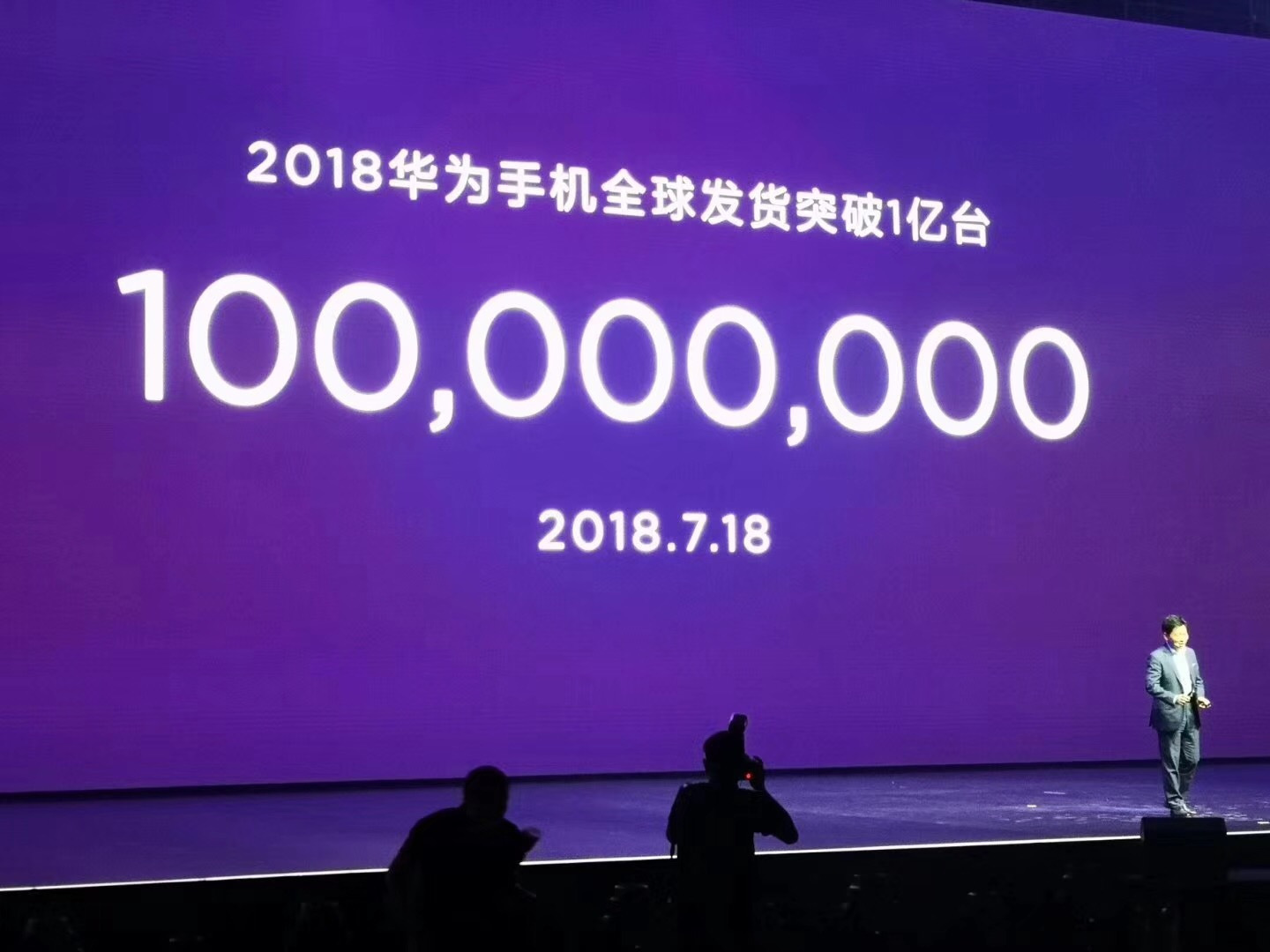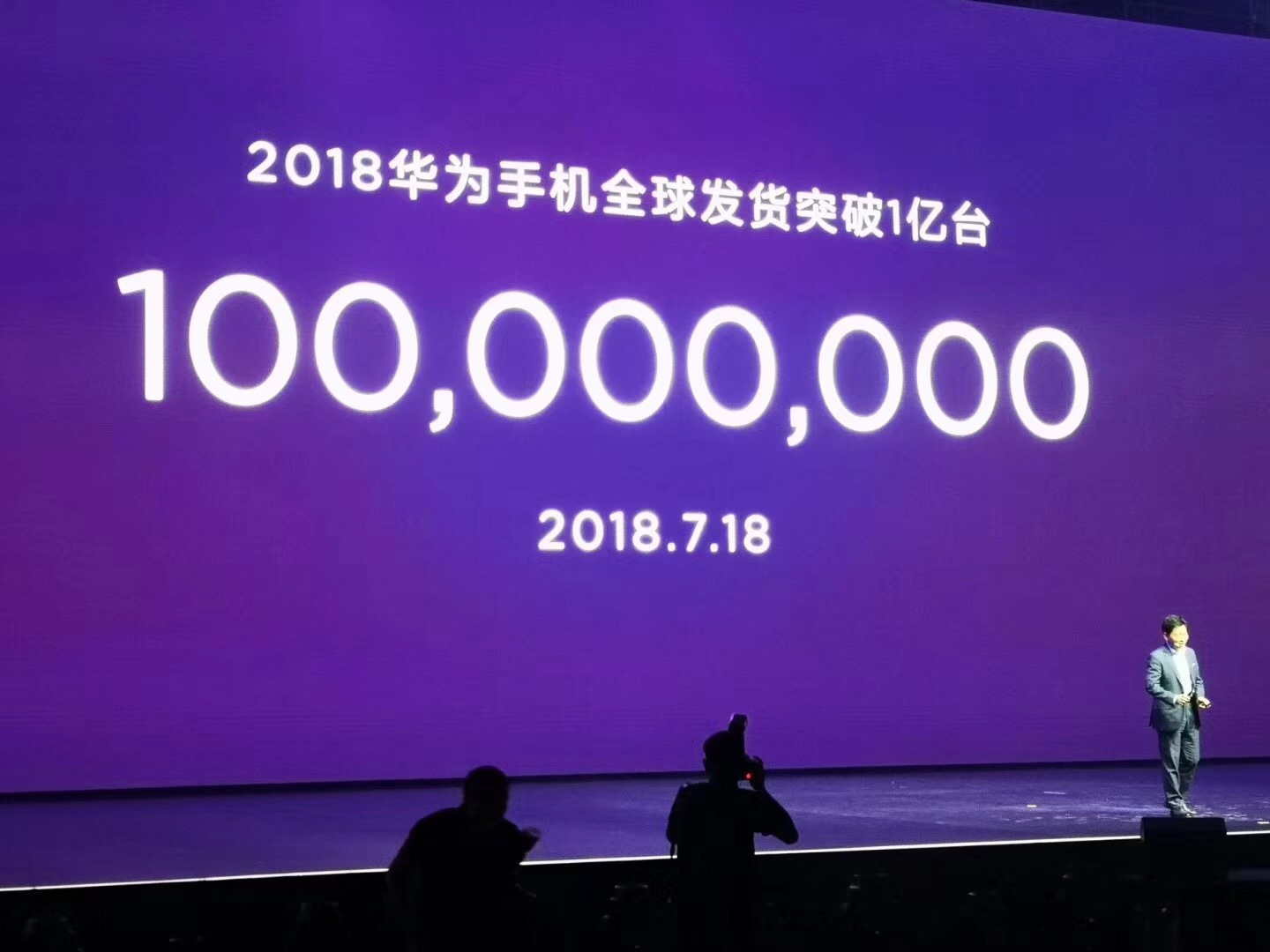 The credit, largely, goes to the sales of the latest P20 models, which helped Huawei driving the overall shipments up 81% YoY in less than three months of 2018. Huawei sold 6 million units of P20 and P20 Pro, combined, within just 3 months of its launch. Huawei P20 Pro has successfully grabbed the attention of a lot of people due to its triple lens camera setup.
Huawei aims to join the league of top smartphones brands and be counted with the likes of Apple and Samsung. In 2013, when the company emerged as one of the major phone vendors due to the popularity of its P series phones, Yu set its target to overtake Apple and Samsung within three and five years, respectively. Since then, Huawei has been aiming to become the world's largest smartphone vendor, globally.
Huawei Aims To Join Apple On The Top
In 2017, Apple sold 215.8 million iPhones, worldwide, with a negligible 0.2% YoY growth. On the other hand, Samsung sold 317.3 million units of smartphones, with 1.9% YoY growth during the same period. When both the leading smartphone brands were struggling with a minimal growth in their smartphone sales, Huawei had seen a significant 9.9% YoY growth in 2017, to 153.1 million devices shipped, globally.
Looks like in 2018 also, the growth of Huawei will remain strong, which is evident by its reaching the 100 million marks within six months of this year itself.
To put things in perspective, Apple sold 52.2 million units of iPhones, with a small 3% YoY growth in Q1 2018. During the same time, Samsung sold 78 million units of smartphones, with a decline of 2.5% YoY. Meanwhile, Huawei registered a significant 14% YoY growth in smartphone shipments in Q1 2018, even though growth in its home market was showing signs of slowdown considerably.
Huawei's mobile chief Richard Yu Chengdong announced their goal to reach 200 million sales by the end of 2018, along with launching their mid-range smartphones Nova 3 and Nova 3i. Zaker Li, a senior industry analyst with IHS Markit in his talks with Morning Post said that Huawei's smartphone sales rose in the second quarter owing to sales in the Southeast Asian markets, especially India.
"Given that the second half is normally the peak season for smartphone sales as major brands will all release their flagship phones, it will not be difficult for Huawei to exceed 200 million units of phone shipments if it has already completed half of that now," Li said.
If Huawei is able to reach its goal of selling 200 million smartphones by the end of 2018 the company will move closer to becoming the largest smartphone vendor in the world, the title currently held by Apple which had sold 216.76 million smartphones last year. Only time will tell how good Huawei's will perform in the coming two quarters and if the brand could achieve the target it has set for itself. Till then, we will have to wait and see how innovative Huawei could be with its smartphones to impress the consumers.