There are over 3.5 billion smartphone users worldwide, who have over 7 million apps at their disposal. Many of these applications seek permission to access our location, calls, camera and many others. Most of us are not comfortable with exposing none of our personal information though, to ease out various essential tasks in our daily life many times we end up allowing few apps to have access of our personal information, such as call records, phonebook, location, etc. But, given a choice, which permission app users are generally not comfortable with sharing? We'll tell you.
As per a recent study by Kaspersky Lab, there has been a sharp rise in the number of consumers having a lot of concerns regarding the trackability of their online footsteps. Statistically, 61% of the people are uncomfortable with sharing their location information with websites and applications. This number has escalated significantly in the past few years, considering that the percentage of such people was only 39% in the year 2016. Apparently, this percentage has increased owing to the awareness in the people regarding cybercrimes and misuse of data.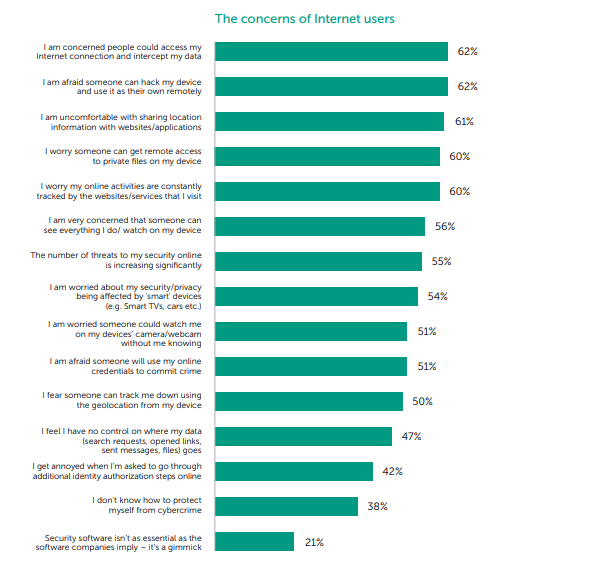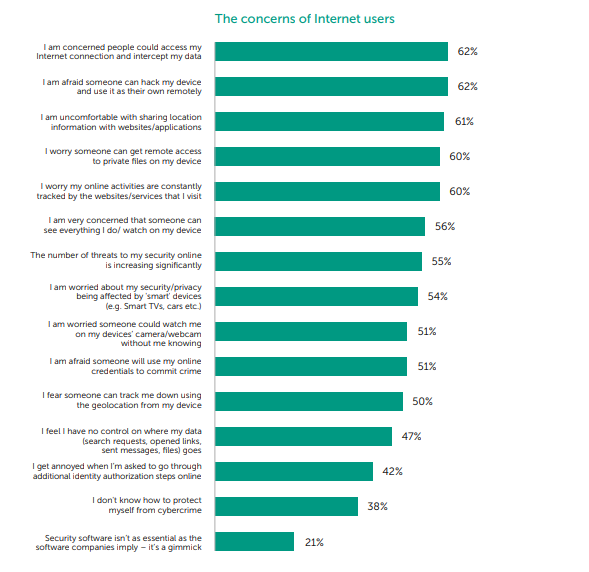 People Can't Stand the Thought of Being Watched
The report also reveals that almost 56% of app users feel unsettled to know that there could be somebody who can witness everything they will do or are doing – or instead watch their activities on his/her device. Not only this, almost the same number of app users (50%) fear that they can be traced and tracked by somebody through their geological information from their device. This fear results in discomfort among people while sharing their location.
Mobile apps have become an integral part of our life which revolves around them yet giving them certain accesses can make us uneasy. This was also stated by Dmitry Aleshin – Vice President for Product Marketing at the Kaspersky Lab.
"Apps have become an important part of our day-to-day lives. We use them for everything – from editing photos to updating our social media accounts, or from playing games to booking a table at a restaurant," says Aleshin.
Are We REALLY Taking Any Safety Measures?
However, our love for apps is limited until they do not intrude our privacy. The Kaspersky report depicts that in spite of drooling over all the new and old applications, app users don't necessarily trust them. This also might be a good thing, as it unveils that app users are certainly becoming more concerned and switched on about the apps tracking their online activity.
Nonetheless, they are actually not putting measures in place to protect themselves from any significant dangers that otherwise might occur. Aleshin further mentioned that these risks and problems can be avoided by following some easy security measures.
We have no idea of how much of our personal information is accessed by these apps. According to the Kaspersky research, 83% of Android apps have access to their users' personal data. Shockingly, 96% of such Android apps can launch without the permission of the user.
We cannot totally restrain apps to have access to our sensitive data, but we can surely be more aware and follow a few preventive measures. Unfortunately, that is not happening. People are averting the data safety or privacy measures that could be of great help. For an example, 47% of the smartphone app users confessed that they don't keep a check on the permissions of their preinstalled mobile apps on their Android and iOS devices, which is a huge mistake. Moreover, almost one in five people (calculates to 21%) don't care enough to check permissions while downloading or installing new applications in their mobile phones.
Because of all this, mobile users are increasingly concerned but remain unprotected from potential data leakage. Prevention is better than cure, so let us become aware and protect our data before we become a victim of cyber-crime!