Apple Inc. (NASDAQ:AAPL) is celebrating the 10th anniversary of its highly popular app platform – App Store. The App Store was launched on 10 July, 2008 with just 500 unique apps. In the last 10 years, the number of unique apps on App Store has increased to over 2 million. Consequently, Apple App Store is slowly turning into a battleground for app developers who leave no stone unturned to get their app among the list of top iPhone apps. Numerous iOS app developers have spent a lot of time and efforts to get the privileged 'No 1' spot on the App Store. As a result of this ongoing competition, we have seen a number of apps secured – and falling down later – the top spot on the App Store in the last eight years. Sensor Tower App Intelligence data shows that since 2010, almost 30,000 unique apps have secured the top rank, summiting the free, paid, or top grossing ranking in at least one country.
Let's have a look at top iPhone apps have bagged the top rank on the Apple App Store for the most time in separate categories.
Top Free iPhone Apps: Messaging Apps Rule The Roost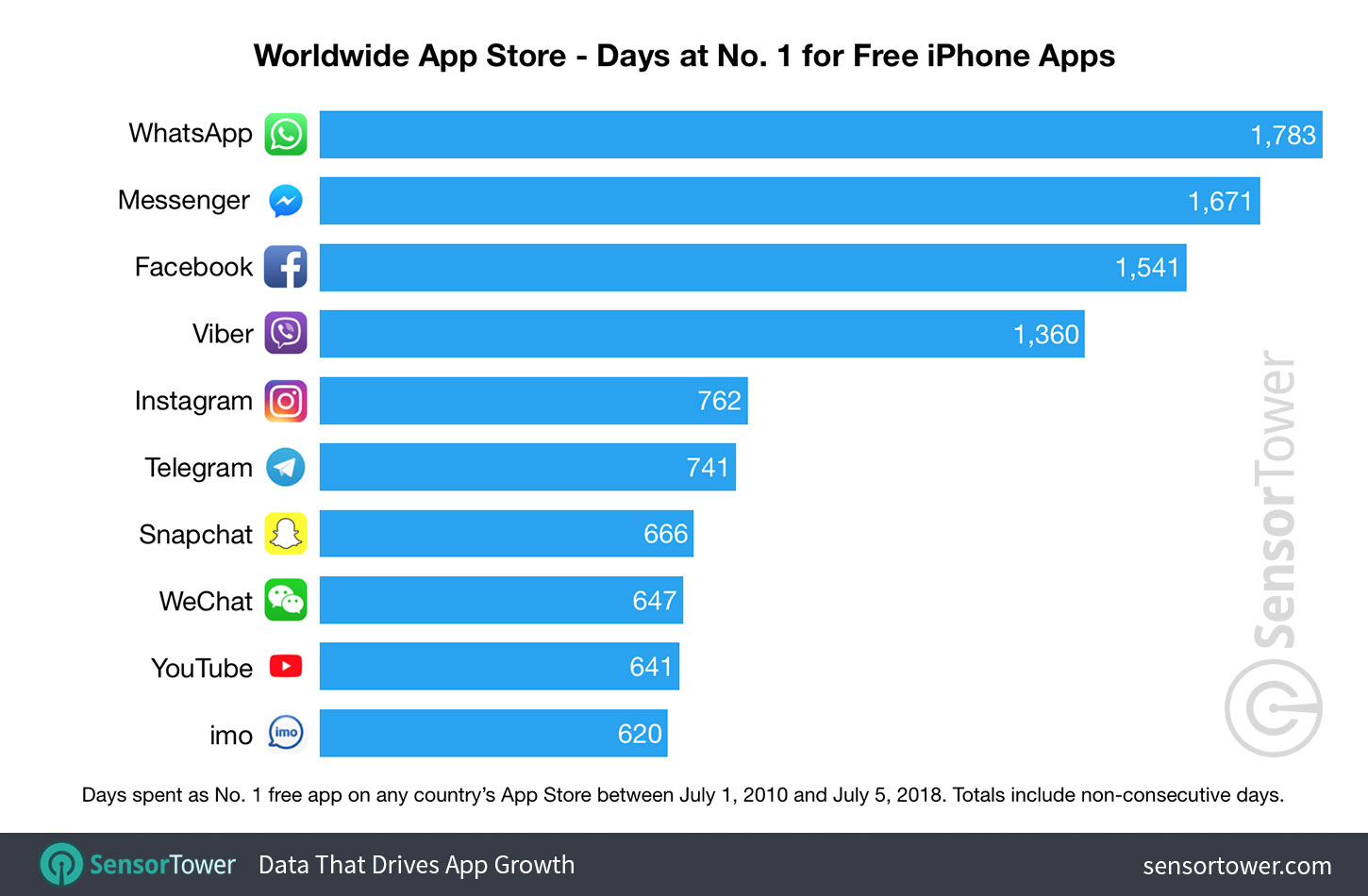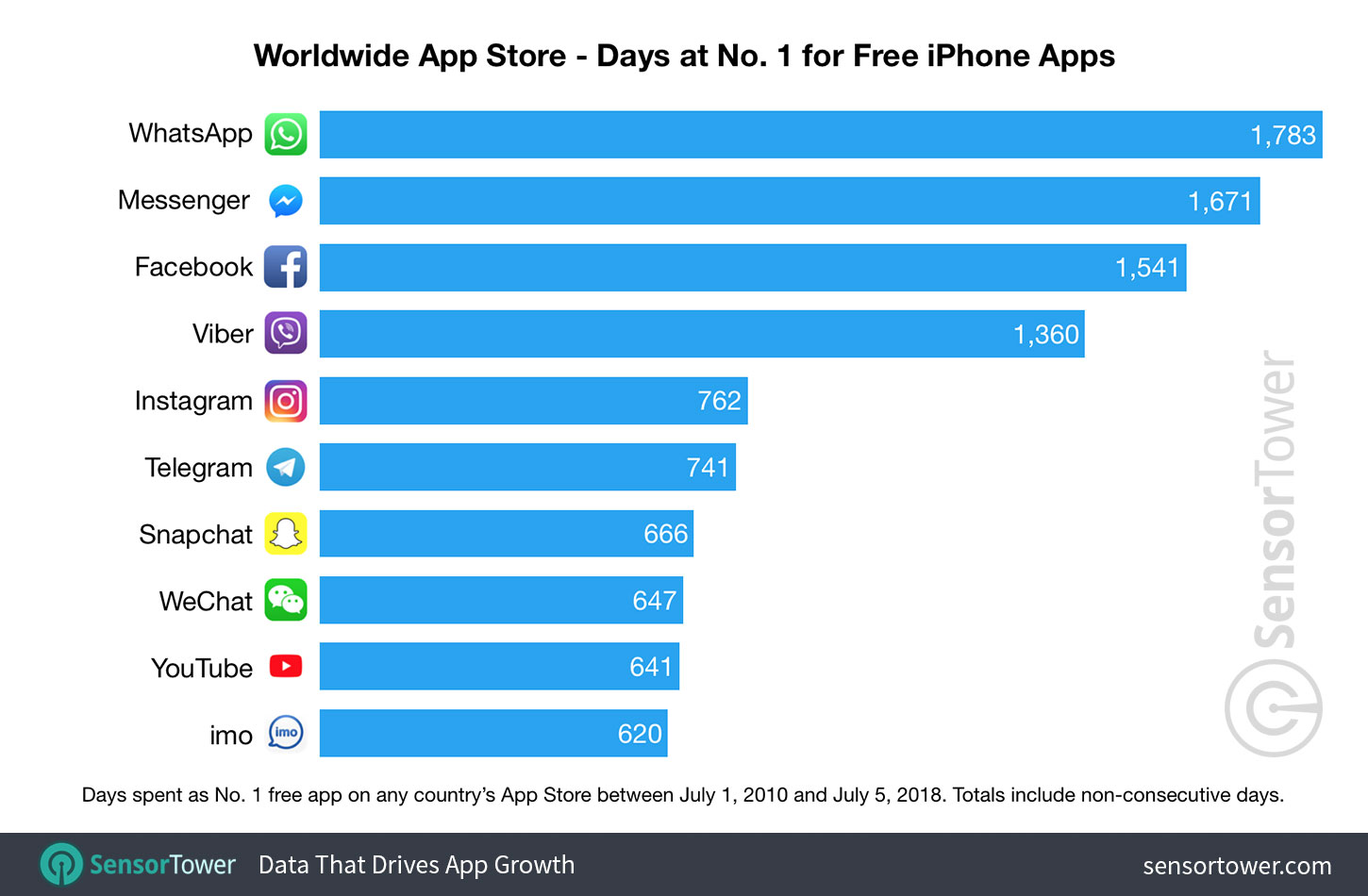 In the worldwide App Store chart, seven out of the top ten apps, which have spent most of the time at the pinnacle, is social messaging apps. This may be due to the steady increase in the popularity of social media and its gradual involvement in people's day to day life. Interestingly, Facebook-owned WhatsApp has spent 1,783 days as the most popular free app on App Store between July 1, 2010 and July 5, 2018.
Top Paid iPhone Apps: Gaming Apps Garner Revenue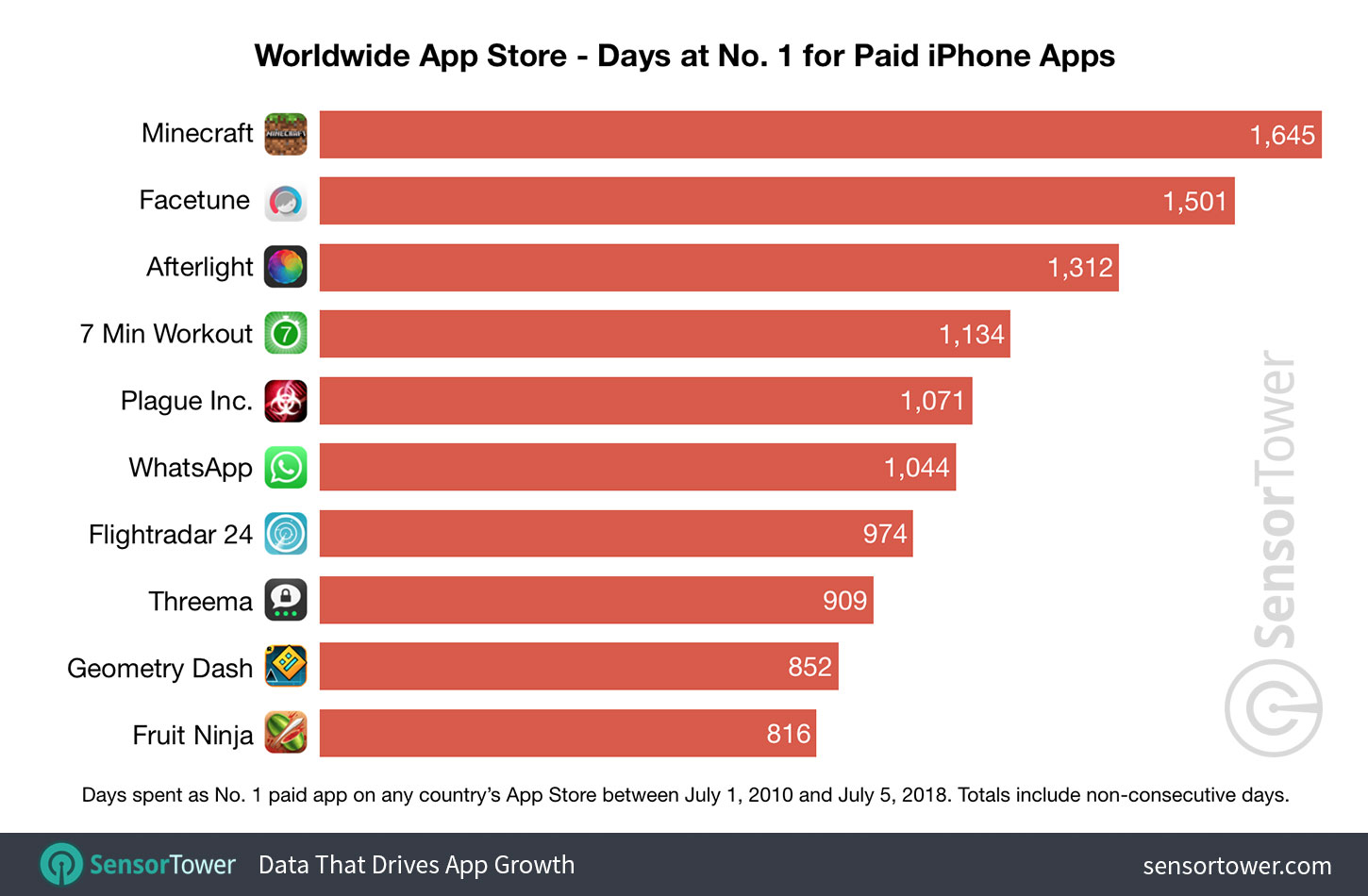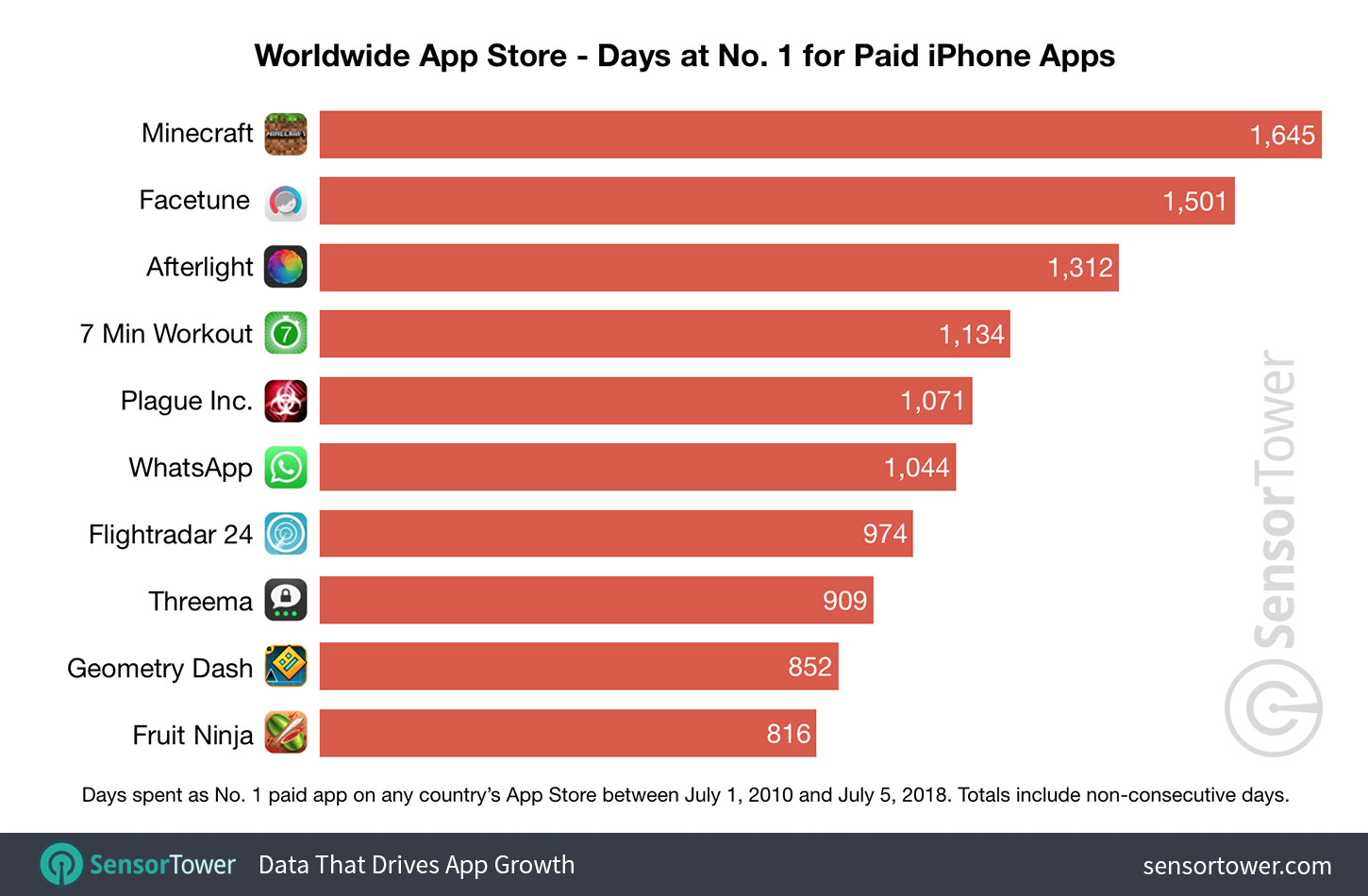 When it comes to the top Paid iPhone apps, we observe that two types of apps are dominating; first is gaming and the second one is photo editing apps. Minecraft, a sandbox video game owned by Microsoft, has spent 1,645 days as the No. 1 paid iPhone app in any App Store region between July 1, 2010 and July 5, 2018.
On the other hand, Facetune, a photo editing paid app for iPhone, is perched in second place at 1,501 days across all App Store regions.
The largest percentage of mobile gamers belong to the younger generations. Gaming, that was earlier possible only on bulky computers, was now available at just a tap. This led to making the gaming apps so popular. And with the rise in social media, there began a trend of sharing pictures, which made way for the development and popularity of various photo retouching apps.
Top iPhone Apps: Most Days at No. 1 Top Grossing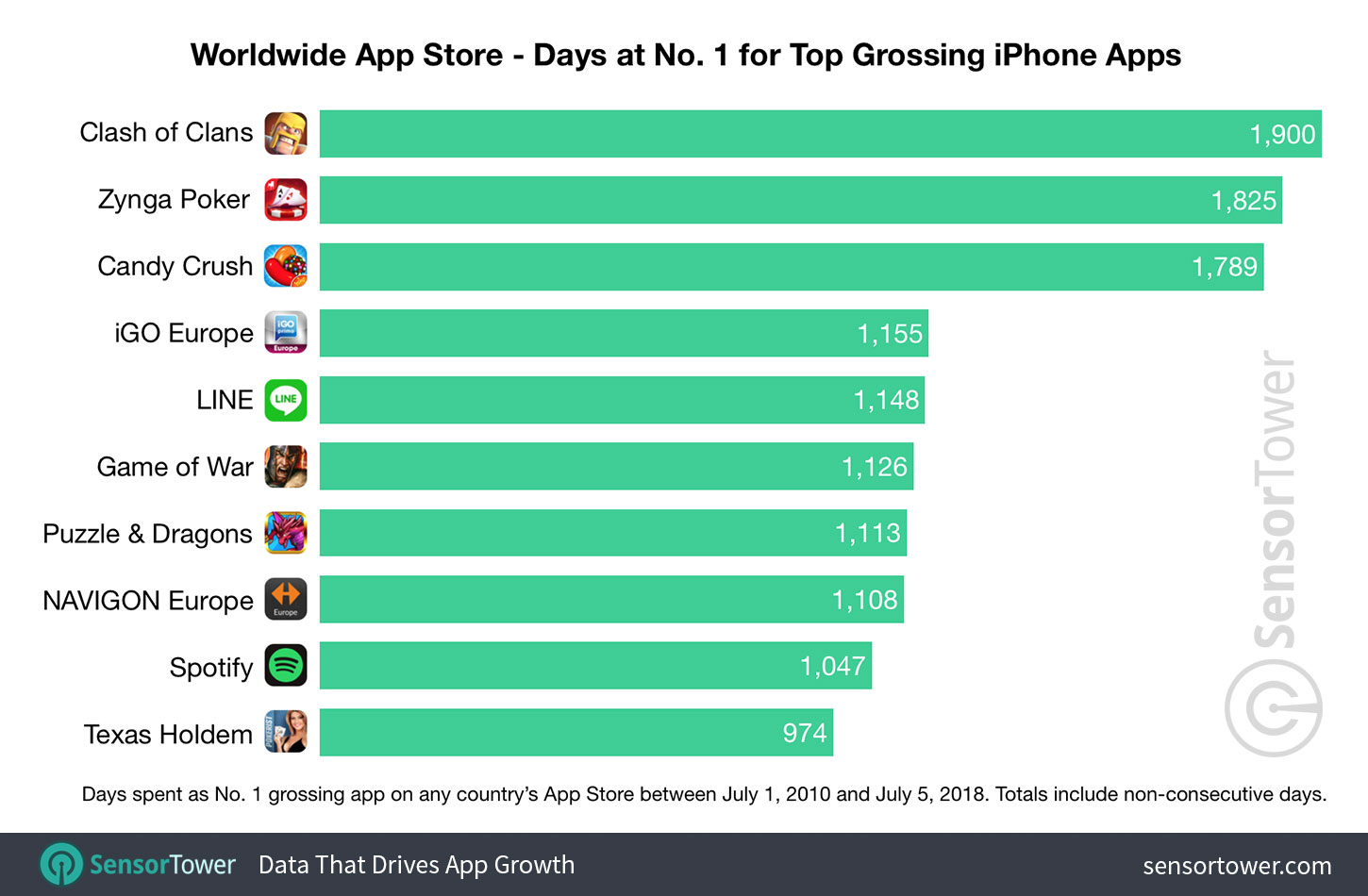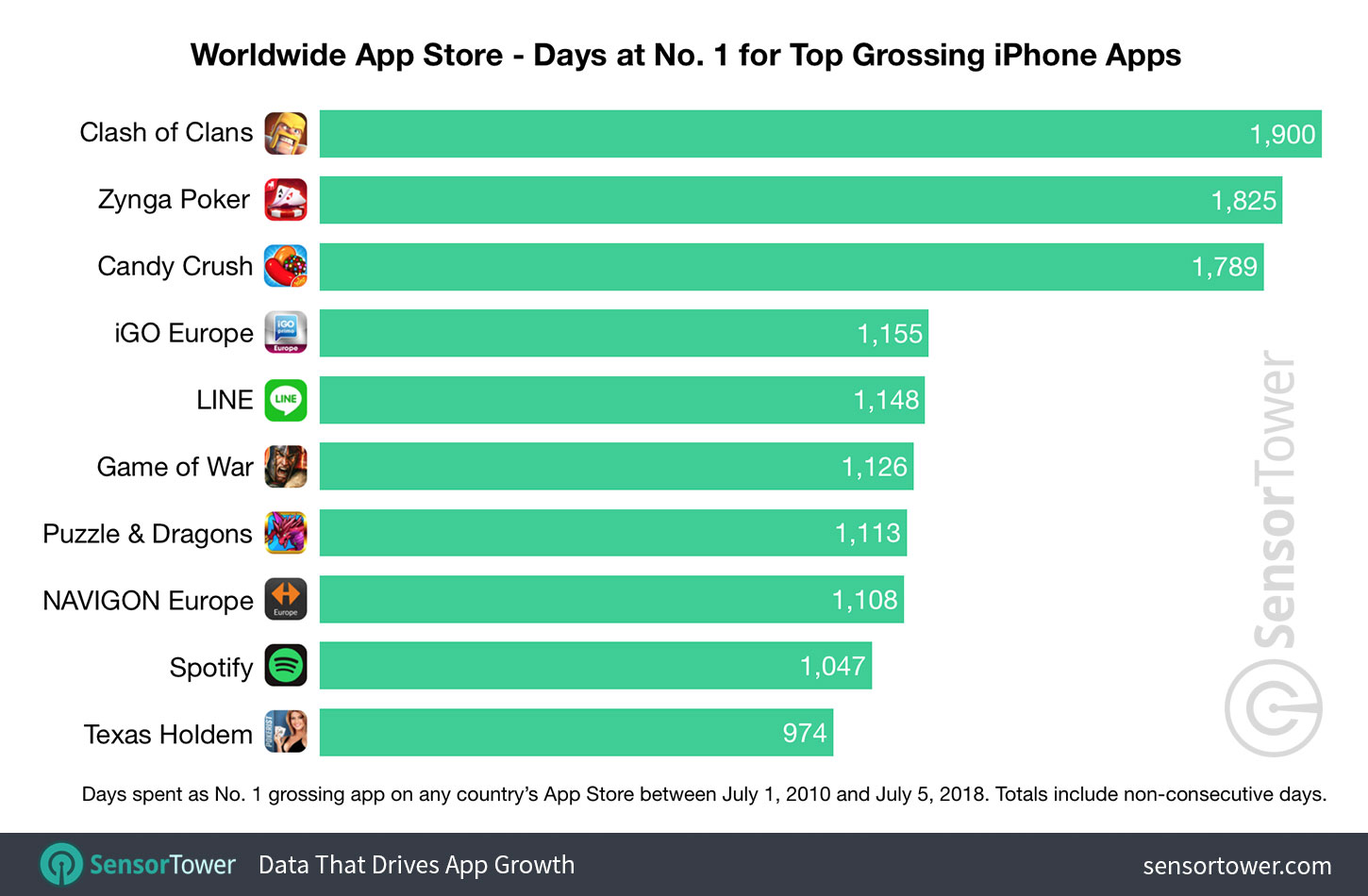 Now let's have a look at the top grossing iPhone apps worldwide. This ranking is not available for iOS 11 users. However, we have the data from the earlier versions and that is sufficient to analyse and come to a substantial conclusion. Clash of the Clans was the highest grossing iPhone app worldwide, with 1,900 days spent across all App Store regions between July 1, 2010 and July 5, 2018. This is followed by Zynga Poker at 1,825 days and Candy Crush Saga at 1,789 days.
The top grossing app category lists apps that helped Apple to garner maximum revenue by the sales of apps along with in-app purchases.
The reason here for the gaming apps to be on the top is also the same as above. With the advent of smartphones, gaming apps have become easily accessible and a preferred pass time for the youngsters. Two apps that deserve a separate mention here are Line and Puzzle & Dragon apps, as they were able to secure a position in the list of top 10 grossing iPhone apps, thanks to Japanese App Store users.
Gaming Apps Dominates App Store in all the ways. In Q1 2018, Apple garnered over $12 billion in revenue from App Store, a 20% YoY growth. Interestingly, Music & Entertainment and Gaming apps played a significant role in this growth.
With its tenth anniversary, Apple App Store has reached a big milestone and amassed a number of users and iOS contributors. Apple provides a safe and secure platform and this is the reason why we a sure that in the coming years we will have many exciting apps on the app store available for us.