Facebook Inc. (NASDAQ:FB) has some unique live streaming features up its sleeve!
As per reports, two new Facebook patents were filed by the social-media giant last year, only to be made public today. These patents hint at enabling new add-on that will highlight live stream features.
One of the patents gives an inkling that a new feature might be added, which will even out all "perceived imperfection". This charter by the Menlo-Park-based company will provide an add-on to even out facial imperfections in real time, including skin smoother, blemish remover, etc. This will work synonymous with how the filter works. Alike selfie filters that provide an airbrushed look, this feature will work wonders, additionally, in real time and during a live stream.
Furthermore, it can suitably remove wrinkles, discolouration, etc. without removing desirable image details, such as the edges of a person's face, eyes, nose, lips, mouth, ears, hair, and/or other facial features."
Shedding light upon the second patent, Facebook describes an add-on, aimed specifically at live video streaming, that could essentially act as a teleprompter.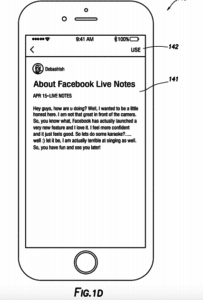 The patent dubbed as "Facebook Live Notes" would let the person, broadcasting the live-stream, create notes during the streaming. Ranging from reminders to full-on scripts, this would act like a teleprompter-like effect.
Facebook As An Emotion Detector And Eye-Opener!
By divulging a series of patents, Facebook is making its goal clear! It is eyeing technology to support its intention in an uncommon way. This time, with another patent, Facebook tries its hand on what automatically chooses an animated selfie based on your current emotional state.
Facebook's patent describes a feature called a dynamic mask — which shares its similarity to some extent with Snapchat, but is purely categorized on the emotions, reflected on your mugshot.
These filters will first establish some connection to the feelings one projects, for instance, anger, happiness, sadness etc. This method would first "identify an emotion," and then slap a "selected mask," on the mug.
If Facebook as an emotion detector isn't worth pat-on-the-back, then another novel feature can bring in some brownie points. A pair of Facebook engineers has worked with an AI tool which can fix closed eyes in pictures.  A research paper underlines the method of correcting a person's closed eye picture, along with additional retouching methods such as red-eye corrections and more.
Still, in its research phase, this is one-of-a-kind technology considering the fact that Adobe, the leading photo editing software, isn't still able to do that yet.
Facebook On A Fish-Out Spree!
Facebook has made a record! Since it's public inception in 2012, Facebook has till now filed thousands of patent applications.
Be it describing forward-facing cameras to analyze and detect your boredom, or mere expressions to update your feed – Facebook has a dry run on all. One patent can determine which TV show you've tuned in to, by using the phone's microphone. Others can predict your marital status, your economic status and what not!
However, a review of hundreds of Facebook's patent applications reveals how the company has been keeping a close eye on the nitty-gritty of users' lives. The company has even filed a charter to pass a method for predicting when your friends will die.
With more than two billion monthly active users, who willingly divulge their thoughts and feelings on the platform, one can just sit back and ponder the plethora of personal details, Facebook has garnered as of now.
Apparently, it's contrary to reason that Facebook is going to learn anything from its cute-little-pocketbook of scandals.