It's a good time for Indian ad industry, given the recent findings. According to the recent report from Magna Global, India leads the world in 2018 and beyond as ad spending in India is estimated to grow with a record rate.
A report by Magna Global states that the ad spending in India is expected to grow by +12.5 per cent in 2018. This is in aftermath of a relatively disruptive phase, all credits to the two most radical initiatives for economical check, namely Currency Exchange and a revamped Goods and Services Tax. Although both of the changes were attributed for equipping a modern economy, these initiatives somehow were relatively responsible for the much-hyped economic disruption in the face of India.
The report claims that the growth to 12.5 percent in ad spends is relatively against the earlier forecast of 12.1 per cent by AdEx.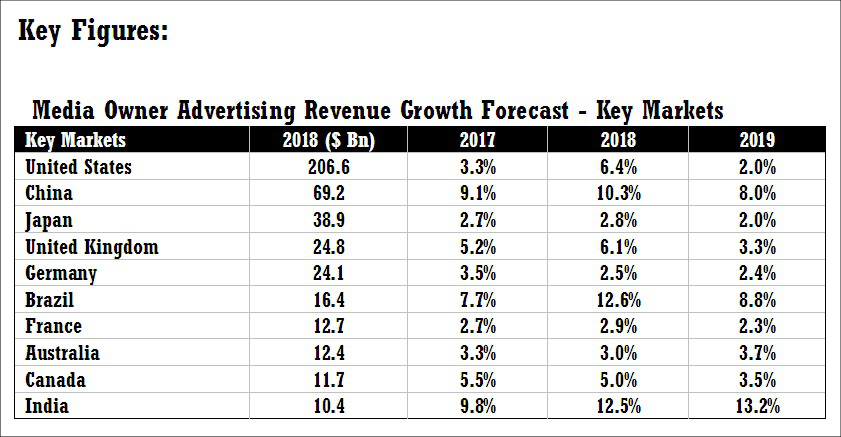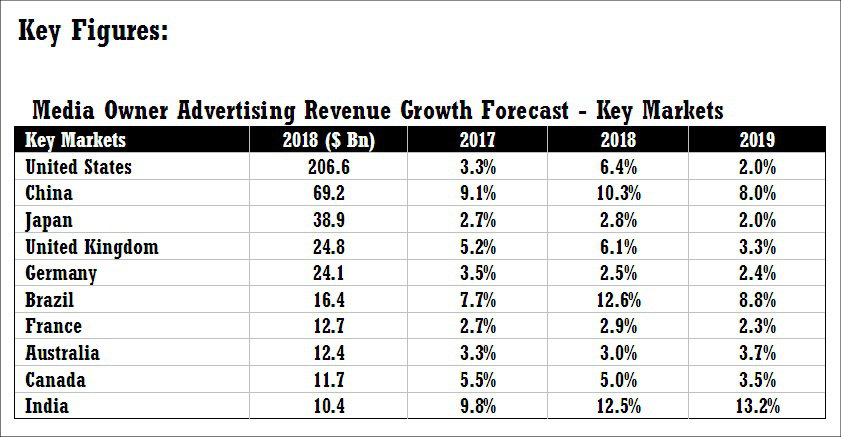 The global report highlights that India is gearing up to pacify with all the major reforms undertaken by the Government of India. After coming to terms with all the repercussions of demonetization and GST, market now is ready to reveal its growth potential.
This transformation in the economic fundamentals is bound to boost up, and at the same time, grow along with a steady revival in the rural economy and the ever-spreading middle class. The GDP is predicted to grow +6.7 per cent, a speck decline than the earlier forecast of +7.17 per cent. With the 2018 IMF report reflecting an economic growth of +7.4 per cent, India can find itself to be the third largest contributor to global ad growth in the upcoming years, most probably accounted to two years. This information is sorted by Magna in a close collaboration with other media agencies, namely Zenith from Publicis Groupe.
India advertising sales reached INR 600 billion in 2017 ($9.3bn) and will grow to INR 680 billion this year ($10.4bn). Anticipate even stronger growth in 2019 due to the combination of an accelerating economy, broader access to digital media, general elections and Cricket World  Cup – S Venkatesh, EVP, director intelligence, Magna
Ad Spending In India: Digital Ads On The Steering Wheel
This recognized advertising growth in 2018 is no chance occurrence, beyond any doubt. The credible reasons will be digital at 27 per cent per annum, trailed by television at 12.2 per cent per annum and radio advertising at 11 per cent per annum.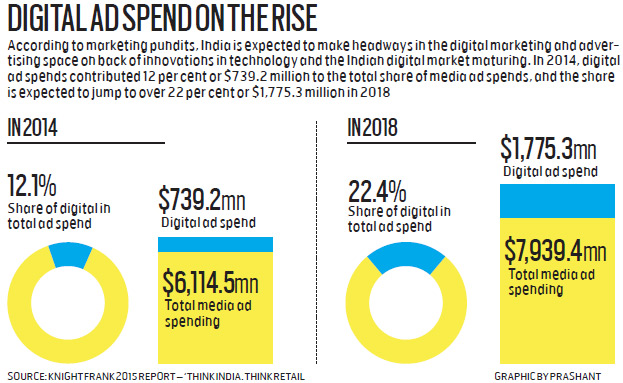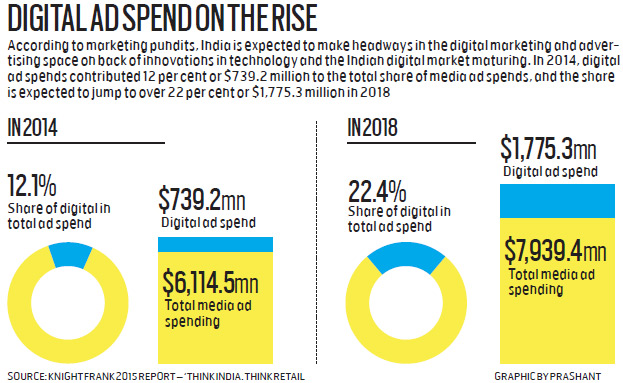 In the Asia-Pacific region, most markets are led by digital growth, according to Magna. Digital Ads represent about 19 per cent of total advertising budgets. And probably, will reach out to grab a quarter share of media at CAGR +22.6 per cent in four upcoming years. In APAC, most markets continue to be led by digital growth, wherein the major contributors are Retail, BFSI, FMCG, Telecom and Auto.
Offline Ad Sales Rides Pillion
According to the forecasts by Magna Global, Global Print NAR will witness a decline of -11% to $54 billion. Further, Radio ad sales will also decrease by -2% to reach 28 billion.
Linear TV ad revenues are all in to clap hands on 2.5 per cent worldwide, to $183 billion, this year. This, however, can be fixed upon sports and other note-worthy political events, without which there so such growth could be in records. The Winter Olympics brought in an estimated $630 million in incremental television ad revenues. FIFA World Cup is expected to generate $180 million of incremental ad sales
Print and radio ad sales, however, can witness a downward slope. The Magna Forecast predicts a drop in print ad revenue of 11 per cent, to $54 billion. Radio hangs onto this thread with 2 per cent, at $28 billion.
Outdoor Advertising today, now an integral part of any advertising campaign depicts a growth. As people are spending more time outside their homes than ever before, Out-of-Home ad spends will grow moderately at +2 per cent. According to Magna, OOH is the only traditional media channel which shows a growth sphere at +21.9 per cent to $8 billion.  Today, with an increased importance of Integrated Marketing Communication, there's a simultaneous increase in ad creation, making OOH important, and spearheading along with TV and print.
As the shimmering silver line in Indian Economic Cloud, the country's ad growth rate in 2019 is expected to boost up to even more than the 12.5 per cent this year. With the annual IPL, the first half on 2019 will be strong for advertisers, with a quick trailing by World Cup.