In the era of internet, the free flow of digital content has trigged the subscription business of exclusive content. Tapping the trend, Facebook Inc. (NASDAQ:FB) has set eyes on the content subscription business in a bid to capture a sizeable share of the market. Reportedly, Facebook is testing Subscription Group with a limited set of group admins.
With the increasing need for efforts and time to keep a group clean and engageable, group admins find its tough to keep themselves motivated in absence of any monetary gains. With the launch of Subscription Group, group admins on Facebook could work towards making groups more valuable for worth time for every group member. Facebook could reportedly allow admins to charge anything between $4.99 and $29.99 for Subscription Group from each member.
Admins can create Subscription Groups on Facebook that would sit alongside their existing group. Facebook has decided not to take any cut for the first year. However, the feature bills through iOS and Android, therefore operating systems would be receiving 30% cut from user's subscription fee for the first year, and 15% for the subsequent year.
Facebook Subscription Groups: Keeping Users Engaged
The idea of Subscription Groups on Facebook came from existing groups admins. Facebook clarifies that the purpose of Subscription Groups is not to make money. It's about creating exclusive content and share with a large set of users who really value such high-quality content. Besides, managing such groups and maintaining the content quality has become a time-consuming affair for many groups admins, which is eventually resulting in increasing number of abandon groups. With basic monetisation, group admins would be making more efforts to make groups more worthy of users as well as for Facebook.
The new feature would allow active group members to launch Subscription Group alongside their popular groups. For example, Sarah Mueller, the group owner of the highly popular Facebook group "Organize My Home" is segregating group content by launching another Subscription Group. The group is all about tips and tricks for keeping your home tidy and Sarah is all set to charge $14.99 from each groups member would be benefited from her unparalleled expertise about home decoration.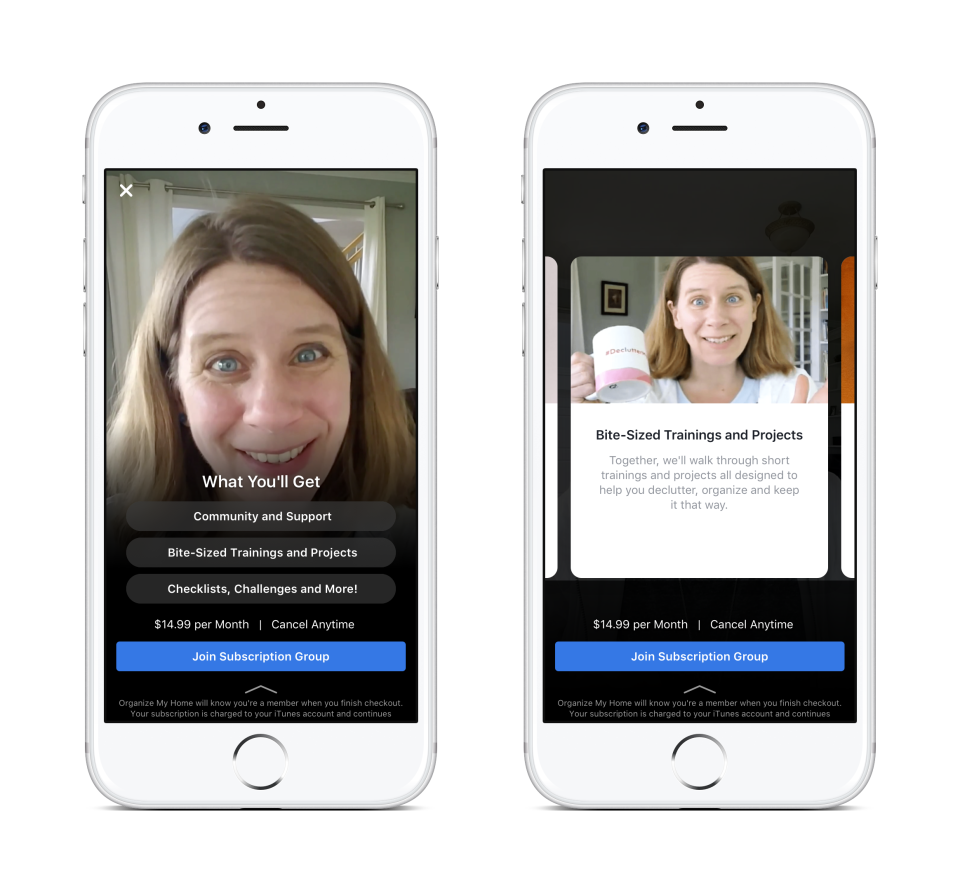 "With the new Organize My Home subscription group, I will be able to provide this new community with more interactive ways to having an organized home like mini-projects, group challenges, trainings, and live Q&A, while still keeping the original group as a robust community for getting free advice and motivation," said Mueller.
Facebook Subscription Groups will allow admins to post content in text and video format. With the growing popularity of video content on Facebook, it's expected that most of the admins of Subscription Groups will largely bank upon the video content, albeit the plagiarism is still a big challenge for digital video content.
The new Subscription Groups is an effort by Facebook to woo its star performers of the platform. By incentivising their highly engageable work, the social media giant is trying to make the whole platform more valuable to its 2.2 billion users worldwide.
But this would lead us to a question, What would happen to Zuckerberg's claim of "Forever Free" as he is slowly starting to charge for each feature separately.