Ola, already in a bruising battle for market leadership in the Indian market against American rival Uber, has registered a loss as high as Rs. 4,897.8 Crore in FY16-17. This loss has been widening its gap irrespective of the fact that the revenue of Ola grew 70% during the fiscal year 2016-17 as compared to FY 2015-16, according to recent reports. In addition to this, overall losses, including the net interest income, tax and notional losses on derivatives contracts, stand three times the total revenue of Ola. To put it in simple math, Ola spent little over three rupees to earn one rupee.
As per reports, Ola's losses are far higher than other global cab-hailing service providers, especially in case of revenue proportions. For instance, the American ride-hailing service Uber's operating loss accounted for roughly half of its net revenue for FY-2017.
Mounting Losses of Ola: The Empire Has Been Shrinking
The Gurugram-based ride-hailing app, Ola has lost almost a fourth of its overall fund-raise from investors since its inception. According to CrunchBase, Ola has been able to raise roughly about $3 billion as of now, but the loss in 2016-17 was more than three times of its revenues which stood at Rs 1,380.7 crore, as per documents filed with Registrar of Companies (RoC). This can be dubbed as write-down, quite contrary to the pomp-and-show amidst which Ola was welcomed.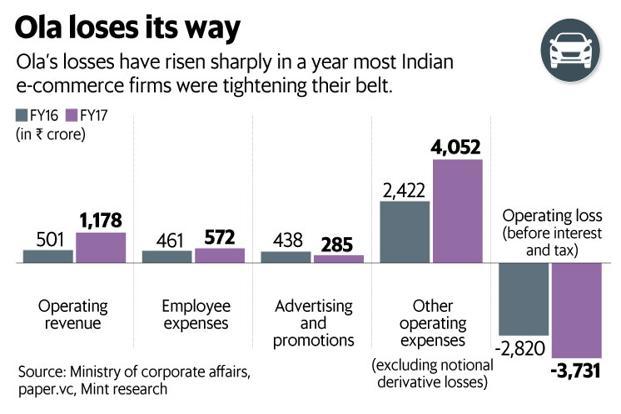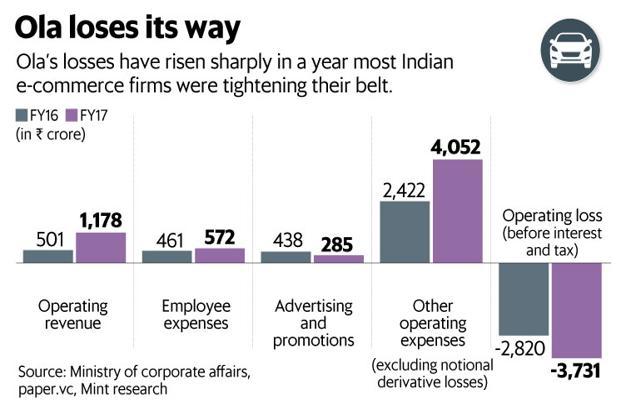 The company is known to have spent amply on advertising and implementing strategies for new features associated with different cab categories to grab attention. As an offset to its global rival, Ola has liberally spent over Rs 5,183.6 crore in FY-2017. However, gaining saneness before one pronto-doomsday, Ola started reducing its promotional expenses to Rs 285 crore in the year 2017, towards March from Rs. 438 crore in 2016. As a result, the revenue from operations rose up to Rs 1,177.8 crore.
Uber and Ola, A Battle for Supremacy or Close-Merger?
Uber, now operating in about 30 Indian cities and controlling more than 35% share of the taxi market, once wanted to expand all over the world. Comparing with the long-standing incumbent, Ola operates in about 110 cities and controls more than 45% of the share in India. Additionally, it also features a digital wallet called Ola Money and enables an entertainment feature, Prime Play, for long journeys.
Uber can account for about 10% of its global rides to be in India. While its only rival in here is Ola, Uber had to get a lot messier in bitter battles with local operators in South-East Asia and China. Considering the market share, Ola boasts of 1 million registered driving partners while Uber has 4.5 lakh driving partners, across 30 cities.
According to other independent analysts, Ola controls 70% of the Indian market while Uber commands 26%. Now following the losses incurred, reports are surfacing about Uber being in initial talking phase with Ola regarding a pooling plan.
Role of SoftBank
Uber is apparently in talks to merge its Indian operations with Ola. This is in response to SoftBank's repeated coaxes since it is the common stakeholder in both these companies. Hence, to curb all the losses it faced in the core Western Market SoftBank is putting pressure on Uber to agree for consolidation.
Dynamics of App Based Taxi Booking
Taking the worldwide snap into the frame, ride-hailing service market is all over the place. However, in the past few years, companies began capitalizing the market, as a result of which cab-operators have been proliferating in the Indian market. Reportedly, Since 2009 the taxi market has witnessed the Compounded Annual Growth Rate (CAGR) of 41.90% in terms of business revenues.
However, what seems surprisingly unorganized is the huge revenue losses, both the ride-hailing companies procured in this country. Apparently, Indian market in its low-value functionality cannot attain two cab-hailing firms. Given the losses and cash burns, achieving break-even is certainly no picnic. The two extremes of the ride-operating firm are unattainable. One being, raising fare and the other being, reduction in driver incentives. If fares are being raised, then affordability will play a part of the upstream revenue generation. On the other hand, if driver incentives are reduced, it may lead to dissatisfaction among operators, which will eventually affect volume.
So, if the Competition Commission of India approves this merging plan, a substantial transportation scenario, with long-term players will be on the anvil.