India entered the eCommerce market after 2010, amidst a steady-growing GDP and has taken its advantages in the e-commerce field. This advantage can be made substantial with the recent study by eMarketer which claims that Retail eCommerce sales in India will climb 31.0% to reach $32.70 billion, in this year.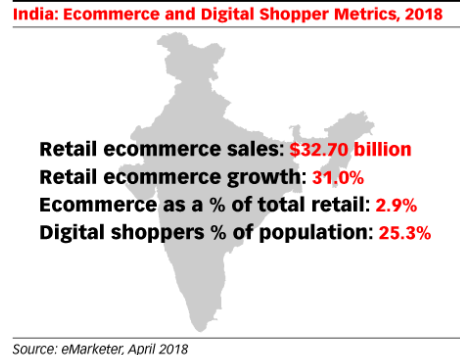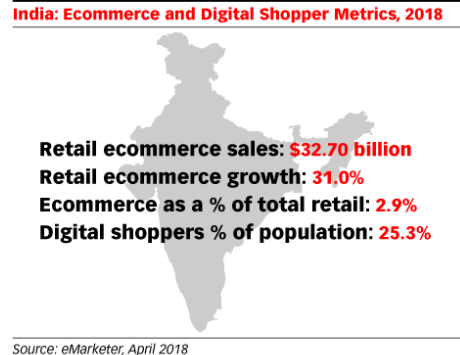 Credible Reasoning: Growth in The eCommerce In India
The substantial growth is, again, no chance event. The three head-honchos of Indian eCommerce domain, namely Flipkart, Amazon and Paytm Mall have been making huge investments. Apart from guarding the financial wing, these three e-retailers are improvising their logistics and pay-off as well as delivery schemes. Tempting discount offers and deals pave way to fuel further growth of the e-retailing market in India.
In addition to this, eCommerce growth in India can be chalked up to the increased adoption of smartphones and the internet. With a population of 1.3 billion, there have been estimations about the number of mobile internet users to rise up to 478 million, accordingly, which stood at 371 million as of June 2016. India's rising internet and smartphone use have majorly contributed towards the upsurge of digital buyers. Reports claim that by 2022, the share of digital buyers will rise to 41%, wrapping in a quarter of the country's population.
Bitter Mockery: Retail eCommerce Is Minuscule
Despite the strong growth rate of the eCommerce domain in the country, reportedly, retail eCommerce will make up just 2.9% of total retail sales in 2018. This is comparatively too low.
However, given the growing trend and expansion of smartphone penetration, India portrays a huge opportunity window for online retailers. India is undoubtedly a profitable e-commerce market, open for new players with newer ideas for the ever-bargain-hunting customers online. With the mobile and internet usage rising beyond barriers, there's huge potential for new-comers to pitch in more feasible, target-oriented ideas in order to cater to more customers.
What is holding back people from buying online
With privacy concerns over data-leak scandals, many consumers are nervous to pay online, since that would mean divulging personal payment details. Most of the Indian internet users are afraid of transferring money online because they fear that by giving their bank account or credit card information to an e-commerce website, can result in fund security breach.
Although, there's have been major awareness led by payment providers as well as online retailers about the scams, assurance about online payment safety comes rather upstream.
Again, the Indian customer base wants to give a long-hard-look on products before the final purchase. There's a tendency that people might want to handle products. It rarely ever happens that a customer buys a car without a test-drive, and this has been a well-set psyche of Indian customers.
Prediction and Scope of eCommerce Market in India
The report further adds on that with the growth rate, India is all set to record the third highest growth rate in Asia-Pacific, trailing close to China and Indonesia. With the increasing internet penetration and mobile usage, India's e-commerce sector will be worth $71.94 billion by the year, 2022.
Again, increased service and technological advancements in untapped demographics in the Country is sure to fuel the growth of eCommerce domain. COD facilities in suburban as well as rural demographics of India, wherein the concept of credit card is still not so famous, depicts the far and wide reach of the dominating eCommerce sector.
Considering the integrated eCommerce panorama, with its prevalent trends, it is apparent that e-commerce is gearing up for an exploding growth 5-10 years down the line.