India's coeval stressed telecom sector witnesses a tough-break yet again. Been-around carriers, Bharti Airtel NSE 2.27 %, Birla-led telco Idea NSE 1.46 %, the multi-national tel-co conglomerate, Vodafone and 4G newcomer Reliance Jio have locked horns once again, this time over the time-limit within which carriers need to provide ports for initial interconnection and augmentation. With definite warmongers indulging in rows every now and then, at times over tariff plans or user addition probing, the telecom sector is used to this fiasco now.
As per reports, the fresh battle royal is due to the increase of the time-frame sought for the provision of Interconnect points, from 21 working days to 42 working days. The Telecom Regulatory Authority of India suggests this rule in the new draft amendment. The fresh run-in is due to the difference between the idea of old carriers and the Ambani-led Jio. Been around for a long time now, older carriers feel that 42 days span for initial interconnection is a brick-wall for the process which includes importing relevant gears and come across the whole delivery overtones. They demand a revision of extending the timeline up to 60-90 days.
However, the new-in-game Ambani controlled firm, Reliance Jio opposes the revision of 42 working days as well. It claims that posing such ease towards provisions will increase Interconnect point congestion which will result in customer dissatisfaction. That being implied, Jio wants the 21 working days timeline to provide initial interconnection to stay as it is.
All the telecom players in India are bound to follow "interconnection norms", which demands telecom players connect their equipment, networks and services with other Telecom Services Providers. It is charge service and a service provider who originates the call pay to a service provider who terminates the call. In simple terms, if a mobile subscriber on Airtel network makes a call to Reliance Jio subscribers, Airtel is bound to pay a certain amount to Reliance Jio for the call.
A Few-Miles-On Strife In The Telecom Sector
Uniform Spectrum Usage Charge
Financial Express reported in a series of earlier events wherein major differences paved way over government's proposal to impose uniform annual spectrum charges at a rate of 4.5 percent, a reduced rate, on all players pulling down service acquired revenues. This came in last year where the Industry body COAI, which represents operators like Airtel, Vodafone, Idea Cellular demanded uniform spectrum usage charge on all companies at 3 percent level. Not surprising enough, because now what seems to be chronic-common place thing, Reliance Jio Infocomm differed with COAI in this view as well.
Test Users Addition
Reportedly, India's top two telecom operators Bharti Airtel and Vodafone India sparred with newcomer Reliance Jio Infocomm over modalities of network testing, prior to its commercial roll-out.
The incumbents banked on putting restrictions over user trail purpose, and not offering them number portability along with allowing commercial service. However, Jio didn't agree with its incumbents, saying such moves will disrupt a seamless move from trials to commercial operations.
The Telecom Tug-of-War Seems Endless
On a quite general note, the entry of Jio with its unlimited voice and data offering created big-scene across the industry. In the aftermath, Idea and Vodafone merged to face the Jio onslaught. Telenor, MTS, Videocon, Tata Tele took to exit the battle royal through cheap sale-offs or other means. Bharti Airtel, however, retains its root and anchors it well. Again, given the fact that revenues are still a major concern in the telecom sector, in the bloodbath that follows, Jio has been wounded too. It's believed to hit rock-bottom, wherein it can't swipe in additional customer acquisition.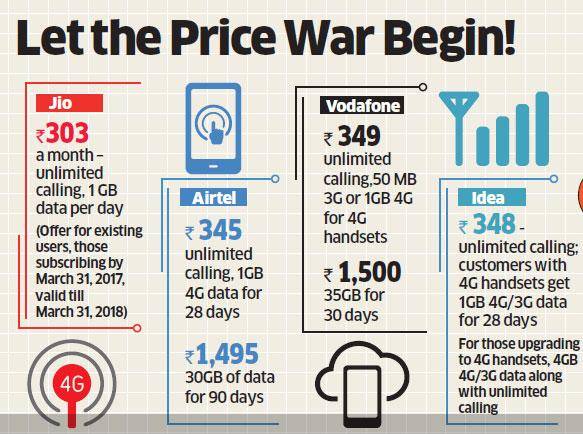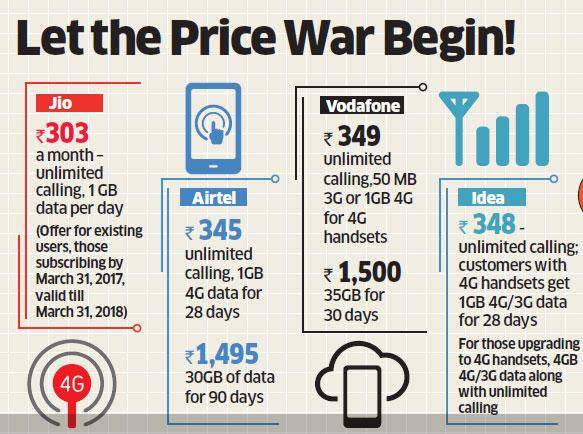 The Face-off
Bharti Airtel submitted its views to the Telecom Regulatory Authority of India wherein it proposes a revised timeline, extended from 21 working days to 60 working days. It moves ahead by stating the fact that given the current dependency of equipment import and delivery time that alone ranges from 6-8 weeks, the extension is a necessity. Birla-led Idea has gone a step further, urging TRAI to extend the timeline to 90-days to complete the process of augmenting ports which includes the acceptance test, trailing close enough.
However, running counter to all its incumbents, Jio strongly opposes the TRAI's suggested timeline of 42 working days, claiming that it will substantially increase the risk of PoI congestion and call failures. This will pose a major challenge to new entrants like self, and huge customer inconvenience as well.