Hot-off-the-press news has it that Twitter is apparently testing the security of direct messaging, which is evident from a code snippet spotted on the Developer tools. The feature can be found dubbed as "Secret Conversation" in the Android APK. This allows users to exchange end-to-end encrypted messages, which finally lines up Twitter with other secure messaging apps like WhatsApp, Telegram or Signal. With Facebook, Google, WhatsApp, and Signal all offering various forms of encrypted messaging, Twitter has been sagging solo but the inclusion of this new feature might change the scenario.
First spotted by Jane Manchun Wong, a computer science student at the University of Massachusetts Dartmouth, this feature albeit unfinished, still looks standardized. Wong revealed this in a tweet on Thursday which says,"Twitter is working on End-to-End Encrypted Secret DM!" and posted a screenshot to construe the same. The fact that this feature is still in its cursory rough-and-ready phase can be deduced from the screenshot. There's a tab with filler text that reads "Education on what an encrypted conversation is".  Along with that, there's an option to initiate a new encrypted conversation and one more option to verify the encryption keys of those participating in the conversation.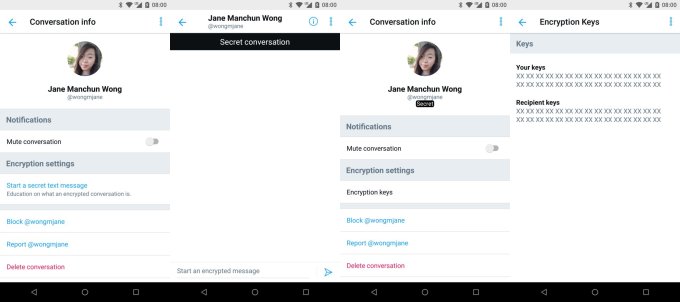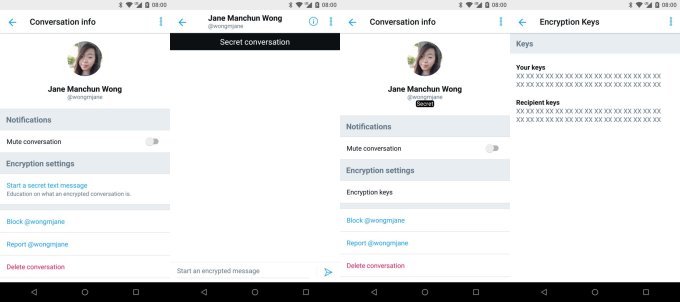 Twitter which was up for introducing encrypted direct messaging, was seen delaying the same, reportedly, because of the marketing and advertising concerns. It's been about more than a year when Edward Snowden pressed Twitter to add an end-to-end encryption to it's direct messaging. To the go-between tweet of Snowden, Twitter CEO Jack Dorsey replied "reasonable and something we'll think about."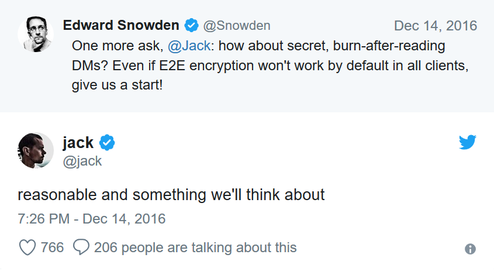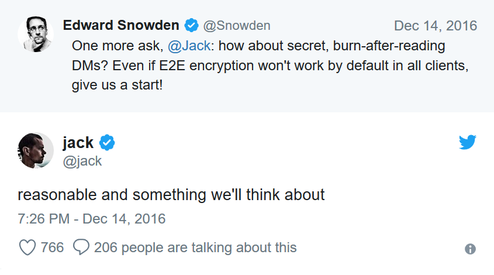 However, there was no commitment from his side regarding the same. This feature was not introduced until it's low-pitched discovery now which indicates that there's a possibility of it subsisting in its testing version.
Twitter And It's Rising Concern For Encryption
Twitter has been a harbinger to run interference for political altercations on the social platform. The popular direct message feature allows users to connect via messages, regardless of whether they follow each other on the social networking platform or not. This has surfaced as a powerful way for people to contact strangers without needing their phone number or email address. Although Twitter is able to establish itself as one of the most convenient, open messaging source, without encryption, those messages are subject to encumbering by third-parties, precisely twitter itself.
Encryption ciphers data and only correct passcode can decipher the same, giving access to the correct user. The need for encryption has been scrutinized by several Tech firms and organisations. There have been viewpoints countered to advocate that encryption is essential to secure information and maintain privacy.
Reports by TechCrunch, claim that the "secret conversation" in the APK is the slot that contains features in the form of codes, which are put to test before launching them.
Encryption In Twitter And The Probable Upshots
Twitter's DM (Direct Message) has become a powerful way for people to connect strangers without having phone number and messages. Now, this in a way opens gaps to threaten the privacy of users, since they're now subject to snooping by third-party sources. After the introduction of encryption, it can protect the interest of the users.
In response to a report on the new feature, Jack Dorsey tweeted his response with a whisper emoji. There's been no comments from the company or its spokesperson. Albeit, it's not clear when Twitter might officially launch the "secret conversations" feature but this new introduction could make Twitter a better platform for sensitive communication.