In the latest report, KPMG has addressed salary increment, variable pay, benefits and the employee attrition and retention rate in India. The report, titled India's Annual Compensation Trends Survey for the year 2018-19, aimed its analysis on 272 companies across 18 sectors. The report depicts detailed insights on sector-wise practices and their employment scenario.
The average projected salary increment in India for the year 2017-18 was 9.7%, while the actual hike stood at 9.4%. As per recent findings, the fiscal year 2018-19 is expected to get an average salary hike of 9.6%, while it may vary along the positive slope as appraisals for key talents.
Salary Increment In India FY19: Retail Is Most Lucrative
Before we dig deep let's have a look at the main highlights of the KPMG survey report:
The average projected salary increment in India for 2018-19 is determined to be 9.6%, an increase of 0.2% point compared to the survey 2017-18.
The average variable pay in India for 2018-19 is determined to be 15.7% which is 0.3% point higher than the year 2017-18, reflects that organisation are much focused on paying for performance.
The average annual voluntary attrition rate in India for 2018-19 is reported to be 13.1%. However, the highest voluntary attrition is seen in the Retail Sector which has 18.5% of employee turnover, again, which is a major setback.
The average increments project an increase in the year 2018-19. Reports suggest that the maximum increase in increments is evident in the Retail sectors and Financial Services.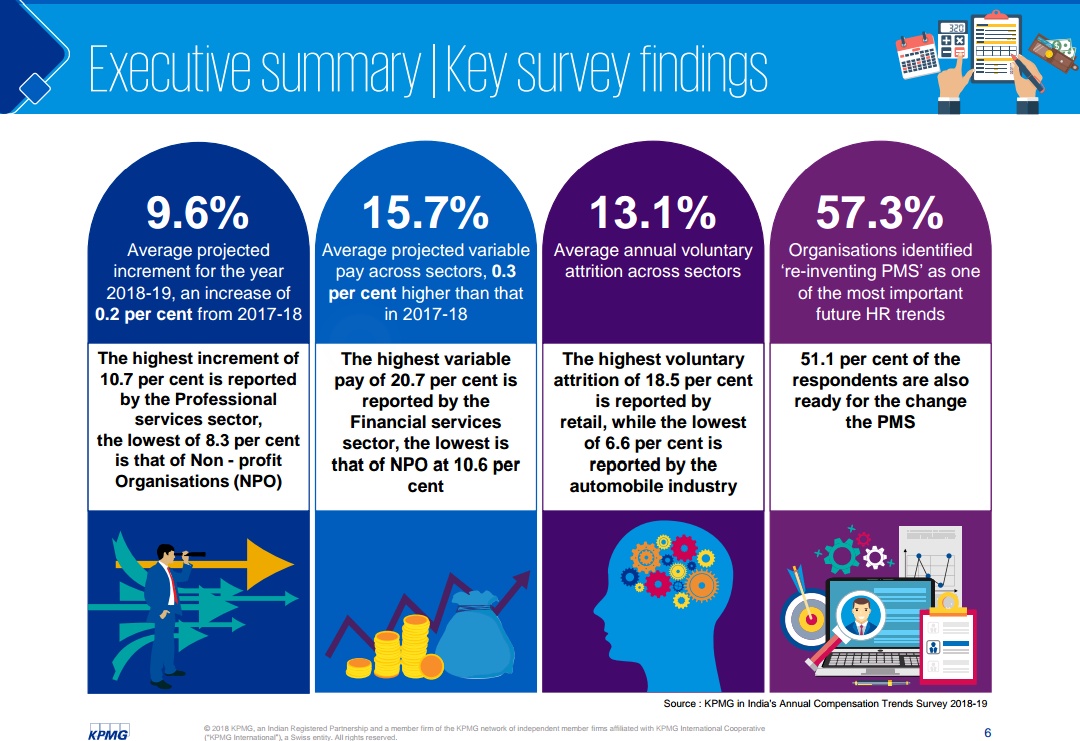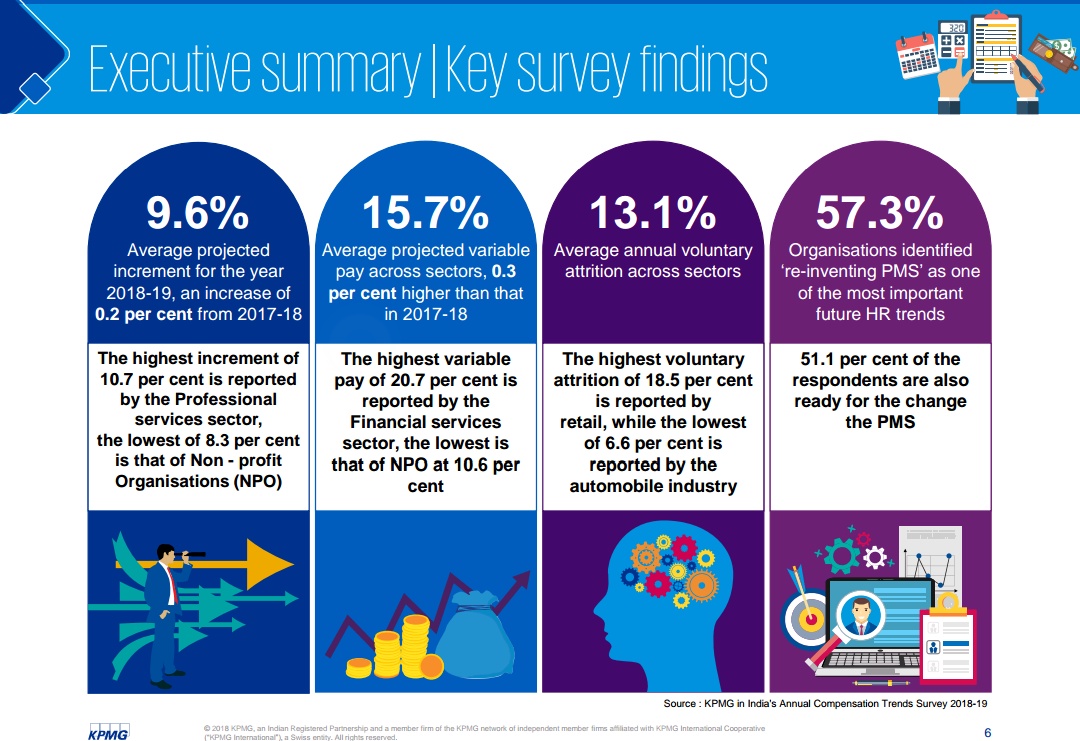 The average variable pay too has witnessed a rise of 0.3% point wherein it was 15.4% in the year 2017-18 and now, in the year 2018-19, it's 15.7%. The highest variable pay is reported by Financial Services.
The frequency of variable pay plans includes team awards, recognition awards and much more. However, 225 out of 248, comprising the majority of 90.7 percent said that the most beneficial plan is the award for Individual Performance.
The performance management outlook suggests that almost 70 percent of respondents identify key talent, high-performance employees and an average hike of 14.7 percent is offered.
Reports about insurance benefits show that about 81.5 percent organisation provide life insurance benefits to their employees, about 88.5 percent provide accident benefits and 98.1 percent provide medical insurance benefits that cover spouses and dependent children.
Employee Attrition and It's Repercussion in India:
While this survey paved way to many revelations, one that sticks out as a major predicament for the Indian Job Market is that of the Attrition Rate. Attrition rate, also called Employee Turnover, in a broader sense, defines the number of individuals who vacate or move out of a large group, over a specified period of time. The average annual voluntary attrition rate in India for 2018-19 is reported to be 13.1% which is alarming.
According to KPMG's survey report, top 3 reasons reported for attrition are:
Better Pay Elsewhere (25.2%)
Better Career Opportunity (31.0%)
Personal Reasons (17.4%)
As per these reports, Voluntary Attrition Rate seems to go higher in case of Retail sector i.e., by 18.5 percent while the lowest is reported by Automobile Industry which is at 6.6 percent. With the employee attrition rate going higher, the Indian Job Market finds itself in dire straits, since the labour pool keeps shrinking.
Employee Retention Strategies:
With a hyper-competitive job market, combating with employee turnover isn't an easy task. For organizational benefits, it's highly crucial to tally the importance of Recruitment and Retention. Employers have been incorporating Employee Retention Strategies to ensure that the shrink in the labour-pool-fabric doesn't lead to a downfall.
According to KPMG Annual Compensation Trends Survey India 2018-19, top 3 compensation levers for Employee Retention are:
Performance-Based Variable Pay (20.2%)
Recognition Awards, both cash and non-cash (18.5%)
Retention Bonus (13.4%)
Window For Consolidation-FY19
This survey summarizes the employment scenario and the job-market outlook for the in-vogue span. While this survey provides an insight to the compensation trends, this can also be a reference to draw conclusions from, for future strategies.