The mobile app ecosystem, one of the biggest markets in this era, will turn 10 this summer. The booming app economy has, yet again, shattered its previous records. The first quarter of 2018 has achieved a record-breaking milestone for both global app downloads and consumer spending in apps, according to a new report out on Monday from App Annie.
Globally, the total number of app downloads in Q1 2018, iOS App Store and Google Play combined, grew more than 10% YoY to 27.5 billion – highest ever than its previous quarters. In addition, worldwide consumer spending on Apple App Store and Google Play combined grew 22% YoY to $18.4 billion during the same time.
The download figures are staggered because App Annie has taken only new app downloads into account. It doesn't include re-installs or app-updates. Furthermore, consumer spending has been calculated only through paid-apps, in-app purchases or in-app subscription. It doesn't include factors like in-app advertising, m-commerce (e.g. shopping and ride-sharing), and revenue through third-party Android stores – which actually counts for a much larger revenue flow.
With over 6.2 million apps across iOS App Store and Google Play and some 2.5 billion smartphone users worldwide, clearly, apps are having an evident impact on consumers' lives. Apparently, an average smartphone user spends nearly 3 hours a day in apps and accesses around 40 apps in a month.
iOS vs Android App Downloads: The Shrinking Gap
Google Play still holds the lead position with 19.2 billion app downloads, followed by iOS app downloads that reached 8.2 billion in Q1 2018. But iOS downloads have come a little bit closer this quarter; it narrowed the downloads gap with Google Play by 10% points. Even though Apple's latest flagship has shown sluggish sales, iOS downloads experienced rapid growth like never before.
Retail has migrated to apps, as e-commerce and shopping apps continue to lure customers with better shopping environments and thrifty deals. These apps have experienced large YoY growth in market share of downloads in Q1 2018 across both platforms. The advent of Battle Royale games, like PUBG and Fortnite, on mobile platforms, has also pushed up app downloads significantly. As of now, Fortnite Mobile is only available on iOS, and PUBG Mobile is available for both Android and iOS.
US, Russia and Turkey have experienced the large year-over-year growth in market share for iOS downloads. In contrast, emerging markets, like India, Indonesia and Brazil, were responsible for the increase in Google Play downloads. The growth in Android app downloads more than iOS apps in China was a surprise element considering the growing craze and increasing penetration of iPhone in the country.
Google Play Users Are Spending More Than Before
As has always been the case, Google Play still lags behind iOS Store in worldwide consumer spending. iOS App store has a sizable lead over Google Play for global consumer spend, yet Google narrowed this gap a little by 10% points Q-o-Q. The consumer spending on Google Play is up by 25% YoY in Q1 2018, while iOS saw 20% YoY growth.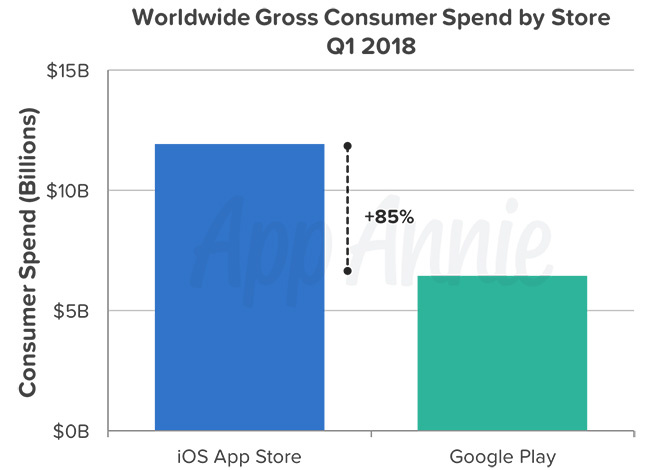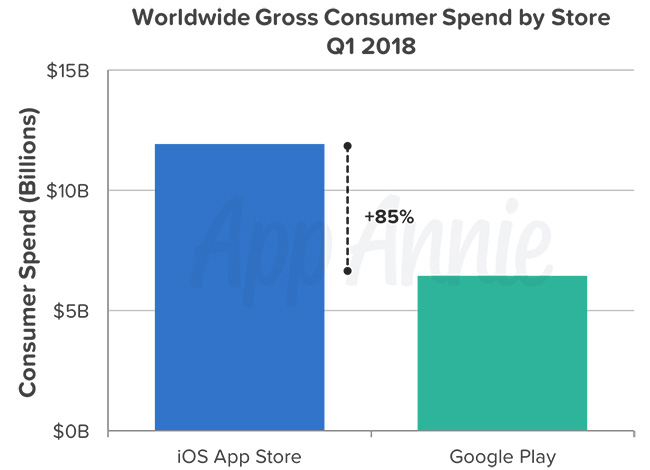 The US, Japan and Philippines were the main drivers of Google Play's consumer spend QoQ growth.
Music & Audio and other Entertainment apps were responsible for the large market growth of consumer spendings on Google Play, both Q-o-Q and Y-o-Y. This reflects the rise in music streaming and video on demand (VOD) services via apps. Another app store intelligence firm, Sensor Tower, reported that the US consumer spending in the top ten mobile subscription VOD apps grew 77% in 2017, to reach $781 million in revenue, across iOS and Google Play.
App Annie also mentioned that consumer spending on iOS in Q1 2018 was benefitted from increased subscriptions in Health and Fitness apps. The US, followed by the UK and Germany experienced the largest market share growth in consumer spending on iOS.
App markets have continued to see steady growth for quite some time. This is not the first time App Annie has reported such record consumer spend and app download metrics. Last year too the app economy was observed to be extremely healthy. In 2017, global app downloads on both stores topped 175 billion and consumer spending reached $86 billion. The growth in emerging markets like China, India, Brazil, and Russia was mentioned for key contribution. Notably, India is now second in the list of countries in app downloads, China being in the lead since long.
State of the app economy was enormous and record high in 2017, this year too is facing the strong girth of its momentum.