The Chinese giant Xiaomi has come up with an iterative yet evolved upgrade of an already fabulous device Mi Mix 2. Xiaomi's newly announced Mi Mix 2S is a mid-cycle refresh of its predecessor, almost similar in design but more powerful and faster. Yes, its near bezel-less and notch-less!
Xiaomi launched Mi Mix 2S today in China. The model with 6GB RAM and 64GB storage starts at 3299 yuan (about US$525), almost half the price of Apple's flagship device – iPhone X.
You may be wondering what has convinced us to compare the device with Apple iPhone X. It's bcoz of its camera performance that may give Apple iPhone X – and many other premium range smartphones – run for its money.
The latest test, conducted by DxOMark on camera capabilities of Mi Mix 2S, has suggested that the camera quality is quite impressive on various grounds. The total photo score came out to be 101 which is 3 points behind the Samsung Galaxy S9+ – price tagged nearly 2x than Mi Max 2S. With the overall DxOMark score of 97, Xiaomi Mi Mix 2S is expected to give cut-throat competition to some high-end devices from makers like Apple, Samsung and Google. The Mi Mix 2S has scored equally for still photography as the iPhone X. It offers a good balance between texture preservation and noise reduction in low-light.
DxOMark is a highly trusted industry standard for camera and lens image quality measurement and ratings.
Xiaomi has also worked up a fair level of AI in its camera which has improved portrait mode and beautification features. Point the 2S to an object, person's face or a landscape, it will accordingly tune the resulting image automatically.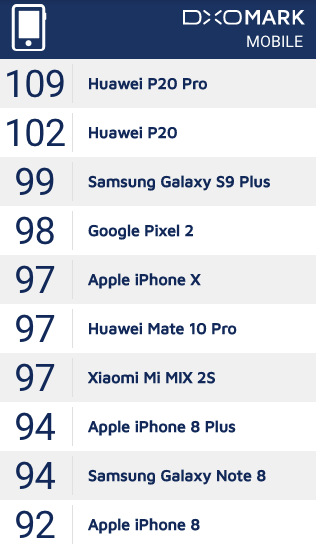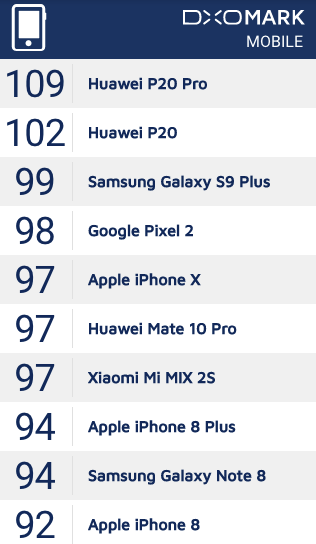 The device has a slightly curved ceramic back flanked by an aluminium frame. Mi Mix 2S's 5.99-inch DCI-P3 LCD screen is a good size and offers a great resolution. The 5MP front-facing camera sits in the right corner of the phone's 'chin'.
Inside, Mix 2S is one of the first devices to use Qualcomm's latest Snapdragon 845 chipset, paired with 6GB/8GB RAM, and runs on Android 8.0 (Oreo), available with 64GB, 128GB and 256GB of storage. The battery is 3,400 mAh, same as in Mix 2. The Mix 2S is the first Xiaomi smartphone to support wireless charging. It also supports Qualcomm's Quick Charge 3.0 through its USB-C port.
According to the DxOMark analysis, Mi Mix 2S camera performance was pretty good in terms of HDR, exposures and colour. Zoom and bokeh controls are well implemented on the device. Yet its dynamic range is not as good as of iPhone X. All this has resulted in the device scoring only 88 on video quality, one point less than Apple's iPhone X. But all of this is unlikely a deal-breaker, provided if you consider its price.
"We are comparing to iPhone X because people say it is the best phone. We just want to show we surpassed the best in many features," –  Said Lei Jun
Mi Mix 2S: The Best Camera Phone By Xiaomi
Undoubtedly, the Mi Mix 2S can attract photography enthusiasts because of its phenomenal camera at an affordable cost. It has two 12-MP rear cameras – one utilizes a 1/2.6 inch sensor with a wide angle 26mm equivalent lens that incorporates optical image stabilization (OIS) technology, the second camera is equipped with a smaller 1/3.4 inch sensor aligned with a 46mm telephoto lens.
Xiaomi has boasted about its wide-angle lens as 'the best camera it has ever used'. It features dual-pixel autofocus, four axis optical stabilization, and larger pixels than the sensor used in its predecessor. Xiaomi has used Sony's IMX363 sensor set behind f/1.8 aperture lens and 1.4-micron pixels as its main camera which makes it perform surprisingly good in low-light conditions.The telephoto camera employs a f/2.4 aperture lens with 1.0-micron pixels.
Some other photography features include Electronic Image Stabilization (EIS) that uses gyroscope to detect movement, phase-detection autofocus, dual tone LED-flash, and temporal noise reduction in photos and videos.
Those who are used to Google's version of Android, do find MIUI rather unfamiliar, as it borrows many designs and interface elements from Apple's iOS. Also, the absence of AMOLED could be another disappointing factor for many. But one can totally overlook the gnarly details in light of how powerful and reasonably priced this device is.
Can it be a better bargain than the competition who have already acquired ground? We need to wait for some more time until the device is up for grab; sales figures and users' response will answer the question itself.