In the era of internet and smartphone, more than half of world's population has already on-boarded the Internet. But, it has led them to the adoption of various tools and services to make their digital world more productive; Online Project Management is one of the must-have tools startups and emerging companies are adopting without any reluctance. It is estimated that the trend will create an opportunity worth US$6 billion by 2025 and, consequently, all the players have set their eyes on the market to grab a sizeable chunk of the pie.
Asia Pacific will drive the global growth of online product management market. The increasing demand for online project management is due to the lack of skilled manpower. However, the opportunity comes with few hindrances as well.
Let's peep into the billion dollar opportunity window to see what's there for vendors, customers and to understand the upcoming challenges in this space.
Online Project Management Industry: A Big Opportunity Window
According to the latest report by Transparency Market Research, online project management industry will grow at CAGR of 9.3% between 2017 and 2025. It's a sizable opportunity for online project management tool development companies as they can grab a large chunk of the pie which is estimated to grow from just $2.74 billion in 2016 to $6.08 billion by 2025.
Some of the prominent participants in the global project management software market are Microsoft Corporation, Taskworld, Asana, Trello, Wrike and Citrix Systems.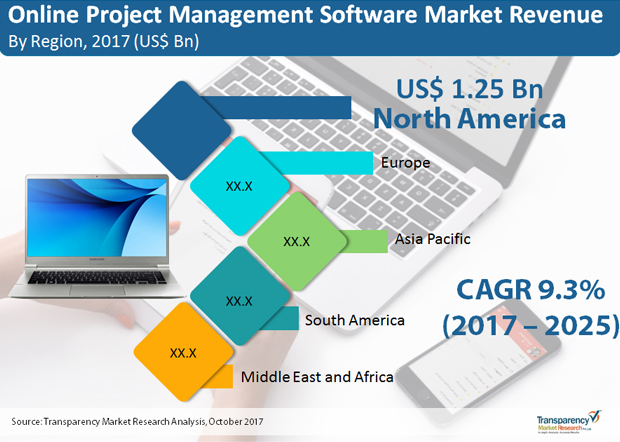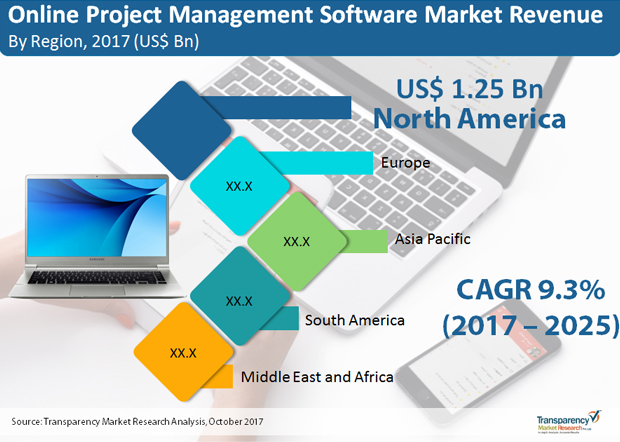 While the whole Asia Pacific is portrayed as the most promising region for the growth of online project management software by Transparency Market Research, it's the developing nations India, Singapore and Malaysia that would play a key role in the performance of the region.
"The emergence and proliferation of e-commerce has fueled the number of online transactions carried out globally. This has resulted in significant uptake of retail online project management software and other types of such software. The U.S., India, and China are expected to be at the forefront of the global project management software market," explains the lead analysts of Transparency Market Research.
So, what are the key elements driving the industry?
One of the key factors behind the astounding growth of the worldwide online project management industry is the lack of skilled manpower. Consequently, spurring demand for appropriate tools and skills to manage the project has helped the online project management software industry to record unprecedented growth.
Automation, transparency and efficiency are the other three key elements that make online project management software more adorable for companies.
In the era of internet and apps, people like to carry their work and word with them in the most sophisticated manner. Automating project management tasks help the managers to reduce project management time and improve accuracy. Automation can offload mundane tasks. For example, an application could get updates from the team, produce key reports, and raise triggers and alerts when problems were detected
Transparency and efficiency go hand in hand when an online project management software is deployed. It not only helps project managers to generate ROI in a desired manner but also make sure all the quality checks and guidelines are met.
The Hinderances
There is no industry that has attained a commendable growth without any hindrance, and online project management industry is no exception.
Strict rules that prevent the hassle-free introduction and free implementation of innovative system and solution in online project management are holding the industry back from registering a more impressive growth rate.
Besides, employees' reluctance to come out of their comfort zone to adopt more effective system is another challenge. It results in a great degree of dependency on few key employees for managing projects. But the situation turns around when some of these key employees decided to move and company find project going haywire due to the absence of any effective project management system in place.