Social messaging is fast coming to the fore today. According to the Harvard Business Review, of the top ten global applications, six are social messaging-centric ones, used by 1.4 billion people worldwide. As per industry experts, the revenue generated by these applications will exceed that of regular messaging applications by $15 per user by 2020.
In fact, social messaging is also offering brands a platform for one-to-one communication with their customers. This is because these platforms register 20 percent more monthly active users, compared to social media. This, in turn, suggests that requests for customer support through social messaging applications will exceed requests through traditional social media by 2019, as per Gartner.
This trend isn't likely to abate in the near future as well as IP messaging continues to evolve. According to Activate, within a few years, 71 percent of the total global mobile customer base will have installed social messaging applications.
Why is Social Messaging in the Spotlight?
Use of social messaging has reached an all-time high, over 2.5 billion people now having at least one messaging app installed and according to 'The Economist', this number is likely to grow to 3.6 billion in next few years. With people spending over 5o minutes per day on Facebook alone, it is not a surprise that social messaging has penetrated all levels of communication. Not only Facebook, but WhatsApp sees a similar trend as 60 billion messages are exchanged per day on Facebook and WhatsApp.
WhatsApp and similar other social messaging apps have allowed people to share texts, videos, photos and other content. Even though we call them IP messaging apps, these have primarily become 'Social Networks'. WhatsApp's users are daily uploading an average of 600 million photos, 100 million video messages and 200 million voice messages.
With many channels available for customer interaction including website, email, phone, and social media, forward-thinking businesses have leveraged social messaging platforms to deliver the best customer service experience possible. In the recent years, there has been a shift towards social messaging as an additional customer service touchpoint, and many consumers think that businesses should pre-dominantly use messaging more.
Many CRM and Marketing Automation providers have also integrated IP messaging into their software, allowing them to add text and social messaging channels for customer communication. The benefits of leveraging messaging to automate real-time communication is driving the path ahead.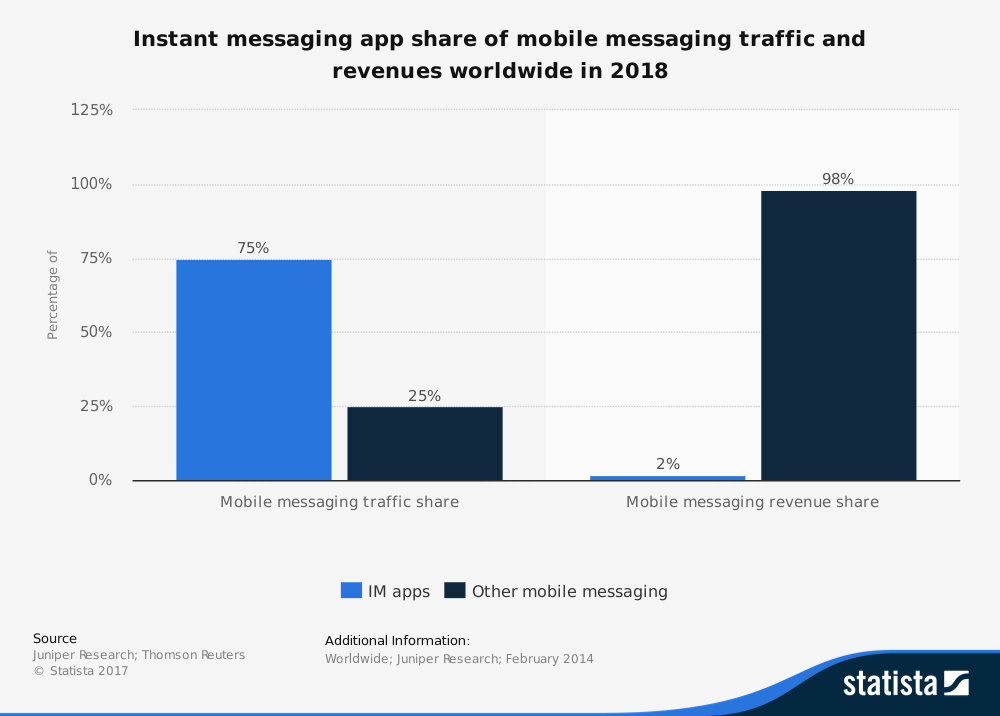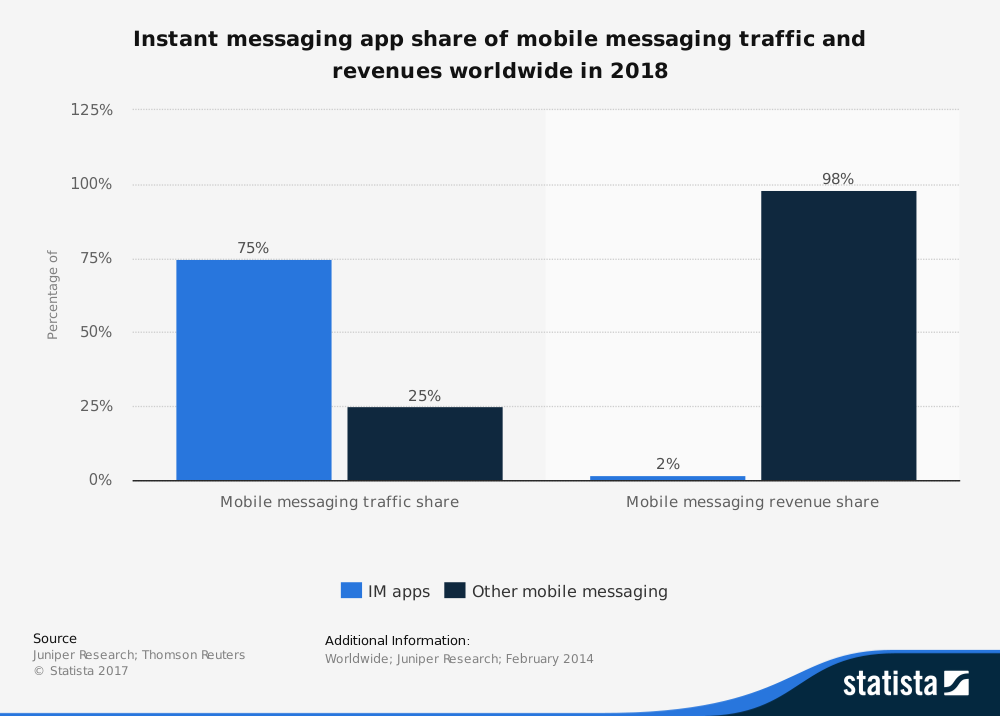 The speed, convenience and versatility of social messaging, has led to its integration within the entire customer journey, and even greater than the traditional methods like emails, phone or live chats.
Social messaging has not only become the preferred customer service platform of users in America but also in South Korea, India and Singapore. In fact, 9 out of 10 users worldwide prefer to message with brands
Gartner says that most business interactions in future will be with chatbots as these bots will deliver customer satisfaction at significantly lower cost than their human counterparts.
Current Trends in Social Messaging
OTT Messaging Applications:
The overall traffic in messaging apps is expected to double by 2019 and Over-the-top (OTT) apps such as Facebook Messenger, WhatsApp, and BlackBerry Messenger will be the driving force over the next few years, increasing from 31 trillion messages in 2014 to over 100 trillion in 2019. This 200 percent surge will mainly due to free messaging facilities on these platforms.
Chatbots:
Chatbots is the current hype word on social messaging platforms as the chatbot market is expected to reach $1.23 billion by 2025, showing a CAGR of 24.3%, as per the report by Grand View research. Bots deployment on platforms like Facebook Messenger and WhatsApp has given businesses the opportunity to reach their target audience through different APIs better.
Businesses have already started interfacing with customers via chatbots. This chatbot interface is prompting users to purchase products and services during an on-going interaction as these bots come with shopping and payment capabilities.
Social Advertising:
Businesses have targeted social messaging platform by using algorithms to personalise the organic social content based on what their customers love. In 2016, the social advertising revenue crossed $1.53 billion worldwide, and it is expected to grow in the coming years.
Cloud-based messaging and collaboration tools:
The social messaging tools have provided employees with more interactive communication platforms. The popularity of social networks like Facebook, Twitter, LinkedIn and Google+ has given opportunities for businesses to take advantage of this new communication medium. Such platforms are more flexible than emails or corporate messaging applications.
Challenges in Social Messaging
Security
The most prominent complaint from social messaging is the lack of security. Users are hesitant to go ahead with in-app transactions due to security issues.
Targeting the right customers
The primary challenge for the businesses while using social messaging as a monetisation platform is targeting the right customers. Understanding the likes and needs of the customers according to their demographics needs much effort.
The Solution:
Businesses need to create a character profile of the customers based on the information of their age, gender, likes, dislikes, motivations etc. When formulating the strategy, the focus should be on how likes, shares and increased website traffic will improve the bottom line.
Assessing the data
The main obstacle to social messaging marketing for businesses is the access to the data. Accessing the right data helps to know what works and what doesn't and unfortunately, businesses face the major issue to access and sort the right data of use.
The Solution:
Overcoming this social messaging marketing problem is possible with a little work and analytic solutions.
Designing a strategy
No single strategy will fit each messaging platform. There are plenty of messaging platforms, each having a different demographic nature. Also developing a cost-effective strategy for each platform is a task.
The Solution:
Businesses should develop the strategy by staying up to date on the latest trends on each messaging platform. A centralised analytical dashboard should be used to view all the networks, notifications, and competitors.
Future Outlook
Rise of dynamic messaging
Dynamic messaging will gain more momentum using group collaboration activities. These dynamic messages will be used for easier group decision-making, coordination and actions.
Creating a human user experience
Along with chatbots, general AI will be able to handle most of the questions, problems or inquiries. Chatbots can integrate information from our social media profiles, browsing and shopping history. But when an inquiry goes beyond the spectrum of the chatbot, a human-like interaction method will emerge.
Conclusion
As more companies join in on the social messaging platform, it will most definitely spur further innovation.
Though the current social messaging landscape provides users with a ton of rich features, from photo-sharing to high-definition video calls, the future could open new surprises.
As the envelope of innovation is pushed, it will lead to more social apps, more features, and more diversity.