After a somewhat difficult two quarters, the Indian smartphone market has bounced back in a big way, led by none other than India's most preferred smartphone brand, Xiaomi. A while back, we reported that smartphone shipments in India in Q2 2017 declined 4% YoY compared to Q2 2016. At the time, some thought the Indian smartphone boom was finally slowing down. However, we explained that this was merely an anomaly brought about by the new implementation of the GST (Goods and Services Tax) and the hangover from demonetization.
Smartphone Shipments In India Q3 2017: Xiaomi Emerged As the Dark Horse
This has now proven to be true, with a recent Canalys report claiming a 23% YoY growth in smartphone shipments in India in Q3 2017 to reach just over 40 million units. With the disruptive effects of GST having stabilized, its business as usual in the world's second-largest smartphone industry, which has now overtaken even the US. However, this has been the trend for a while now, most of the market share belongs to the top 5 vendors – Samsung, Xiaomi, Vivo, Oppo and Lenovo. Together, they account for 75% of all shipments in the region.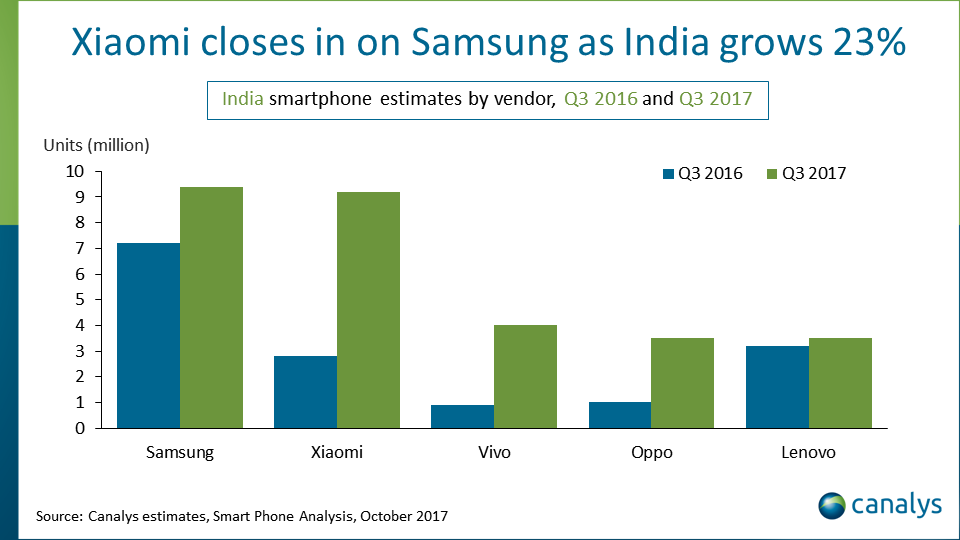 Another notable feature in the data is the continued incredible growth of Xiaomi. Xiaomi shipped 9.2 million smartphones in India during the third quarter of 2017, neck and neck with top dog Samsung, who shipped 9.4 million smartphones. However, with Xiaomi registering a mind-blowing 290% YoY growth, it is only a matter of time before they overtake Samsung, who managed a much more modest 30% YoY growth in the third quarter of 2017. Canalys predicts Xiaomi to go top of the pack within 2 quarters.
So what is the secret behind Xiaomi's ludicrous growth numbers? One major reason is their supremely effective online sales and marketing channels. Xiaomi started out selling their devices exclusively through online channels. This helped them eliminate physical infrastructure, middlemen costs and other overheads. Xiaomi is also the master of social media and word of mouth marketing. Their non-traditional but effective marketing has enabled them to save millions in marketing costs, which in turn allows them to undercut their rivals on prices. Their new age marketing techniques have also cultivated a loyal customer base, which has definitely helped them get a foothold in the market.
Xiaomi has also displayed a uniquely keen understanding of the Indian ethos and market. Many of their manufacturing operations are conducted locally, and their devices feature support for numerous regional Indian languages. They also have attractive sales during the Indian festive season. In fact, just recently during the Amazon and Flipkart festive sales, Xiaomi broke all records by selling over 1 million smartphones in just 2 days. As things stand, it would take a gargantuan effort from rivals to slow Xiaomi's rapid ascendance to the top.