Mobile Broadband is perhaps the bedrock of most modern consumer technologies and services today. We are in an age of innovation, with so many new up and coming technologies like Virtual Reality, Augmented Reality and Internet of Things. What do they all have in common? Their deep reliance on fast internet connectivity to function optimally.
But perhaps most importantly, the smartphone and its communication, entertainment, productivity and app ecosystem are all intrinsically tied to mobile broadband itself. This is why proliferation faster mobile networks like 3G, 4G and 5G are so imperative today. These networks unlock the full potential of the technologies they support and open a world of limitless opportunities. Perhaps the single biggest beneficiary of this can be Asia Pacific. As the most populous region in the world by far, faster networks can be a game changer here. GSMA Intelligence's new report outlines the changing trends in mobile networks over the past few years in this region, and what the future holds.
APAC Is Now Broadband Ready
For years, APAC has lagged behind Europe and North America in terms of broadband network penetration. This is due to factors such as a higher instance of developing countries, poor economies and underdeveloped infrastructure. However, this is now slowly changing. For the first time in 2016, mobile broadband networks (3G and 4G) overtook 2G networks in terms of connections. From a mere 20% share for 3G and 4G combined compared to 2G's 79% share in 2012, broadband networks now make up 53% of connections, while 2G has a 47% share. Despite this, 2G remains the single largest network in APAC. However, even that is about to change very soon. By 2018, 4G will overtake 2G as the single largest network with 41% share of total connections across the region compared to 36% share of 2G and 23% share of 3G. By 2020, this gap will widen even further as the share of 4G will rise to a massive 48%, while the share of 2G will dip to 28%.
This changing scenario is largely due to the multitude of LTE networks rolled out over the past year. A net total of 22 LTE networks were unveiled during 2016 in Asia Pacific. This brings the total number of LTE networks in APAC to 106 as of March 2017. Many regions have also started experimenting with faster 4G networks, with 36 live LTE Advanced networks across 18 countries. 34 VoLTE networks are also now in operation across 15 countries in APAC.
This huge upsurge in 4G connections has made APAC the world leader in terms of volume. APAC now accounts for almost 67% of global 4G connections. Leading the pack are South Korea, Japan and Australia with 4G penetration of 78%, 69% and 65%, respectively. China will also play a major part in driving the growth of 4G mobile subscribers in APAC. The country is expected to cross 1 billion 4G subscribers by 2018, accounting nearly 75% of total connections and this figure is expected to swell to 83% by 2020.
APAC Seems To Have Skipped 3G
One very curious detail that pops out from the report is 3G market share over the years. From 2013 to 2016, its market share has hovered in the 24-30% range. In the years leading up to 2020, its market share will more or less stay stagnant at 23-24%. Meanwhile, 4G will experience massive growth at the expense of 2G, which will experience a massive decline.
This shows that 3G has never really taken off in APAC. Instead, it is 4G which is set to become the standard in coming years. This could possibly be because of the late entry of 3G in many APAC markets like India. Another factor could be the poor smartphone penetration in APAC during the early days of 3G. Now that smartphone penetration is on the rise in this region, more and more people are opting for 4G instead.
5G Right On The Horizon
Of course, the next big step up in mobile networks is the emergence 5G. Many countries in Asia-Pacific have already started planning on how to roll out these services within the next few years. Korea Telecom is promising to showcase its ultra-fast 5G service by as soon as 2018. Japan is not far behind either. In May 2017, NTT DoCoMo, in collaboration with Nokia and Intel, has begun testing 5G applications in the Tokyo metropolitan area. They expect their services to be fully operational by 2020.
Another pioneer of 5G in APAC is China Mobile, who has announced its plan to conduct large-scale 5G field trials in over 100 sites in 2019. They are also targeting a commercial launch with 10,000 5G base stations by 2020.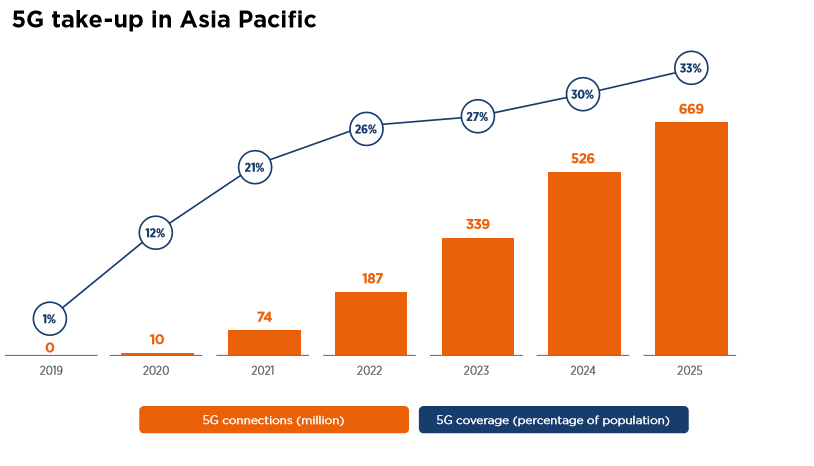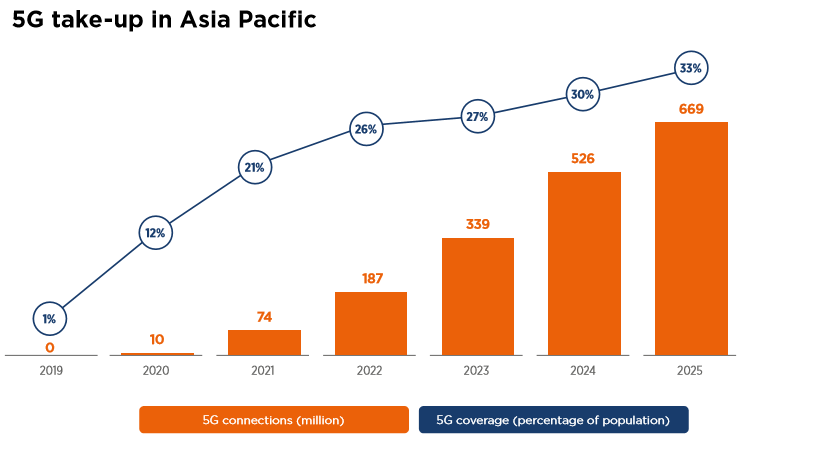 5G adoption is expected to be extremely rapid, even more so than 3G and similar to 4G. 5G will cover nearly 33% of APAC population by 2025. This will amount to as many as 670 million 5G connections in APAC alone, accounting for nearly 60% of global 5G connections. In a twist, it is APAC, not Europe or North America, who will blaze the trail for 5G.
Of course, networks improve and data becomes cheaper, mobile data consumption is also set to rise rapidly. From 2016 to 2020, the average data usage per user per month will increase from 1.4 GB to 6 GB, registering growth of 329%!
Actionable Insights
4G adoption is set to rise rapidly in APAC over the next few years. App developers and service providers can take advantage of faster speeds and increased bandwidth to optimise superior mobile experiences.
With 3G market share set to remain stagnant in the coming years, 4G compatibility is becoming a 'must have' feature in any modern smartphone.
Surprisingly, APAC is set to lead the world when it comes to 5G connectivity by 2025. App/Service providers, network providers and smartphone manufacturers must all prepare for the impending 5G revolution. Any vendor who manages to take advantage of the technology first will gain a significant advantage over competitors.