This month achieved yet another milestone for the global mobile industry as the total number of unique mobile subscribers worldwide has crossed the 5 billion mark. This means that nearly 67% of the world's population is now connected via mobile. This is yet another tremendous achievement for the mobile, which has taken over the entire world. Despite being only a few decades old, the mobile industry is now raking in revenues of nearly $1,100 billion yearly. It has become a cornerstone of economic growth and development in the modern era.
Let us have a deeper look at the data at hand, and reveal the status of various countries and analyse the avenues and trends of future growth.
Asia-Pacific Dominates the Subscriber Count
If we look at the global subscriber count for Q2 2017, the Asia-Pacific region leads by a landslide. With over 2,765 million unique subscribers, this region accounts for around 55% of unique global mobile subscriber base! This incredible user base is mostly made up by China and India, which are the world's largest and second-largest mobile markets, respectively. China has claimed to over 1,081 million unique subscribers, while India follows behind at 730 million unique subscribers.
Europe is trailing behind APAC, with around 465 million unique mobile subscribers. They are followed by Latin America (459 million unique subscribers), Sub-Saharan Africa (436 million subscribers), Middle East & North Africa (391 million subscribers), North America (292 million unique subscribers) and CIS (227 million unique subscribers).
The industry as a whole has been growing at an extremely rapid pace over more than a decade. From 2 billion mobile subscribers worldwide in Q1 2007, the number has risen to 5 billion in Q2 2017, representing a YoY growth of 4.76%. This represents an increase of around 150% over a period of just 10 years.This growth is set to continue, with an estimated 5.7 billion unique subscribers by 2020.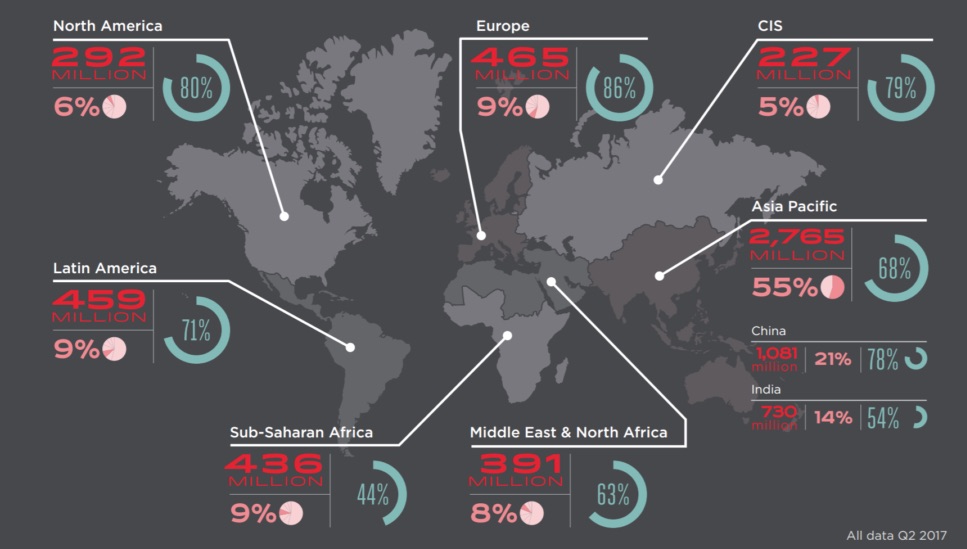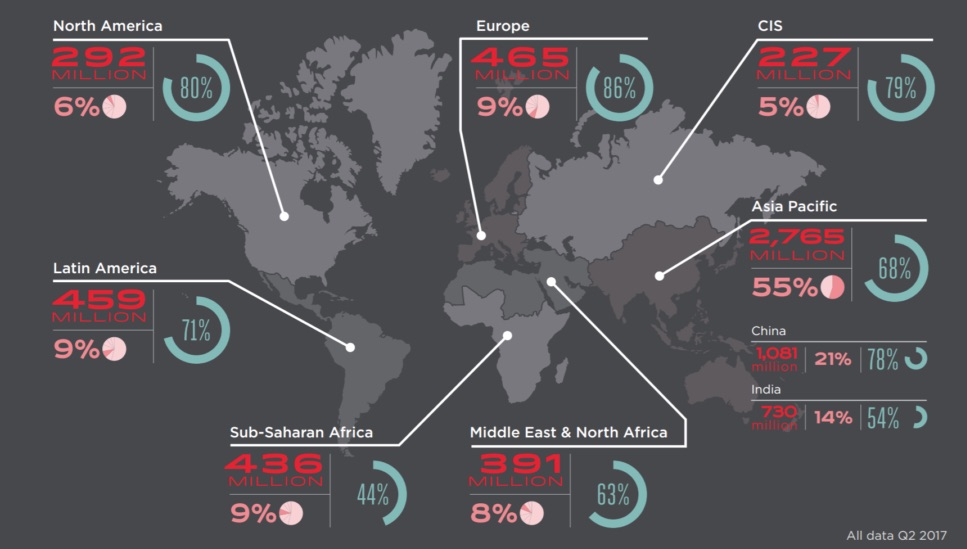 In the last years, the penetration levels have also more than doubled from 30% in Q1 2007 to 67% Q2 2017. Subscriber penetration is increased almost 7 times from the mere 10% during the turn of the century.
This data, however, does not give us any information about growth potential. For that, we must look at the subscriber penetration levels in these respective regions.
APAC To Drive Future Growth As NA and Europe Stagnate
Mature markets like North America, Europe and CIS already feature high subscriber penetration levels of 80%, 86% and 79% respectively, despite having lower subscriber counts. This is due to the significantly lower population levels in these countries compared to other regions. What this means is that the potential for acquiring unique subscribers from these regions is low, and growth is stagnant. In contrast, penetration levels in the emerging economies remain quite low, despite their massive already existing user base. APAC has penetration levels of 68%, whereas the Middle East & North Africa and Sub-Saharan Africa are even further behind with 63% and 44% penetration, respectively.
At first glance, it would seem like the Sub-Saharan African region is best suited for explosive growth in the coming years. However, growth estimates for 2020 by GSMA Intelligence is quite poor. This is due to issues such as poor infrastructure, poverty, lack of education and political instability, which have crippled progress in these regions. The situation is also similar in the MENA region. While there is significant potential in these regions, it is not likely to be realised in the near future.
This leaves the APAC region, and it is indeed primed for explosive growth. With its tremendous population levels and only 68% subscriber penetration, APAC is going to drive mobile industry growth in the near future. The single biggest growth driver will be India. The country is going through a mobile revolution at the moment, with rising mobile penetration and subscriber growth due to the proliferation of 4G networks. India is expected to account for over 30% of all new unique mobile subscribers by 2020. The case of China is a bit more peculiar. It has a relatively high subscriber penetration level of 78%. Despite this, there is a considerable margin for growth in this market simply due to the sheer population size.
TRAI Subscription Data: Conflicting Information?
There is a bit of ambiguity regarding India's subscriber base if we look at TRAI's official data. According to TRAI's report for 30th April 2017, India's total wireless subscribers has reached to 1174.6 million. This is a long way off from GSMA Intelligence's estimate of 730 million. So does this mean that India lost over 400 million subscribers in a matter of mere months? Not quite.
TRAI's data accounts for total mobile subscriptions across India, whereas GSMA's data accounts for unique subscribers only. This means that around 444 million mobile subscriptions are non-unique. This would suggest that there is a prevailing culture among Indian users to have multiple mobile subscriptions. This fact is also reflected in the popularity of dual sim phones in this market.
Actionable Insights
The APAC region is a goldmine for the mobile industry. Due to stagnation in elite markets hardware and software/network service providers must both turn their attention towards APAC region to enjoy sustained growth.
While the MENA and Sub-Saharan regions may seem lucrative opportunities, they simply lack the infrastructure and circumstances to provide a decent ROI in the next few years.