As we are gradually approaching Q3 of 2017, we are nearing that time of the year when the whole world keenly awaits Apple Inc. (NASDAQ:AAPL) to unveil their next flagship that will inevitably become the gold standard to which all smartphones will be measured up to. This year is just an extra bit special though, as it marks the 10th anniversary of the iPhone. All reports and leaks thus far seem to indicate that Apple's next iPhone will be the best one yet. There are widespread excitement and unparalleled hype in the industry, with the iPhone 8 expected to shatter sales records. However, the important question is, do consumers share equal enthusiasm? How many current iPhone users are willing to upgrade to iPhone 8? If new data from eMarketer is anything to go by, users are not quite sold on the iPhone 8 just yet, at least in the US.
Consumer Anticipation For The iPhone 8 Lower Than Expected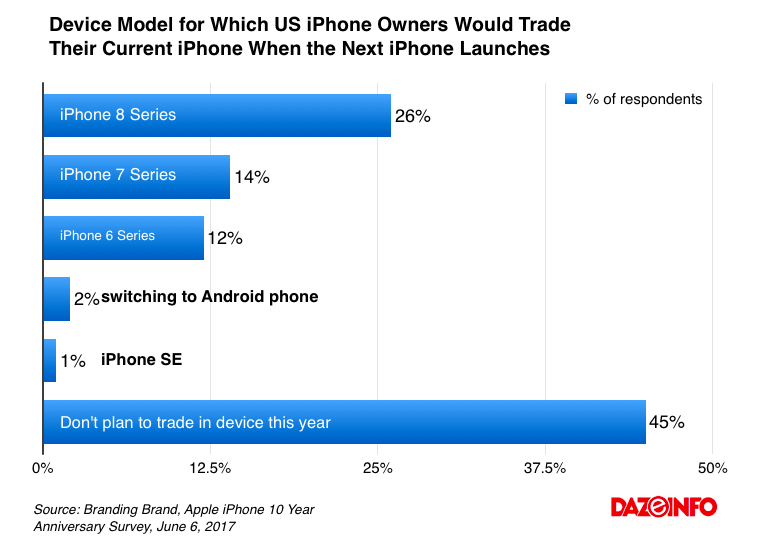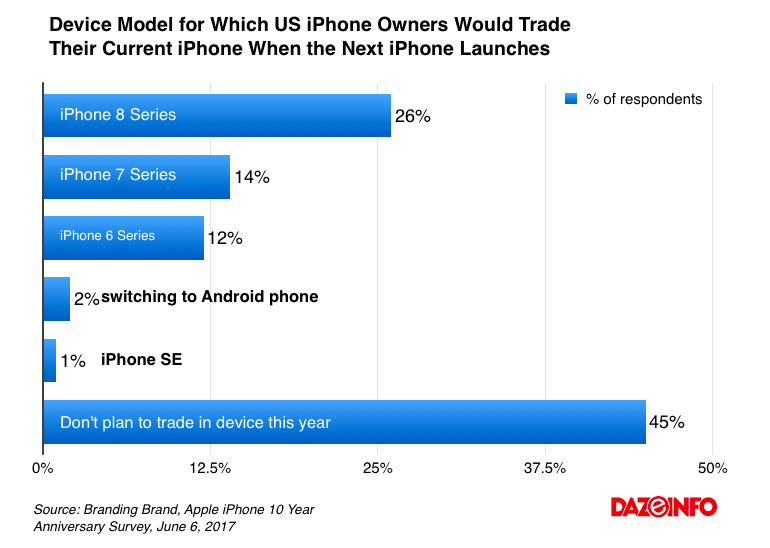 According to a new study by Branding Brand, nearly half of (45%) of US iPhone users said that they don't plan to trade in their current device in 2017. In contrast, only about 26% of users planned to upgrade to iPhone 8. Meanwhile, 14% of current iPhone users surveyed said that they plan to upgrade to the iPhone 7 or 7 Plus once the iPhone 8 comes out, and another 12% said they would trade in their current iPhone device for any of the iPhone 6 series.
This is extremely worrying news for Apple, who are counting on the hype to drive massive sales. The past year hasn't been the best for the iPhone, with disappointing sales and news of production cuts. With Android's ever-increasing market share and the threat posed by Chinese smartphone makers like Huawei and OPPO, Apple needs to have a strong positive response. Needless to say, the iPhone is extremely important in fulfilling these ambitions for Apple, seeing as it accounts for 63% of Apple's overall revenue.
In this context, the lack of enthusiasm from US iPhone users is troubling. The US has traditionally been a very important and lucrative market for Apple, driving massive revenue and profit. Poor sales performance in the US would likely deeply affect profitability. This would also have a significant impact on Apple's market valuation, which recently broke the $800 billion barrier. Apple's sky-high market cap and the promise of even further growth is largely predicated on the success of the iPhone 8. Should this fail to happen, Apple's valuation could suffer a serious hit.
So What Do Users In The US Want?
The primary reason behind the tepid response to the release of iPhone 8 is the OS of the phone, not the hardware. According to the study, 44% of US iPhone users said they wanted a better functioning operating system. This makes sense, as Apple iOS has been dropping off compared to the competition in terms of performance. A little while ago, we addressed the problem of poor app performance on iOS compared to Android. In fact, it was found that iOS apps are three times as likely to crash as Android apps! Issues regarding poor GPS connectivity were also prevalent.
Apple must iron out these issues in the newly announced iOS 11. The multitude of new features, and dropped support for 32-bit apps should go a long way in improving the performance and stability of the OS and its app ecosystem.
Another highly requested change was innovation in hardware design. 25% of respondents said they wanted to see a redesigned smartphone. This makes sense, as the iPhone 7 and 7 Plus were quite similar to the 6th generation in terms of design. Apple was widely criticised for their lack of design innovation with the iPhone 7 and suffered from relatively poor sales as a result. This has resulted in consumers viewing the iPhone as a commodity device, not a unique novelty. Meanwhile, rivals Samsung have blazed forward in terms of smartphone design with their new Galaxy S8. However, if the leaks and reports are anything to go by, the iPhone 8 looks to be shaping out as one of the most beautiful smartphones ever made.
The Silver Lining
However, the report is not all bad news for Apple. Despite the relative unenthusiastic response to the iPhone 8 in the US, iPhone users remain loyal. Dazeinfo recently reported on the extremely strong customer loyalty that Apple enjoys. Nearly 92% of iPhone users who are looking to upgrade within the next 12 months are likely to stick with Apple itself. This is also reflected in eMarketer's data, with only 2% of iPhone users in the US planning on switching to Android once the iPhone 8 launches.
This shows that Apple still enjoys unparalleled brand loyalty. Even if the users' response to upgrade to iPhone 8 is not as great as they would hope, their platform ecosystem remains as strong as ever.
Takeaways
If Apple fails to convince users in the US to upgrade to iPhone 8, it could severely dent their profit margins. This will also likely result in Apple's market valuation come crashing down.
Apple's issues with app stability are coming back to bite them. Users are citing the need for a better functioning OS in order to upgrade to iPhone 8. As such, the success of iOS 11 would be instrumental to iPhone 8's success.
Apple users remain loyal. This means that Apple will likely not lose much market share even if the iPhone 8 is not as successful as expected.
[poll id="73″]