The advent of the smartphone revolution and new wireless technologies has forever changed the world as we know it. Thanks to this, today the entire world is connected. The latest data from GSMA Intelligence estimates that the number of mobile subscribers worldwide will reach 5.7 billion by 2020, growing at the CAGR of 4.2%. While the developed marketers have saturated, most of this growth would be coming from Asia-Pacific, especially India. The precedented rise in the number of 4G subscribers in India, and Asia-Pacific as well, is estimated to be the main driving factor behind the growth of worldwide mobile subscribers in the next few years.
Let us have a look at the unstoppable force that is changing the equations of the worldwide mobile industry, factors which will shape future growth and the contribution of India which will keep the ball rolling.
India And Asia Will Drive Growth In Coming Years
For the past decade, mobile subscriber growth has been driven by mature and elite markets such as the US and Europe. However, now these markets are becoming saturated, with high levels of mobile penetration. This invariably means that the subscriber growth in coming years will primarily be driven by developing markets. The report estimates that the developing countries will account for around 90% of new mobile subscribers.
Subscriber penetration in Europe and North America is already greater than 80%. Clearly, this does not leave much room for growth. However, Latin America and Asia Pacific currently have subscriber penetration levels of 70% and 65%, respectively. These are set to rise to 78% and 76%, respectively by 2020.
Most of this growth will come from the Asia-Pacific region, owing to its abundance of developing countries and massive potential user-base. Out of 860 million estimated new subscribers by 2020, 66.4% percent will come from the Asia-Pacific region. The single biggest contributor here will be India, with 36% (310 million) of the incremental subscriber growth. India, which recently overtook the US as the second largest smartphone market, has been going through something of a smartphone boom. Increased income levels and lowering smartphone prices are driving adoption.
The disruptive launch of Reliance Jio has made data services affordable to everyone. This has led to a mass migration to mobile broadband networks.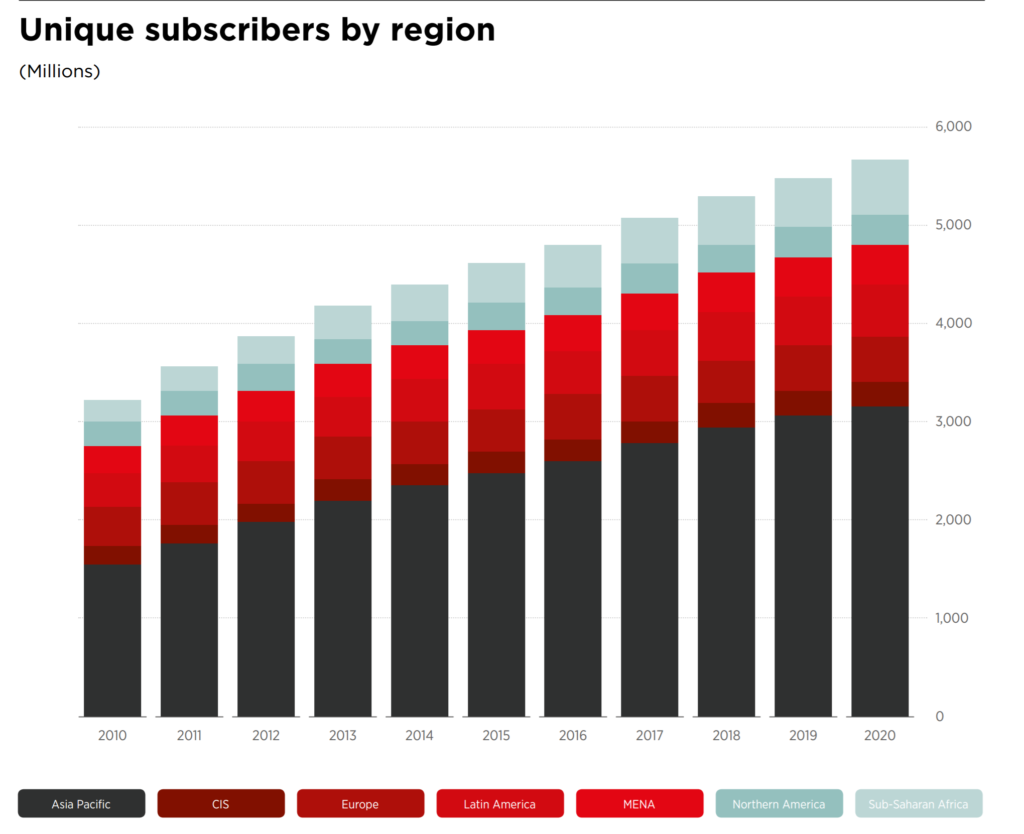 Subscriber penetration in the Middle East and North Africa and Sub-Saharan Africa regions remain woefully low at 59% and 44% respectively as of 2016. Even so, growth estimates for 2020 are modest at best, despite the immense potential of these markets. This is likely because of issues such as poor infrastructure, poverty, lack of education and political instability plaguing many of these regions. The poor levels of smartphone penetration also mean that these regions are currently unsuitable for mobile broadband growth. After the Asian and Latin market starts approaching saturation levels within a decade, the MENA and Sub-Saharan Africa markets will be there for the taking, offering significant growth opportunities.
4G And 5G To Drive Future Growth
Despite mobile broadband technologies being here for a while now, 2G connections still make up a massive chunk of global connections. In 2016, 2G connections accounted for 45% of global subscribers. 3G networks accounted for 32%, and 4G accounted for 23% of the global subscribers. To meet the increasing demand for data services, there is a need for increased 3G/4G proliferation. Mobile data traffic is set to grow by 47% CAGR from 2016-2020 according to Ericsson's estimates. With data services now also driving operator revenue, mobile broadband seems to be the order of the day.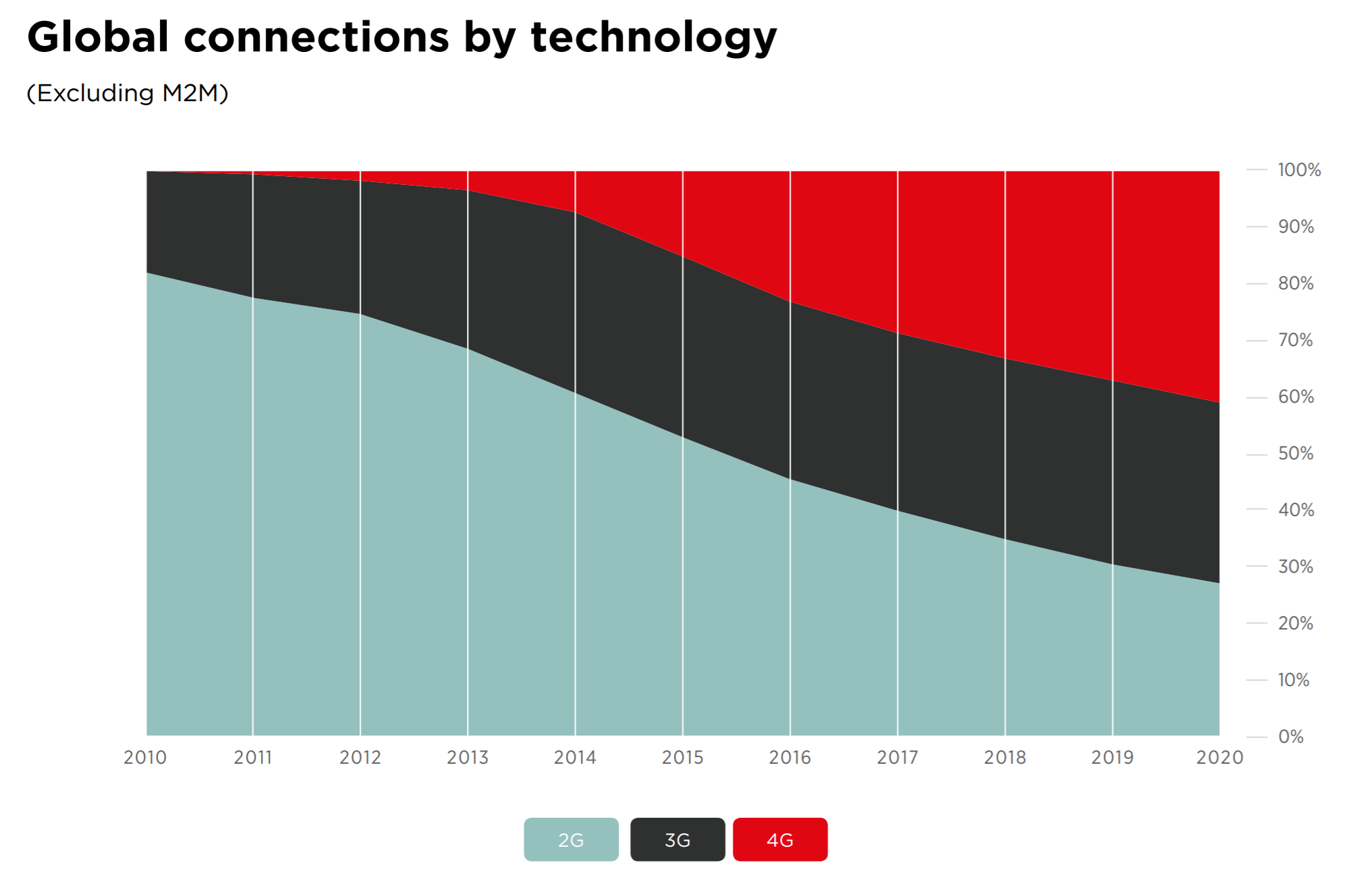 Analysis of the forecast data tells us that growth in the next four years is going to be driven primarily by 4G. 4G's subscriber share will reach 41% by 2020, mostly at the expense of 2G, whose share will fall below 30%. Meanwhile, 3G's subscriber share will remain more or less stagnant, with minimal growth.
Once again, emerging markets will be leading the growth of 4G mobile subscribers worldwide. It is estimated that emerging markets will account for 78% of 4G smartphone shipments by 2020.
And it is not just the number of subscribers that is growing, but the number of 4G networks as well. From 2015 to 2016, we saw the emergence of 96 new 4G networks. 4G access was also expanded to 30 new countries for a total of 188 countries with 4G access in 2016.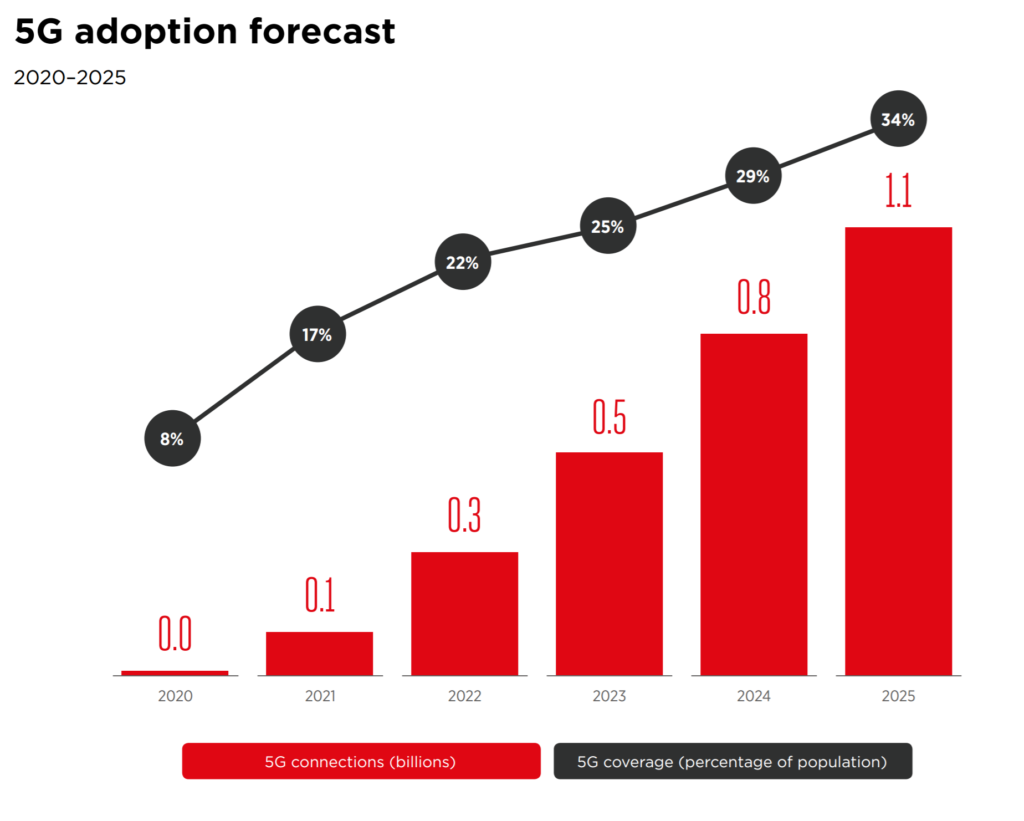 Of course, technology never stands still, and we are now also looking at the looming prospect of 5G. The ever increasing demand for higher speeds and more bandwidth is accelerating 5G development. We can expect the first large-scale 5G networks in the US by 2018, and South Korea by 2019. China, Japan, Europe and the UAE are also expected to roll out 5G networks by 2020.
While 4G will dominate the next four years, the five years after that will belong to 5G. From only about 8% global subscriber share in 2020, 5G networks are expected to account for almost 34% of global subscribers by 2025.
Actionable Insights
The Asia-Pacific region is set to experience a boom in mobile broadband subscribers in the coming years. This makes it a prime target for mobile app developers, service providers and mobile advertisers.
With 4G driving subscriber growth, it is increasingly becoming an essential feature which must be incorporated in newer smartphones.
As a consequence of increased 4G/3G adoption, the higher speeds and bandwidth open the doors for more dynamic mobile web and app experiences tailored for these regions. We can expect media streaming apps to rise popularity in the coming years.
Some countries are expected to roll out 5G networks as soon as 2018. This means that smartphone manufacturers who incorporate 5G capabilities in their phones sooner may gain a competitive advantage.