With a population of over 1.3 billion people, India undoubtedly has one of the largest potential user bases of the internet. Despite the immense possibilities, this potential has largely remained untapped until now. This is partly due to digital illiteracy, low incomes and the smartphone revolution arriving late in India. However, by far the biggest reason has been the poor broadband penetration in India, especially in the rural areas and Tier-2, Tier-3 cities.
The last year has seen this situation change rapidly. The increased broadband penetration in India driven by the disruptive Reliance Jio, along with ever increasing speeds has truly made India internet ready. With India connected to the world wide web, we are soon set to experience the rise of the Indian language internet.
Indian Languages Beating English On The Internet In India
A new report by KPMG and Google outlines just how big the indigenous language internet has become. As of the end of 2016, there were 234 million Indian language internet users compared to the 175 million English Internet users in India. This is quite extraordinary, since merely five years ago in 2011, Indian languages internet users were numbered at a mere 42 million. Since then, the Indian language internet users has grown at a 41% CAGR to overtake the English internet users in India.
However, this is merely a taste of what is to come. The Indian language internet is about to explode in the coming years. According to the forecast, the local language internet user-base is set to grow at 18% CAGR to reach 536 million by 2021! In contrast, the English internet user-base is expected to experience minimal growth totalling to only about 199 million by 2021. The writing is on the wall; the internet is about to become truly Indianized as users reject English in favour of local languages. Interestingly, by 2021, the Indian language internet users are expected to account nearly 75% of India's total Internet user-base.
The Indian Internet Is As Diverse As India Itself
Another notable highlight of the report is the sheer diversity of the Indian language internet. The Language Diversity Index (LDI) in India is noted at 0.93. Over eight major and several minor languages dominate the scene here. By 2021, Hindi is expected to have nearly 38% of the total Indian language internet users at 201 million, outnumbering English internet users. The rest will be made up of Tamil(6%), Kannada(5%), Bengali(8%), Marathi(9%), Malayalam(3%), Telugu(6%), Gujarati(5%) and several other languages(20%). Among these, Tamil and Kannada have the highest adoption propensity at 74%. Even the lower adoption propensity languages have respectable numbers, with Marathi and Gujarati at the bottom with 43% adoption propensity.
So what is driving this influx of diverse internet users who prefer to browse in their local languages? Let's find out in our today's analysis.
The Rise of An Indian Language Ecosystem
There are several factors behind the creation of the local language internet. The introduction of Reliance Jio shook up the Indian telecom industry and led to a 96% reduction in data prices. This has been supplemented by increased internet penetration, which currently stands at 31%, but is set to increase to 52% by 2021.
Smartphone penetration in India is also experiencing a boom, with an expected user-base of 467.9 million by 2021. In a country where mobile accounts for 92.8% of broadband connections, this directly translates to new internet users. Improving digital literacy and an increase in disposable income is also driving the growth of the Indian language internet.
All of this is coming together to create an Indian language internet ecosystem. This ecosystem is driven by emerging local language content creators catering to the local content consumers. Currently, this space is dominated by chat apps and digital entertainment. While these categories will continue to experience decent growth at about 19% CAGR, other categories will drive massive growth as markets mature.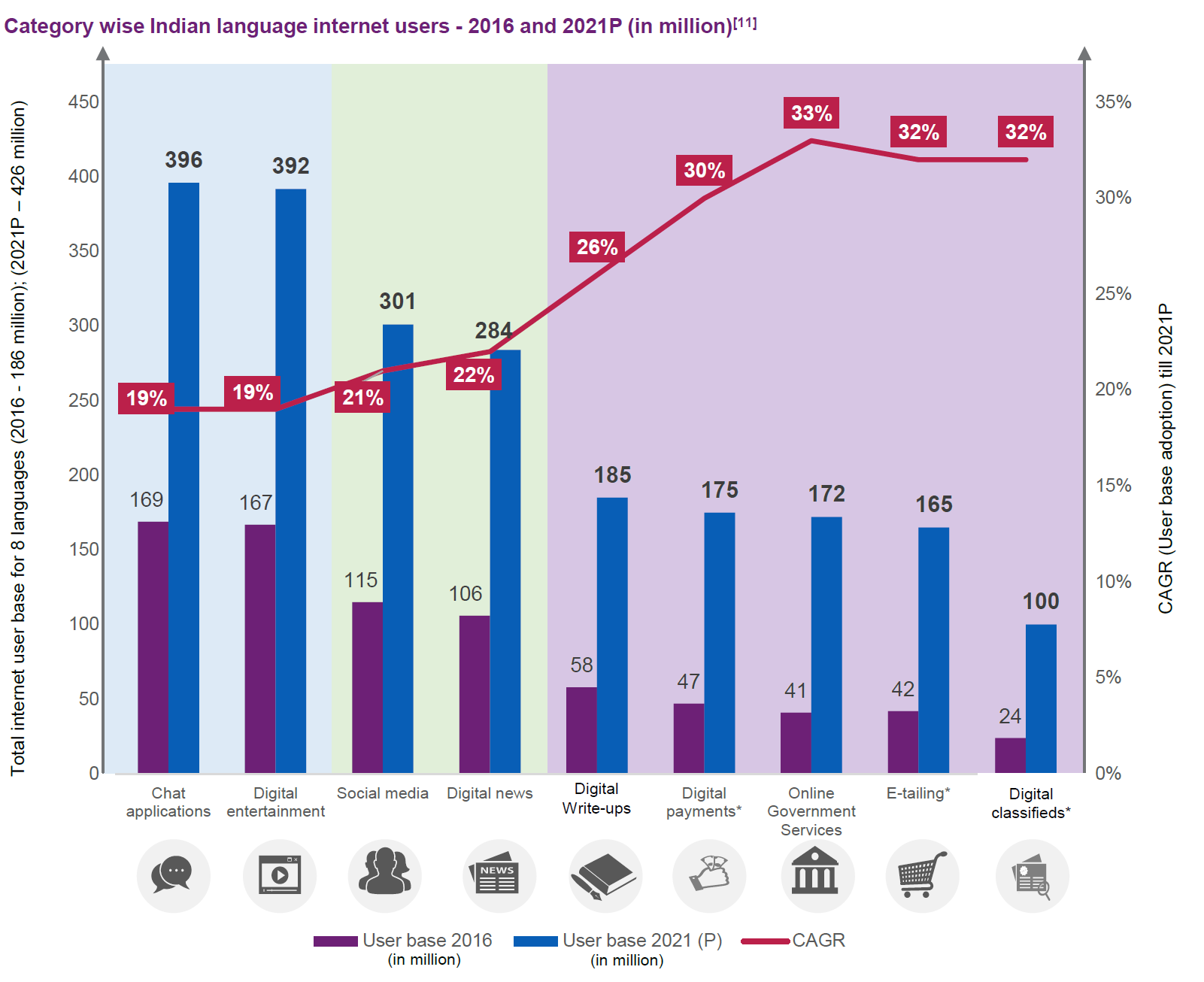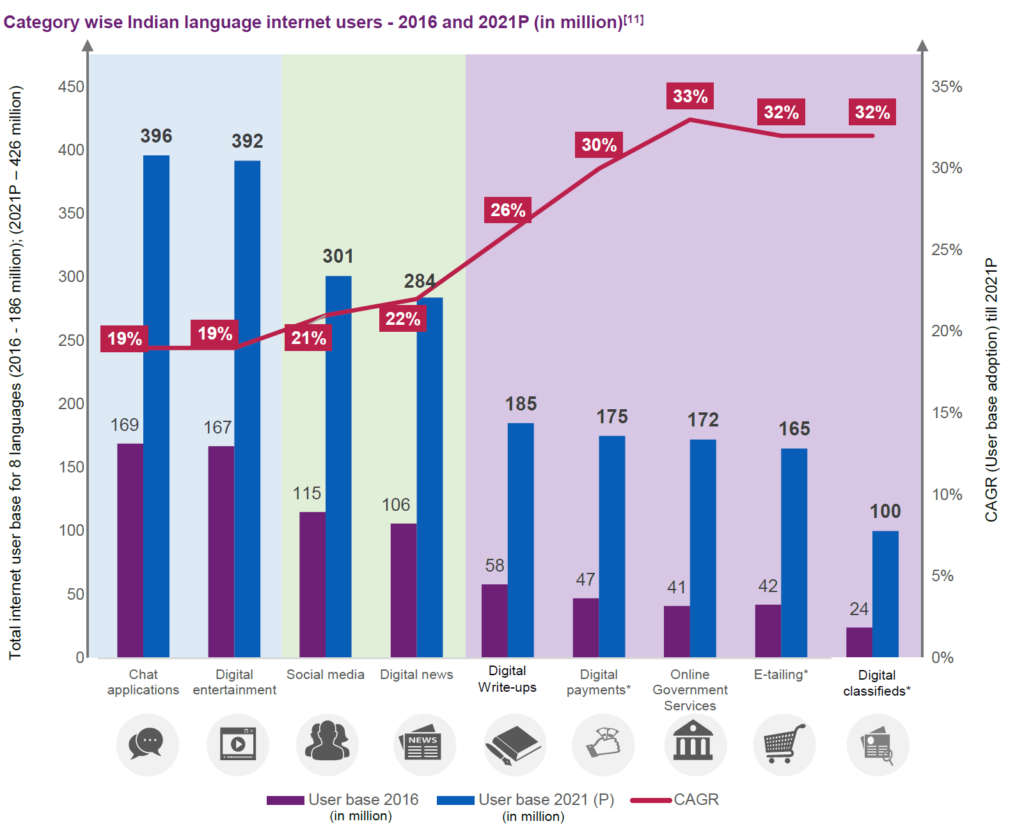 Social Media platforms and digital news in local languages continue to garner popularity and will experience growth rates of 21% and 22% CAGR till 2021. However, it is the as yet raw markets for digital write-ups, payments, governmental services, classifieds and e-commerce that are expected to explode in popularity with growth rates ranging between 26%-32% CAGR in the coming years.
The online content consumption growth also indicates an important pattern; 60% of internet users who prefer to access the internet in their own language are found to be more inclined towards regional news. Needless to say, it creates a big opportunity window for all those publishers who are indulged in created content in regional language.
Challenges Ahead
Despite the rosy predictions of fantastic growth and exploding popularity, the Indian language ecosystem faces various challenges ahead. Language support is still severely lacking, and there simply aren't viable alternatives for many of the English language internet services. Also, despite the inroads made by Jio into expanding internet connectivity in India, prices and the limited internet access remain troubling issues, with over 60% of users attributing it as the reason for dropping internet connectivity. This is especially the case in rural areas.
Other glaring problems include lack of digital literacy, with as many as 30% users not comfortable consuming online content. Lack of input/output support also remains an issue, as language specific keyboards are often hard to come by.
Actionable Insights
Publishers must start creating multi-lingual content and host on the Internet. This will help them multiple their ROI without a sizable increase in investment required to create content in different languages.
The optimisation of content in local language has become important more than ever before. In the ear of digital revolution, brands and ad agencies have started ditching the traditional methods of awarding advertising contract. They now look for publishers who are successfully engaging and influencing regional people by creating compelling content in their local language.
Internet users in India consider local language content to be more reliable. This makes them much more likely to respond to ads in their local language. Ad providers should tailor ads to specific regional languages to increase user engagement.
Indian language internet content registered appreciably higher engagement levels in rural areas. Local language advertisers can benefit from tailoring ads to target rural India to improve click-through rates.
Since nearly 99% of Indian language users access the internet through mobile, it is vital to optimise local language websites for the mobile format.
Digital news, write-ups and e-commerce in local languages are expected to experience significant growth in the coming years. Written content producers and e-tailers must make a concentrated effort to cater to the local flavour. This can help them reach a wider audience.