"The idea of not having a screen, I don't think suits many situations" is what Apple's Phil Schiller said when asked about the Google Home and Amazon Alexa in a recent interview. It would seem that Mr Schiller is going to end up quite red-faced over his transparent attempt to trash talk competitors because Amazon has just unveiled their first ever smart home speaker with a touchscreen.
Dubbed as the "Echo Show", Amazon's newest offering is a central home hub powered by Alexa. Naturally, the Echo Show offers all the functionality of Amazon's previous smart speakers like setting timers and playing music. However, the addition of a display opens up a whole new world of functionality that wasn't possible before.
Amazon Echo Show: The Most Advanced Smart Speaker Ever
Like Amazon's previous Echo speakers, the new Echo show is fully capable of basic tasks like playing music, set alarms, call an Uber, etc. However, the addition of a touchscreen is truly a game-changer, one that has allowed Amazon to cram more functionality in the device than ever before. The Echo Show can now be used to watch videos from YouTube or Amazon or even CNN news briefings. The Echo Show especially works well with Amazon's own services like Prime Photos and Amazon Music enabling additional functionality. It can also connect with smart home security cameras and display live feeds.
One of the most notable new features announced was the addition of voice and video calling. Users will now be able to call other Echo devices or users with the Alexa app on their phone. Other improvements include a 5-megapixel camera, eight microphones for better voice recognition and two Dolby-powered speakers.
Virtual Assistants In Demand In The US
While the smartphone industry is saturating in the US, another seems to be building up steam. The latest data from eMarketer shows just how fast the virtual assistant/smart speaker market is growing. According to the report, 35.6 million Americans will use a voice-activated assistant device at least once a month in 2017. This represents a massive 128.7% increase over 2016. The actual virtual assistants powering these devices are also set to experience significant growth this year, with eMarketer expecting a 23.1% usage growth in 2017. This means that nearly 60.5 million Americans will use either Siri or Microsoft's Cortana or another virtual assistant at least once a month, which equates to 27.5% of all American smartphone users.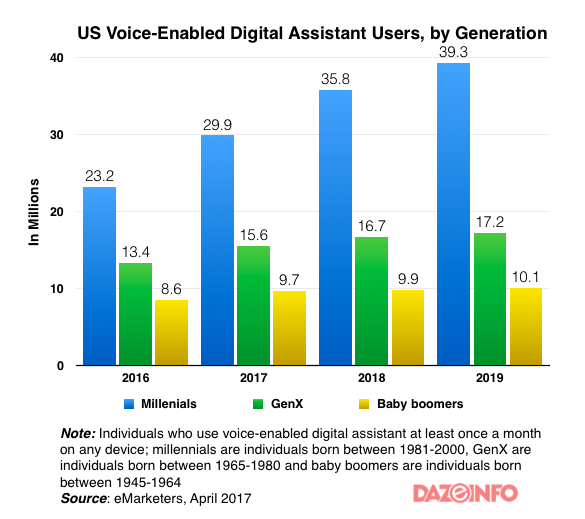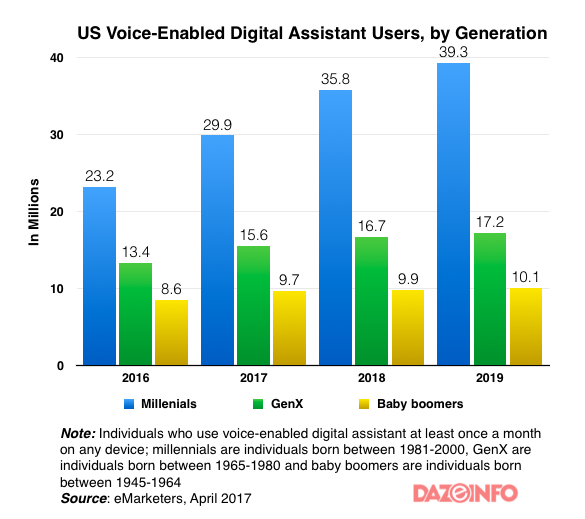 Amazon In The Driver's Seat In The Virtual Assistant/Smart Speaker Space
While the industry for smart speakers and the software powering them is still in its infancy, it is clear who is dominating at present. Amazon's Echo speakers boast nearly 70.6% of all smart speaker users. Coming in at a distant second is the Google Home with 23.8% of users. Amazon's dominance could be of tremendous importance, as the industry for virtual assistants is set for immense growth in the next few years. Like we previously reported, competition in the industry is heating up, and Alexa is at the top of the pile.
The increased adoption of IoT and smart devices is inevitable and is already evident. Around 25% of US households now have at least one smart home gear like a smart bulb, smart locks, etc. Most of these constitute smart speakers such as the Echo and Google Home.
Amazon is primed to make good on its advantage. Theyrecently added new functionality to the Alexa Skills kit to encourage more dynamic and visual functionality. The primary interface for smart speakers so far has been the voice. Now, with the Echo Show, Alexa's shackles have been struck, and GUI elements will now be possible on the platform. Amazon's commitment to this technology and their deep integration with their multitude of services apparently give Amazon an upper hand over competitors. By offering competitive alternatives to popular services, Amazon is trying to get users invested in their ecosystem.
The most recent example of this is the new voice and video calling feature on Amazon Echo Show. The company is expressively targeting popular apps like Skype and Facetime to lure users away from Microsoft and Apple. If Amazon succeeds in their initiative, they may well develop the dominant mobile OS ecosystem in the near future.
The Competition
Despite Amazon's dominance, the race is just getting started. Industry titan Google has introduced their smart speaker with the Google Home. It is gradually gaining ground, with eMarketer expecting them to seize some market share at Amazon's expense in the coming years.
Microsoft is also planning to throw their hat into the ring, by partnering with Harman to create the Cortana powered Harman Invoke. They are also planning a new HomeHub feature for Windows 10 to take on Alexa on the software side
Apple is also another company widely expected to come up with their smart speaker soon. According to Bloomberg, Apple employees have already begun testing a smart speaker to rival Amazon's Echo.
Takeaways
Smart Speakers and Virtual Assistants are gaining popularity in the US. They may soon replace touchscreens as the popular means of interacting with personal tech devices. Software developers will have to adapt to the new ecosystem to thrive.
Adoption of voice assistants could also be catastrophic to certain types of apps such as weather, Skype, etc. These apps would be rendered redundant by the expanding integrated functionality of digital assistants.
Amazon's deep level of integration with their services may lure users away from competitors and invest them in Amazon's ecosystem. While Google won the smartphone OS war, Amazon may win the digital assistant war in the future.
It is still early days for this technology. Competitors may wrest away Amazon's dominance when they launch their smart speakers and related services soon.