The smartphone OS wars commenced back in late 2008 with the commercial launch of Google Android. In the ten years that followed, Android has beaten off competition from numerous challenges and emerged victoriously. According to the latest report, Android dominated the global smartphone OS market in Q1 2017, with a 64% share. In the second place, trailing by a rather large margin was Apple's iOS with 34% market share. The openness, customizability and sheer amount of choice that Android provides are some of its most enticing features for users.
However, no software platform is without its downsides, and Android suffers from a pretty big one. For years Android has been criticised for the lethargic and intermittent nature of its software updates. Last year Google released a report claiming that Android Fragmentation and App vulnerability has been taken care of but the latest report highlights that this problem is as bad as ever.
So, how bad is the update situation on Android and why is it so? And what must Google do to fix this glaring deficiency in Android? Let's dive deep into it.
The Update Situation On Android Is As Bad As Ever
Despite all the claims by Google ScientiaMobile's latest MOVR report has some bad news for Google and Android. A mere 7.98% of all Android users are running Android 7.0 and above. Nearly 40.06% of users were on Android Marshmallow v6.0 or v6.1. This is quite a disturbing trend for Android, considering Android 7.0 Nougat was launched way back in August of 2016. And this is only the tip of the iceberg; Android 5.0 and 5.1 still power 21% of all Android devices, despite being over two and a half years old. Android 5.1 saw an increase of 1.5% in this quarter! Things get from bad to worse from here, as roughly 30% of Android devices were found to be running legacy versions of Android (below Android 5.0).
In contrast, the update situation on Android's biggest rival iOS seems to be excellent. An overwhelming majority of 72% of all iOS devices were found to be running iOS 10.2. Admittedly, only 5.28% of devices were running the newer iOS 10.3, but this is understandable as this version was released near the end of Q1 2017. iOS devices on legacy versions (below iOS 9.0) fell to a mere 4.2% compared to 6.1% in Q4 2016.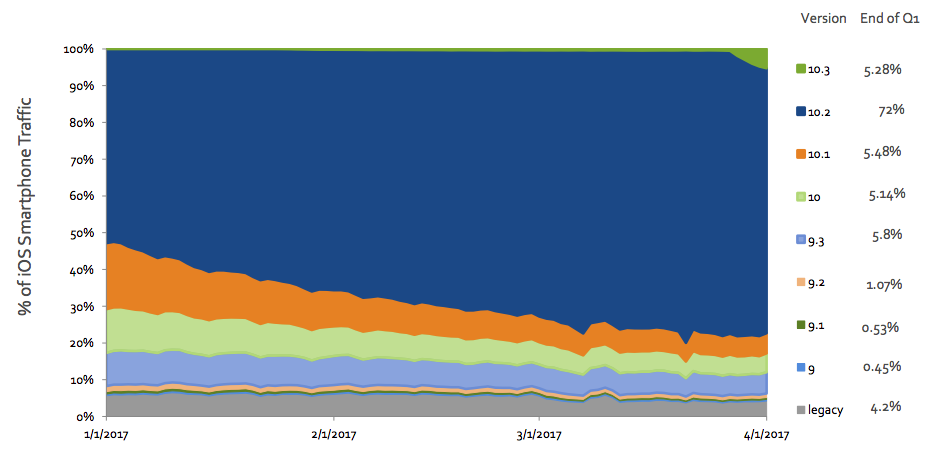 Delayed Updates Leave Android Vulnerable
On the face of it, it would seem that the poor update cycles plaguing Android are not a huge deal. All it means is that users will not have access to some newer features and improvements, right? Not quite. The biggest problem with such a slow and unreliable update cycle is that it leaves users vulnerable to a host of security vulnerabilities. Google releases a new security patch for Android each month to guard against newly discovered vulnerabilities in the OS. This means that running an older version of the OS makes your device a prime target for malicious exploits. Another adverse effect of slow updates is felt by app developers, who have to ensure compatibility with a much wider range of Android software versions.
So why is Android afflicted with this issue? There are quite a few reasons:-
Open Source Nature – The open source nature of Android has given rise to a whole slew of custom Android UI's. Manufacturers like Samsung, Xiaomi, LG, etc. prefer to modify Android to suit their preferences and integrate proprietary features. The flip-side of this is that OEMs have to work to ensure compatibility with every new Android update. This is one of the leading causes of delayed updates.
Carrier Checks – This is more relevant to markets dominated by the carrier model, such as the US. Carriers have their own approval process for updates and can take a long time to do so. Some carriers' insistence on including bloatware on their phones is also responsible for delays.
Lack Of OEM Incentivization – Many companies selling Android phones have no real incentive to care about after sales support since it doesn't directly translate to higher revenue. OEMs derive their revenue from hardware sales and often push hardware upgrades via infrequent updates and support for older phones.
Can Google Fix It?