Apple Inc. (NASDAQ:AAPL) released its financial results for the second fiscal quarter of 2017 on May 2, 2017. Apple is one of the biggest players in the smartphone industry and accounted for nearly 92% of the smartphone industry's profits in Q4 2016. So how well did Apple do this time? And what trends are likely to hold in the future? Let's find out.
iPhone Sales And Revenue: Short Of Estimates
This quarter was not the best for Apple, both in terms of smartphone shipments and revenue. Apple reports a revenue of $52.9 billion, which is slightly lower than Thomson Reuters consensus estimation of $53.02 billion. Nevertheless, revenue was up from the $50.6 billion during the same period last year. However, the deficit in smartphone shipments is much greater. Apple shipped 50.8 million smartphones during this period, lagging behind the 52 million estimated by FactSet, and the 51.12 million shipments made same time last year.
Apple's net profit for this quarter comes out to nearly $11 billion at $2.10 per diluted share as opposed to $10.5 billion during the same period last year at $1.90 per diluted share.
iPhone Drives Revenue As iPad Sales Slip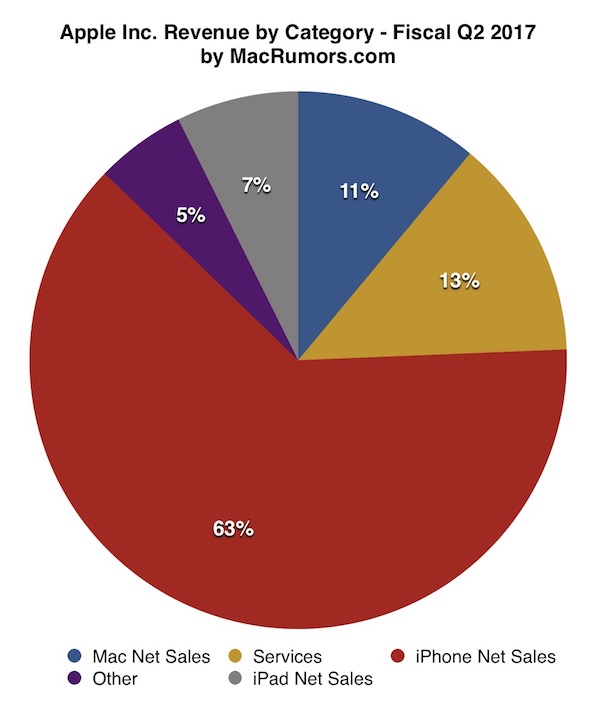 Once again, it was the iPhone which was the biggest growth driver for Apple this fiscal quarter. The 50.8 million iPhones that Apple sold accounted for nearly 63% of Apple's revenue.
The second biggest revenue share was claimed by Apple's fledgeling services business, which experienced 18% YoY growth. With 13% of the revenue share, this was Apple's highest services revenue ever for a 13-week quarter. Growth in this segment can be attributed to the successful reception of Apple Music. This is good news for Apple who has been looking to expand their services business.
There have even been reports of a possible buyout of Disney to expand their service business.
Sales of Macs also showed significant improvement as Apple sold 4.12 million units of Macs with a combined revenue of $5.84 billion. This represents a growth of 4% in shipments and 14% in revenue compared to the same time last year when Apple shipped 4.03 million units and had $5.12 billion in revenue. This can be attributed in large part to the release of the revamped MacBook Pro line in October of 2016.
On the flip-side, iPad sales have shown an alarming downward trend. Apple sold 8.92 million iPads for a combined revenue of $3.89 billion. This represents a 13% shipment decline YoY, whereas revenue fell 12% YoY. This is a far cry from Apple's first fiscal quarter of 2014 when Apple sold 26 million iPads for a combined revenue of $11.5 billion.
The rest of Apple's revenue was made up by the Apple Watch, Airpods and Beats products. These products combined to make up $2.87 billion in revenue, up from $2.19 billion same time last year.
Notable Trends
Personal Computers Making A Comeback – The significant growth in Mac sales clearly shows that the desktop is not quite dead yet. This resurgence in popularity could yet mean that PCs can make an unlikely comeback from the brink of rapid decline.
The iPad Has Lost Its Way – While the iPhone has continued its upward climb, Apple's other major product has been suffering. Revenue is down 66.17%, and shipments are down 65.7% in just three years. Apple needs to make drastic changes to the iPad design if they want to arrest this decline and keep the iPad relevant.
iPhone Shipments Were Disappointing – Shipments of iPhones in this fiscal quarter fell short of expectations. Apple CEO Tim Cook has attributed to buyer holdout in anticipation of upcoming Apple releases, the iPhone 8 being foremost among them. Sales are likely to explode during the upcoming iPhone 8 super-cycle.
Apple's Service Business Is Taking Off – Apple's rapid growth in their service segment will come as good news for investors. This not only helps diversify Apple's portfolio, but it also provides other avenues for growth. This also reduces Apple's heavy dependency on the iPhone.
Forecasts For the Future
Apple has also made some forecasts for their upcoming third fiscal quarter:-
Apple expects a revenue between $43.5 billion $45.5 billion. This is perfectly in line with Apple's seasonal product cycle as Apple's sales tend to drop off during this period.
Operating expenses are expected to be in the region of $6.6 billion to $6.7 billion.
Apple project their income tax/miscellaneous expenses to total to $450 million in the upcoming quarter.
CEO Tim Cook is expecting a 6.5% to 10% tax rate for a one-time "tax holiday" when Apple intends to repatriate their foreign income. This could be instrumental in any possible mergers Apple is planning.