The employment scenario in India is flourishing despite startup industry stares to correction and consolidation. The attrition rate, an increment in salary and variable pay are the major concerns for an employer and employee in India. Interestingly, all the three elements are closely linked with each other. Attrition rate, in general terms, defines the calculation of the number of individuals or items that vacate or move out of a larger, collective group over a specified time frame. For a company, this term is used to determine its ability to retain employees. And despite salary hikes, the attrition rate in India is touching 13.4%, according to recent findings.
Attrition, Retention, And Salary Hike In India
The unemployment rate has fallen to 4.22%, and Indian employees are expected to see better increments, lower variable pay and high attrition rates in 2017-18, according to the KPMG Annual Compensation Trends Survey. The survey, based on data taken from 263 different organisations across 19 sectors, highlights the ongoing compensation trends in the Indian industry.
According to the KPMG survey, the average projected salary increment in India is determined to be 9.7%, the average variable pay in India is determined to be 15.4% and the average annual attrition rate in India is projected to be 13.4% for the year 2017-18.
Increments Decline, But E-Commerce Offering Highest
The average projected increment in India has seen a 0.6% point decline as compared to 2016-17, when it was nearly 10.3%. This hike will probably be the lowest since 2009, as India is struggling to stay afloat in the international market.
One main reason for the expected decline in increments on the upcoming appraisal season is the demonetization of the 500 and 1000 rupee notes. International political changes, like the election of Donald Trump as the President of the USA and Britain's exit from the European Union, has also had an impact on the global business and global employment market. These changes have an adverse impact on employment scenario in India.
Among the sectors, the eCommerce industry is expected to offer the highest increment of 12.5%, although still lower than last year, when it was offering 15.6%. The logistics sector, however, is expected to have the lowest increment of 8.1%. Overall, the banking and financial services sector is predicted to have the lowest growth in terms of increments, from 9.6% in 2016-17 to 8.6% in 2017-18. 
According to the survey, 89.9% of companies use organisation performance as a key for determining increments. 75.0% look at the productivity of employees and 71.9% look at the business unit performance.
Variable Pay Increases, Financial Sector Leads
Industries are going to have a 0.4% point increase in the average variable pay percentage. The highest variable pay as a percent of CPC is reported by the Banking & Financial Services sector with 19.9% in 2017-18. Along with a dip in terms of increment, the banking and financial sector has taken hits largely due to demonetization. The lowest comes from the Energy Sector, a meagre 10.4%.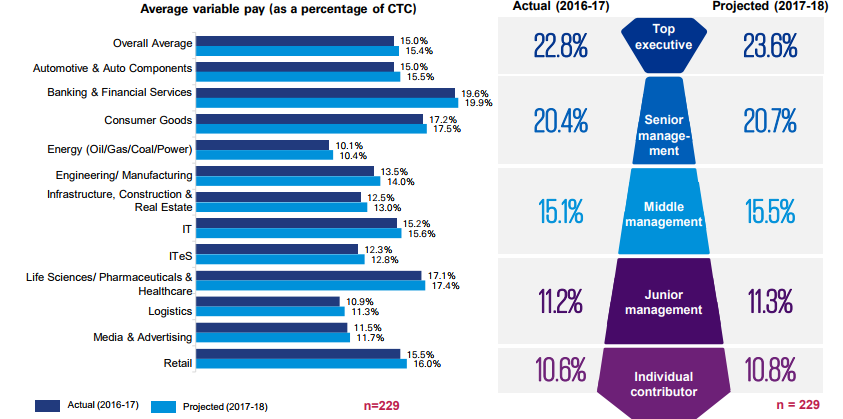 Attrition Levels High Despite High Salaries
In terms of attrition, here's a contradiction. Though the e-commerce sector is offering the highest increments, it also has the highest attrition rate of 20.4% out of all the given sectors. Despite offering attractive salary packages and bonuses, eCommerce industries are unable to stop their employees, especially top-level executives, from jumping ship to other companies.
Basically, companies are trying to attract talented employees by offering high compensations and salaries. Companies like Flipkart and Snapdeal are dishing out large salaries to retain valuable skill sets, despite facing a financial crisis, with the former paying nearly Rs. 300 crore to its top employees.
The reason for this, naturally, is the high attrition rates in the eCommerce industry. Employees look to change companies for a variety of reasons, better payout being the main reason. 28.1% say they quit to get a higher paying job elsewhere, 23.4% say they expect better career opportunities and 19.6% employees shift companies for personal reasons such as marriage, children, health, relocation, etc. No wonder Flipkart is emptying its pockets to retain its employees.
Employees working in the energy sector are apparently satisfied the most. The energy sector has the lowest attrition rate of 8.1%. It has thus managed to keep its employees satisfied despite a low variable pay percentage.
How Companies Attract And Retain HiPo Employees?
The KPMG report also found that 56.3% of companies increase their salary budgets for an expected improvement in the company's performance and 48.3% of companies do it to reward and retain high-potential (HiPo) employees.
Further, companies provide compensations like benefited offering, guaranteed incentives and referral benefits to attract new talent and potential employees. Seeing the high attrition rates, it becomes important to retain these employees and keep them satisfied too. 19.7% companies said they provide performance based variable pay, 13.1% provide recognition awards and 11.8% provide retention bonuses to satisfy their employees, according to the survey.
Companies also perform annual performance review, though some do have bi-annual reviews, to keep track of their employees' performances. A majority of companies (82.1%) do performance review annually, while 6.1% of sales organisations review performance Bi-annually, 7.9% of organisations review performance quarterly and a small percentage of companies prefer monthly. Based on the performance rating, companies offer increments to each level of its employees.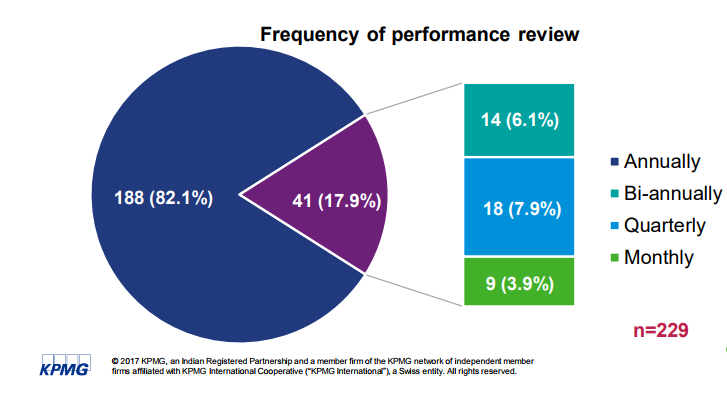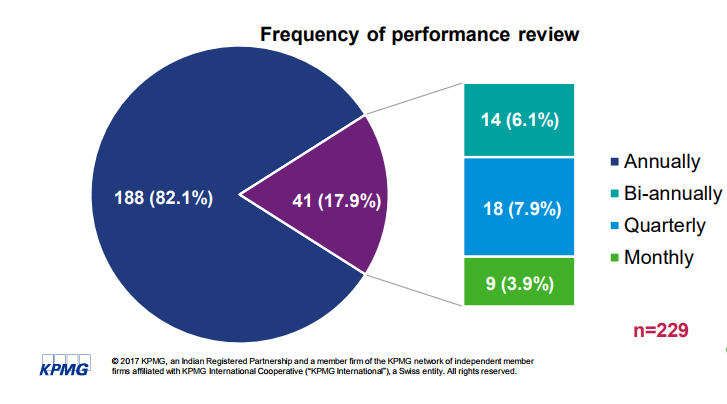 In conclusion, the survey summarises that companies have decreased their hike rates, but are still offering high salaries and variable pay percentages to attract and retain their high potential employees.
Actionable Insights & Takeaways
Employees retention is the biggest challenge for companies. As payout drives an employee, companies need to reward their employees at regular intervals.
eCommerce industry is the most attractive one from benefits per say. All the major players are building chest war and offering highest increment in salary to retain top talents.
While payout is the greatest demotivational reason, job dissatisfaction is the second most important factor behind employees jumping off the ship. Companies need to pay close attention to employees interest and job satisfaction to keep talents hooked with the organisation.