With the exploded penetration of internet and e-commerce in developing markets, the number of domain registrations worldwide has reached 329.3 million figure by the end of Q4 2016. According to the latest data released by Verisign, 2.3 million domain names were registered in Q4 2016, a year over year growth of 6.8%. In total, 21 million domain names were registered during the year of 2016.
Despite the fact that securing a short domain name with .com TLD has almost become impossible, business owners are still fascinated about having their digital presence with a .com TLD. In Q4 2016, the registration of new domain name with .com and .net TLD totalled 8.8 million, albeit lower than 12.2 million registered during the same time in 2015.
The popularity of .com domain name registration can also be understood with the share of .com TLD. Little over one-third of the total domain name base belongs to .com TLD, beating the second most popular TLD, .cn, with a distinctive margin. .com and .net, together, accounted 43.1% of the total domain name registrations by the end of December 2016.
 The Growth of Country Specific Domain (.ccTLDs) Registrations in Q4 2016
As registering the domain name with the top level domains  (TLD), like .com or .net, are becoming difficult because of unavailability, people especially local business and brands, have started turning towards country specific domain names. It also helps them to establish their online presence without compromising with their brand or business name, unlike the case with .com or .net. Consequently, the share of country specific domain names (ccTLDs) is growing with each passing quarter. Total 142.7 million country specific domains (ccTLDs) were registered by the end of Q4 2016, with a sizable 43.3% share of total TLDs.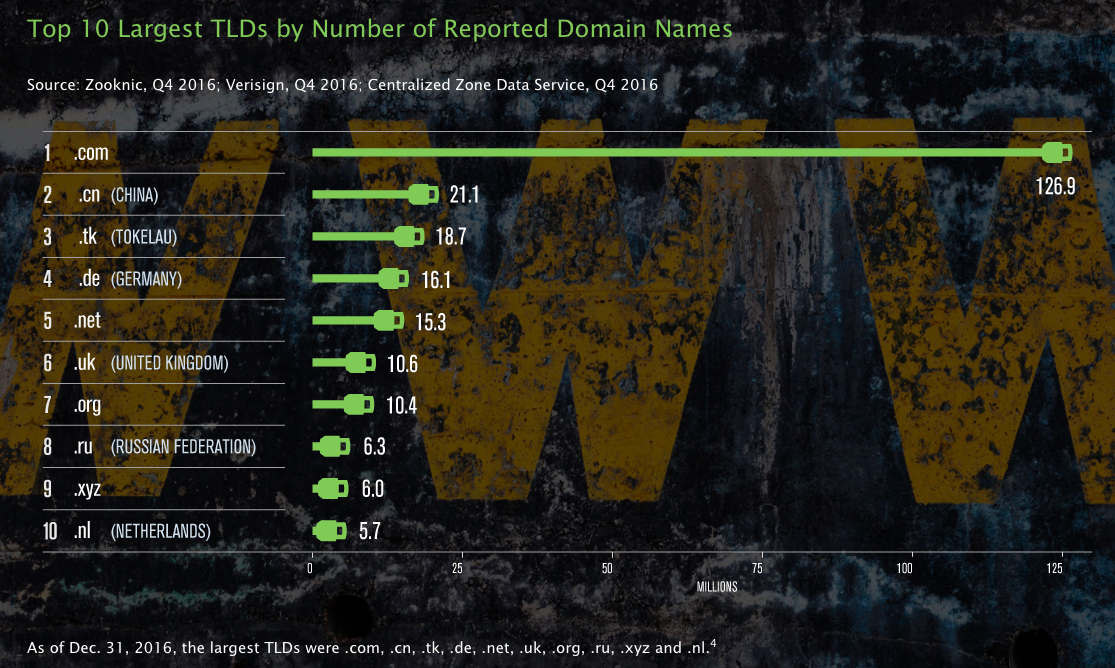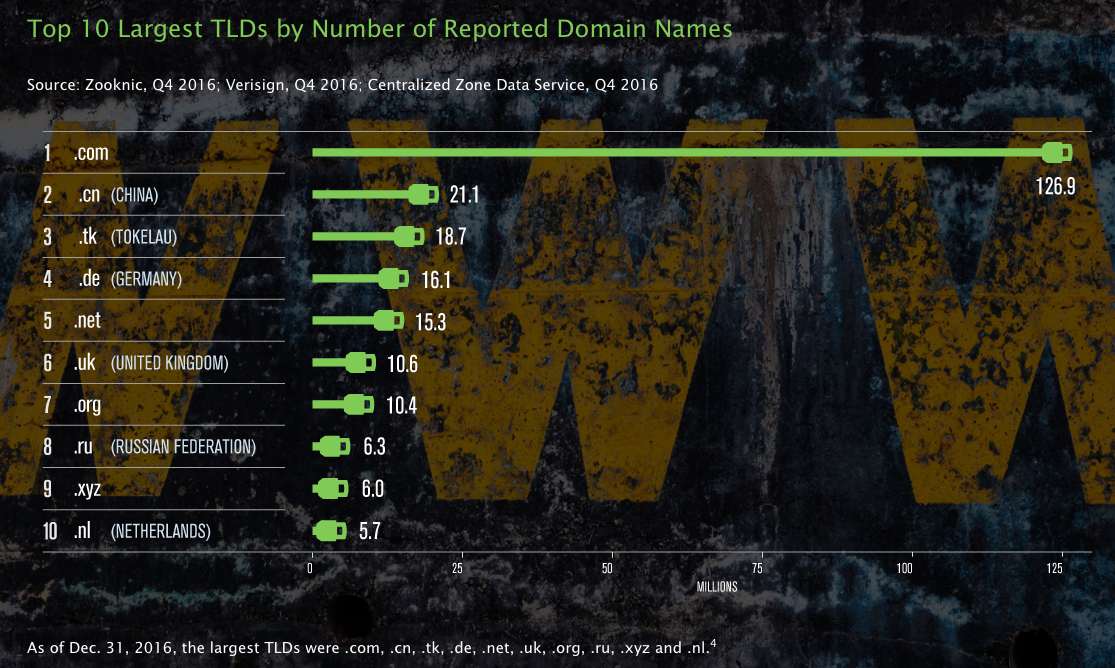 .cn (China), .tk (Tokelau) and .de (Germany) are the top three most popular country specific domains registered by internet users. In Q4 2016 alone, 2.6 million ccTLDs were registered – an increase of 1.8% compared to Q4 2015.
The deepening penetration of Internet, smartphone and social media has led to a steady digital presence worldwide. In developing markets, likes of India, the internet and smartphone penetration (population) is yet to reach 50%, the opportunity window of business owners who are yet to debut online is huge. Even from the e-commerce perspective, only 1.7% of total retail sales revenue is generated online. These figures clearly portray a massive opportunity for business owner and brands, and their online journey is bound to start from registering a domain name and buying web hosting service.