The exploded adoption of the Internet, and social media has helped people to voice their opinion and reach to a wider set of audience. On the flip side, however, people are getting more vocal and adamant with their opinions and views to a level of hurting others' sentiments and self-respect. The apathy is, India, the world's second largest country by the number of internet users, lags behind US, UK, Australia and few other countries, in terms of digital civilization and safer internet.
Coinciding to mark the annual global observation of the Safer Internet Day, Microsoft Corporation (NASDAQ: MSFT) released findings of a study, derived from its Digital Civility Index (DCI). The findings are a result of a survey conducted across 14 countries, focused particularly on adults and teenagers.
The DCI, which is measured according to internet consumers' lifetime exposure to online risks, has revealed that there is an urgent need for people to treat each other with more respect and dignity over the internet. In India's context, while the results indicate that the country fares better on digital civility, sextortion, cyber-bullying and terror recruiting are areas of growing concern which technological companies and the government will have to address jointly.
To proceed with their study, online risks were divided into four categories: Behavioural, Intrusive, Reputational, and Sexual. Each of the four categories of risks comprised of several individual risks. The DCI scores are based on the percentage of people who said they were exposed to at least one of the 17 different online risks. The end-goal of the DCI was to take steps to minimise the threats that users face online every day – A serious issue that has been growing rampantly and largely remains unchecked due to the due to the growing adoption of the Internet in India. There are nearly 462 million Internet users in India as of 2016, with 34.8% penetration.
 India has Serious Challenges to Address:
India fared slightly higher than the rest of the world in terms of unwanted contact, at 46% and 43% respectively. But on the contrary, Indians reported a lower incidence of hate speeches, at 13%, when compared to the rest of the world, at 16%.
While females in India are more concerned about risks than their male counterparts, at 70% and 68% respectively; the males reported more risks across categories.
Males in India claimed to experienced more personal risks than the females, at 64% and 61% respectively, but were also more confident about managing civility than their female counterparts, 52% and 44% respectively.
Globally, females were much more likely to tighten their online privacy than the males, 47% of the females as against 40% of males.
While the youth were just as susceptible to online risk as adults, they appeared more confident about managing any uncivil behaviour (72% of the youth as against 69% of adults). They were also more knowledgeable about where to get help if needed (50% of the youth, as against just 35% of the adults who took the survey).
Further,
On intrusiveness, 79% Indians reported levels of concern. These included discrimination, terrorism recruiting, hate speeches, and unwanted contact.
Regarding behavioural concerns, about 77% of the Indian respondents reported acts such as cyber-bullying, online harassment and trolling.
About 77% of Indians reported concerns of harassment of sexual nature, for an example sexting, revenge porn, or sextortion.
Concerning unwanted reputational behaviour such as causing damage to personal or workplace reputation, about 77% Indians reported concerns.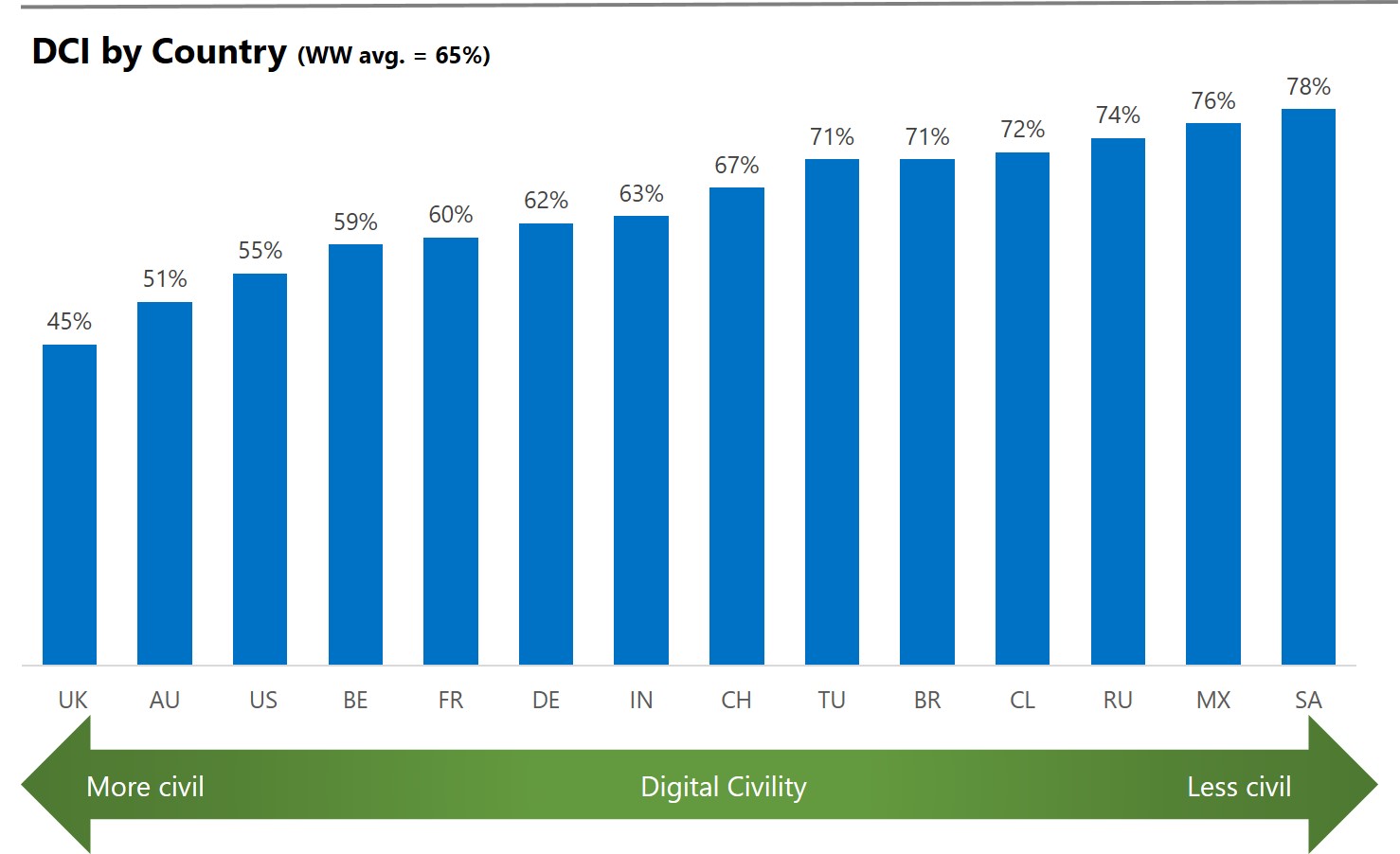 Interestingly, UK has been named the best country in the world in terms of online security. It scored the highest digital civility score on Microsoft's DCI, at 45 points. Meanwhile, South Africa has scored the lowest at 78, followed by Mexico and Russia, making it the rudest nation on the internet.
Building A Culture of Digital Inclusivity
Microsoft, in its published findings on the DCI, suggests that to work towards a safer internet, there is a need for digital inclusiveness. It would involve active participation from Technological companies, Institutions, Government and the legal system, and the Community. While the law and the policy makers can continue to institute measures that promote safe Internet and online activity, the onus is on technology companies to create online environments which are conducive in the right direction, which fall in line with the instituted codes of conduct, and which offer remedies. With the DCI, Microsoft hopes to demonstrate the growing importance of awareness about real-world consequences of the negative online interactions that most young adults and children fall prey to. It is imperative that thereby more knowledge shared amongst the adults, parents, policymakers and educators regarding digital civility and accountability – something that Microsoft hopes their published findings will do by serving as an evidentiary base.
Meanwhile, on occasion, Google addressed the issue of internet safety in India by talking about more obvious ways in which Indian internet users could be protected. It suggested that to move towards a safer internet successfully, it was high-time "internet safety" was included as part of school curriculum.
Safer Internet Day
Safer Internet Day was observed across over 120 countries on the 7th of February this year, with the theme – "Be the change: Unite for a better internet". The event, which was initiated and first held in the year 2004, has now grown to be celebrated globally. It promotes a rather simplified and straightforward idea: To make the Internet a safer and better place for everyone, especially children and youth.
Source: Digital civility in India