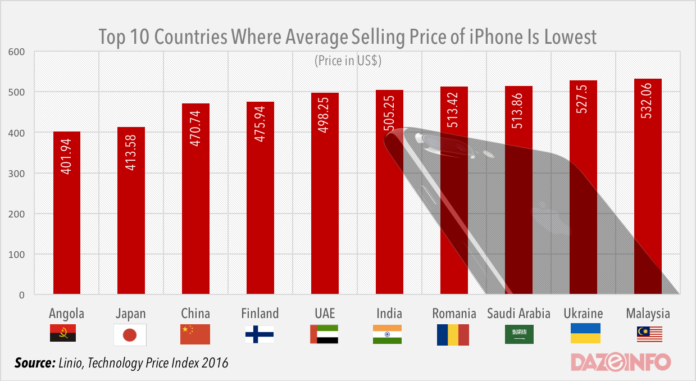 So you also thought that the price of iPhone in India is way beyond affordability and exaggerating? We thought so too until we saw the bigger picture! India ranks in the 6th position out of 72 other countries in terms of the lowest average selling price (ASP) for iPhones. According to a recent report by eCommerce company Linio, the average selling price of iPhone in India is just $505.25, much cheaper than many other countries. It is surprising to see the difference in the average selling price of iPhones in different countries.
The Average selling price of iPhone is lowest in Angola ($401.94). Venezuela may be the last country one would think of buying an iPhone from as the average selling price of iPhone has peaked to $97,813.82.
Surprisingly, the average selling price of iPhone in its hometown is much higher than many Asian countries including the world's largest smartphone markets China and India. If we compare the average selling price of iPhone in APAC countries, Singapore emerges as the top country in the list where iPhone is most expensive.
You may be wondering what has led to these price differences in many countries where the price of latest iPhone 7 and iPhone 7 Plus is far higher than the average selling price of iPhone mentioned above! Let's find out where is the catch.
Why is Average Selling Price of iPhone Low in India?
Forst and foremost, the price difference depends on several factors like tariffs and taxes, inflation, currency strength and other physical factors like land and labour costs in each country.
The average selling price of iPhones is low in India, primarily because of the availability of the obsoleted versions of iPhone which are being dumped by Apple in the India market. As the four generation older version of iPhones are up for grab in India, smartphone users in India are still attracted to buy one, thanks for the love and lust of owning an iPhone. iPhone 4s is the oldest version of iPhone which is still available in India. iPhone versions starting from $220 (INR 15,000) to $1150 ( INR 85,000) are being sold in India. Therefore, on an average, the price of iPhone in India comes down to nearly $500.
In contrast to the India market, Apple is quick enough to discard the obsolete versions of iPhone in the US. At present only iPhone SE, iPhone 6s, iPhone 6s Plus, and recently launched iPhone 7 and iPhone 7 Plus are up for grab in the US. iPhone SE starts at $399 (approx. INR. 27,000) which is the lowest selling price. Unlike India where five versions of iPhones are being sold in the retail market, Apple has made only three versions of iPhone available to buy in the US. No wonder, the average selling price in the US ($625) is higher than India and China.
Average Selling Price vs. Price
One of the major reasons behind extreme differences in the average selling price and retail price of iPhone in many countries is Apple's own sales channels and stores. In a country like China where Apple has got its own stores, other retailers are also allowed to sell iPhones. These retailers stocks obsolete versions of iPhones which a potential buyer don't find at Apple Stores.
The Scenario in India is graver for Apple as the company is yet to open its first company-owned Store. Thus, all the devices are sold by third party retailers. This technically means that all the devices are passed through five middlemen before reaching to the end user. Needless to say, each middleman has a share to claim! Besides, in the absence of Apple stores, these privately owned retailers have a got a free hand to sell low-cost older versions of iPhones as well. Due to this supply chain model, the average selling price in India is always higher than that of China.
But the above are not the only reasons for the shocking differences in average selling price in various countries. The pricing of iPhones depends on several factors that are related to distribution and sale of the devices. Countries like Singapore have higher labour and land costs compared to China or India. Moreover, taxes and tariffs are also high in Singapore due to which the price is also high. This differential pricing strategy also suggests Apple increases the price of iPhones to ensure similar profit margins from all the regions.