eCommerce market in India has been very unpredictable for some time now. Flipkart, which had crossed the 100 million users mark in September this year, saw another dip in its valuation by 38%. As the e-Retail business in India is expected to touch the $48 billion revenue mark by 2020, recent research shows 83% consumers in India prefer online shopping on their smartphones. In this research by Regalix, mobile shopping in India has been listed as the most popular mode of online shopping. It has revealed that users of the age group of 25-34 years (90%) are more into mobile shopping than the users from the age group of 18-24 years.
1 Out of 3 Shoppers in India Buy Using Mobile Phone
Online shopping provides convenience, comfort, and price comparisons. Users can avail a huge range of options anytime and from anywhere. According to the Regalix report, 33% of the respondents shop online at least once in a month using their mobile phones. A significant 28% shop once in a week and another 25% shop once in three months. Only 14% of them shop once in a year.
Interestingly, contrary to the belief, men appeared to be more shopoholic with their mobile phones. The study has found that 63% men shop at least once a month compared to 44% women.
Online shopping in India is popular mainly because of the discounts and offers. Usually, the prices online are lower than offline stores. This has worked in favour for eCommerce platforms as Indian consumers are extremely price sensitive. The online sellers also provide convenient payment and delivery options which save a lot of time and energy of the consumers.
Flipkart is Still the Most Favourite Platform
The recent controversies that Flipkart had to go through hardly had an impact on the consumers' decisions. 44% of the respondents said that they still prefer shopping from Flipkart, followed by 32% consumers who chose Amazon. Hence, it makes more sense to deduce that the competition is getting tougher for Flipkart and Snapdeal. 19% of the respondents voted for Snapdeal which is rumoured to be in talked to get acquired by Alibaba due to its poor market performance.
Flipkart and Snapdeal are the two most popular Indian eCommerce websites facing a tough challenge from their U.S. based rival, Amazon. With Flipkart's decreasing valuation and Snapsdeal's popularity going downhill, Amazon's strategic investments in India might help the company to overtake the Indian players soon.
Ecommerce Platforms as a Comparing Medium
Shoppers in India use mobile phones to browse products online to compare different factors that influence their buying decisions. Gadgets and electronics, Clothing and Accessories, and Products for home, are the top three categories which the consumers in India browse online but prefer to buy through physical stores.
Clothing and accessories emerged as the only category where users who 'browse online but purchase offline' were more as compared to those who purchase online. Usually, consumers tend to check out the clothes and accessories online. However, buying offline has an edge since customers can try out the product before purchasing.
In general, consumers compare the price, varieties and product information while shopping online. According to our previous report, 32% of the consumers agreed that competitive price or special discounts/offers influence their buying decisions offline. More variety of products is another factor. About 22% consumers consider variety as an important criterion to buy products offline.
In short, better deals or better options influences buying decisions heavily.
While shopping online, the biggest fear for consumers is receiving low-quality products. A whopping 75% of the respondents out of those who do not shop online stated this as the reason for not shopping online. There have been several cases of customers receiving defective products or counterfeit products through online stores. Security concerns (14%) and poor delivery service (11%) are few of the other factors that the consumers are concerned about.
COD is the Most Preferred Payment Method
Cash on delivery is the most preferred payment method with 63% respondents in its favour. For a customer, cash on delivery is a way of ensuring that they don't get duped in any manner by any of the online retailers. Only 17% of the respondents prefer payment through credit/debit card and another 17% through net banking.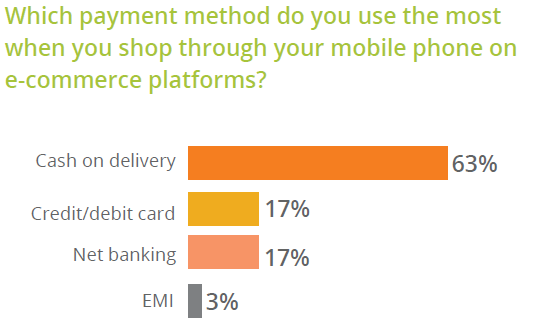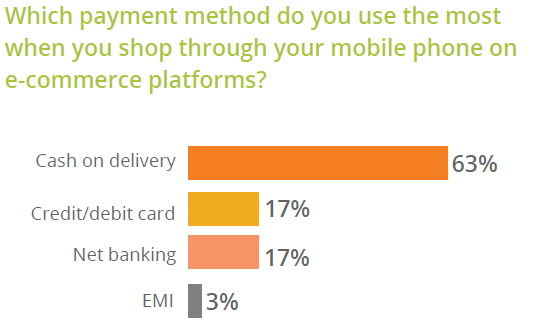 COD happens to be very popular among the age group of 18-24 years old (67%), whereas among the age group of 25-34, 53% respondents preferred COD. More Women preferred net banking (25%) over credit/Debit cards (7%).
When a customer orders from a renowned or established company, they usually make the payments online before the product is delivered. A majority of the respondents consider cash on delivery (34%) and free delivery option (34%) as the most important factors while purchasing online.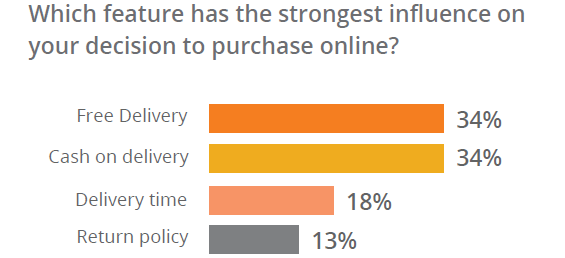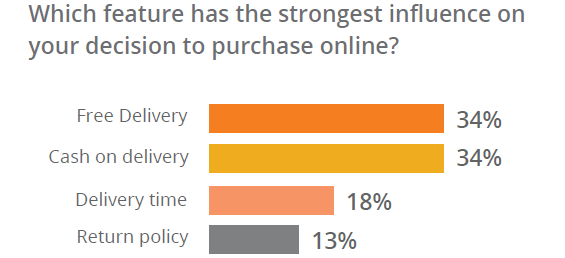 Apps are Always Preferred Over Websites
Shopping through apps has an edge over websites. Apps provide a better speed and shopping experience compared to websites. About 94% respondents prefer using apps over a website to make online purchases.
Previously, a study revealed that nearly 80% of the consumers agreed that mobile apps are faster than websites.
Smartphones have revolutionized the way shopping is done. Thanks to the rise of several eCommerce platforms, the competition is getting fierce day by day. Starting with flash sales and heavy discounts, companies are doing everything to attract and retain online shop-a-holics!
Out of those who never shop online from their phones, sizable 40% of the respondents do not wish to start online shopping in the future. However, 31% of the respondents said that they want to try online shopping in the future, while 29% might consider it sometime later. This indicates that the market still has huge potential to acquire new customers.
It's high time companies and marketers set their priorities right. They have the opportunity to attract new and old customers by offering the best possible deals. Winning the trust of the consumers is another important factor!
The holiday season shopping has already begun! As the companies get ready to witness a spike in their sales, they should not forget to focus on their mobile apps. The mobile app experience should be so unmatched that consumers stick to it throughout. Simple interface, easy navigation, and a good deal- That's what marketers should focus on!
[poll id="67″]