The failure rate of Apple iOS worldwide has gone up to 62%, and Apple iOS is tagged as the worst performing mobile OS in Q3 2016. These are the findings of Blancco, the global leader in mobile device diagnostic and business intelligence, in its Q3 report. Interestingly, the company also reported that failure rate of Apple iOS is considerably higher than that of Android, which clocked at just 47% failure rate. This comparison surfaced during the testing and analyzing of data collected from millions of devices worldwide.
The report, titled State of Mobile Device Performance and Health l Trend Report Q3 2016", was released in the mid of November. The global media, both online and offline, indulged in a rat race to publish it as early as possible – without checking with the authenticity of the data!
These days the blindness of media is so engraving that authors and editors believe on anything and everything that is served to them. All this only to hold on to the lead position in the rat race of pocketing advertising dollars. The very nature of content screening made hundreds of publishers, including many renowned brands like Android Authority, Android Headlines, BGR, PhoneArena, PR Newswire, Digit, and Yahoo!, report wrong information, accusing Apple iOS of high crash data.
Failure Rate of Apple iOS vs. Android: A Questionable Report
Last week, Blancco released a report that highlights the increasing failure rate of iOS in Q3 2016. According to the report, the failure rate of iOS devices was up by 4%, from 58% in Q2 2016 to 62% in Q3 2016. The company also bluntly stated that iPhone and iPad failure was almost twice as much as Android devices.
While the data looks legitimate as it's based upon the failure incidents reported on millions of devices, the teardown analysis of the report raises many questions about the authenticity of the report.
The report charts out the list of top 10 iOS models by failure percentage in Q3 2016. Each device's failure figure is taken as a percentage of the total iOS failure rate (62%). If you add up all the percentage of top 10 iOS models, it sums up to 50%. Therefore, the failure rate of the other left over iOS devices must sum up to remaining 50% – which is quite impossible considering that there are only 4-5 other iOS devices available in the market. To add, none of these left out devices can have a failure percentage of more than 1%.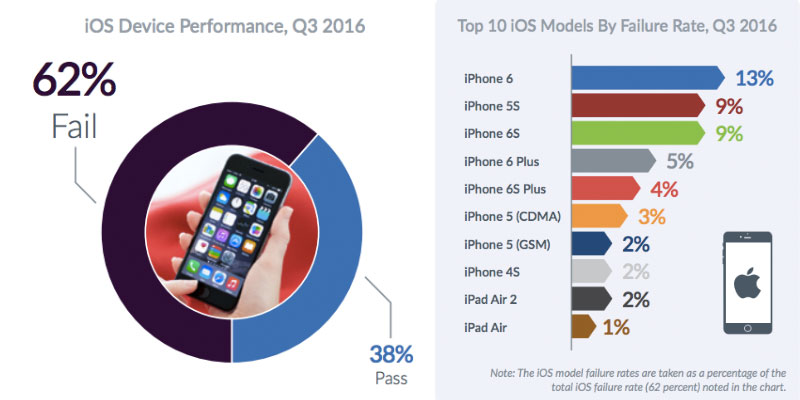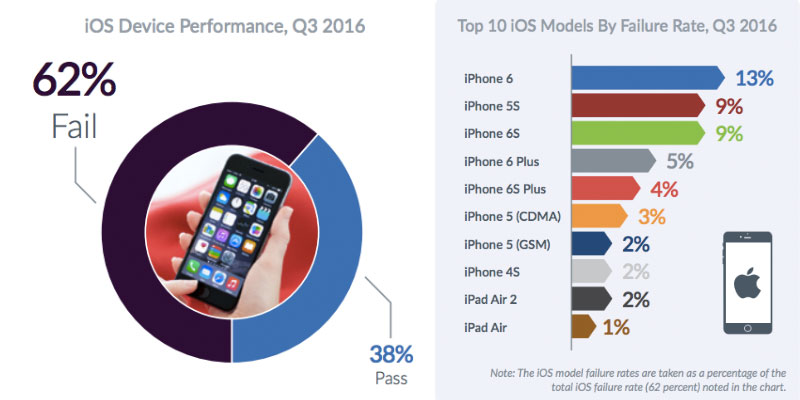 But this is not the only questionable finding that challenges the authenticity of the report.
We paid close attention to the failure percentage of "Top 10 iOS Models by Failure Rate in Q3 2016" and "Top 10 Android Models by Failure Rate in Q3 2016".
Have you got anything fishy? If not, then see the percentage of each device closely in both the charts – It's identical!
It's almost next to impossible that the failure rate of top 10 devices powered by iOS and Android has had the same failure rate in a given quarter. Isn't it?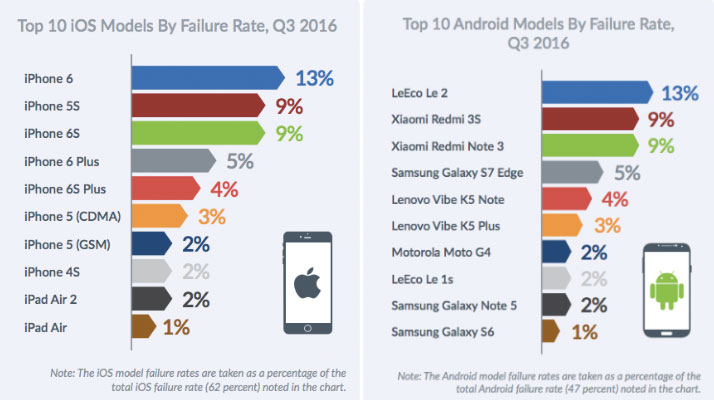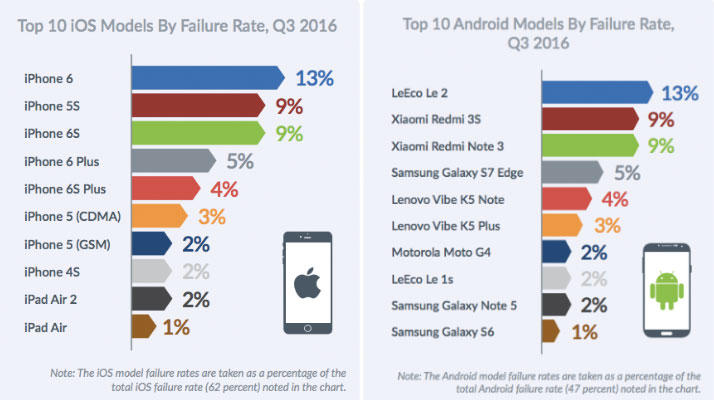 All the above points raise some serious concerns about the findings of the report:
Which OS has highest failure rate – iOS or Android?
Is the overall failure rate of iOS wrong? If not, then we move to the next question!
Is the overall failure rate of Android wrong?
Is the failure rate of Top 10 iOS Devices wrong? If not then, we immediately ask-
Is the failure rate of Top 10 Android Devices wrong?
Does 4% increase in the failure rate of 58%, result in 62%?
The Internet Sources of Information: Boon or Bane
We keep saying "The Internet has all the information/Resources", which is true. There isn't anything that is not available over the internet. We need information at our fingertips, and we get it as well. But is everything served to us accurate?
Internet consumers demand and deserve logically correct and data-driven rich content to take informed decisions. This means there is a dire need for content writers and analysts. Sadly, anyone with good English writing skills considers a content writing profile. On the other hand, in a bid to publish more and more compelling contents, media houses and popular blogs push content writers to act as analysts. Despite including a lot of data in the content, this trend of overlapping roles is resulting in incorrect data, misleading content, and entirely wrong information at regular intervals.
Publishers are busy re-publishing anything and everything that surfaces on the internet. They get so engrossed in getting ahead of the race that they end up ignoring the far-reaching damages that are being caused. Feeding millions of readers with wrong information is just the beginning of corrupting the whole internet society.
It is not the first time that we have found such misleading data and claims in a report. We have reported about such incidents in the past with a commitment to serve authentic and the most reliable industry intelligence information and interactions.
We have written to Blancco about the possible misguided information in the report, seeking more explanation on their claims. Keep an eye on this space for further updates. We will get back to you ASAP once we hear from the company.