In the U.S., there are 286.9 million Internet users, that indicating a penetration of 88.5 percent. Emails and social networking sites are the most popular modes of engagement on the web in the U.S., but its YouTube which has emerged as the most popular website and app for online content consumption.
According to a recent study from National Cyber Security Alliance and Microsoft, the video sharing platform Youtube is the most popular website among US teens. The study was conducted with 804 teens (between 13 years-17 years of age). It was seen that 9 out of 10 teens are more engaged on Youtube.
Youtube has a plethora of video contents that are interactive and engaging. It is most popular website among US teens because of the visual mode of engagement. Following Youtube closely was Gmail as the second most popular platform used on the internet and app. According to the study, 3/4th of the teens use Gmail more than Facebook, Snapchat, Twitter and Instagram.
The study also interviewed 810 parents separately, which indicated apparent digital disconnect. Around 60 percent teens have social media profiles about which their parents have no idea. This is a clear pointer to the increasing risks of digital safety, like teens at times are not aware of the cons and pros of social media. The digital safety is definitely at stake with only 43 percent teens who seek peer-to-peer support if they face any online issues. It is also alarming to note the enormous difference in response when asked about house-rules for internet usage. The majority of teens reported that they follow some house rules when it comes to the use of internet connected devices, while 28 percent teens said their household has no rules for internet usage.
Teens Don't take Cyberbullying Seriously
This study also showed how teens are unable to gauge the seriousness of issues like sexual orientation, gender, race or ethnicity. About 39 percent of teens have been victims of online harassment (or, cyberbullying). While 52 percent messages were sent as a response to something they did or said, 45 percent messages were about their appearances and 25 percent about sexual orientation, race, gender, or ethnicity. Despite this data, only 33 percent teens were of the opinion of taking parents into confidence in such situations.
Online privacy and security is of alarming concern for teens. Negligence towards privacy can result in someone else accessing their accounts without permission. But nearly half (47%) of teens reported that they are "very concerned" about someone accessing their personal account without their permission, sharing their personal information on the web (43%) or posting their private images or videos on the web (38%) which they wanted to keep private. Parents should take extra caution when teens are exposed to the internet world.
Although parents should be aware of their children's web activities, teens prefer complete privacy. Despite a majority of parents keen on having full knowledge about their kids' internet consumption, teens want to be left alone!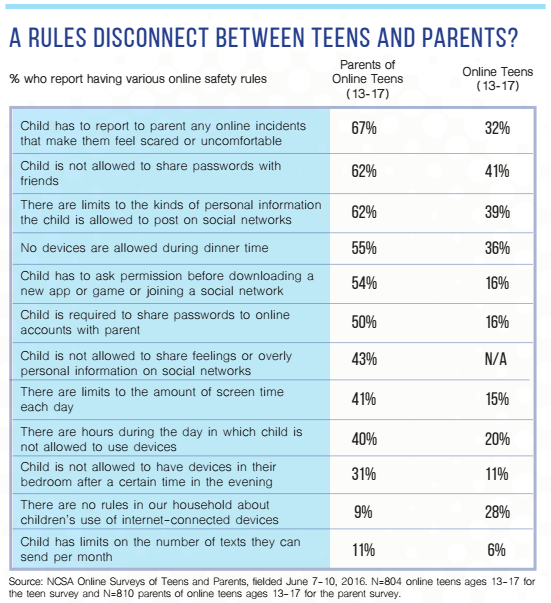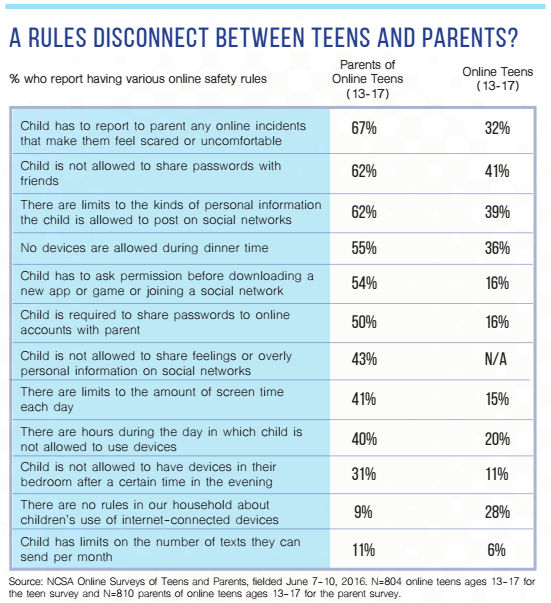 Teens might want privacy, but parents are adamant in having strict rules when it comes to their children's internet access. Only 9 percent said there were no rules at home for internet usage. However, even if there are rules, most teens tend to ignore them or go against them. Surprisingly, parents are hardly aware of such incidents.
Teens Trust Parents Most for Security Information
78% of the parents talk to their teens about how to safely use the internet as well as regarding the type of content they should and should not be sharing online. Teens try to outsmart their parents leading themselves against online safety and security. Talking about online safety, both parents and teens said that identity theft is their major concern, and they would like to learn the most about it, followed by keeping their devices safe and identifying fake emails, texts, and social posts. Another reason that was found for this disconnect was that either the teens didn't know how to talk to their parents or their parents didn't know how to go about it. 16% of the parents and 17% teens faced this issue. When teens face online issues, primarily they turn to their friends for help, but they said that parents are the most important source for their online safety and security information. 59% of them wanted to gain safety and security information from their parents since for a child their parents are the most trustworthy people on the planet. A close percentage (58%) cited friends as the most important source whereas 32% depends on their siblings. Also, 27% mentioned traditional media in their top three medium for gaining this information. This shows that teens are also concerned about their online safety but still they become a victim of cybercrime or attacks due to lack of digital knowledge.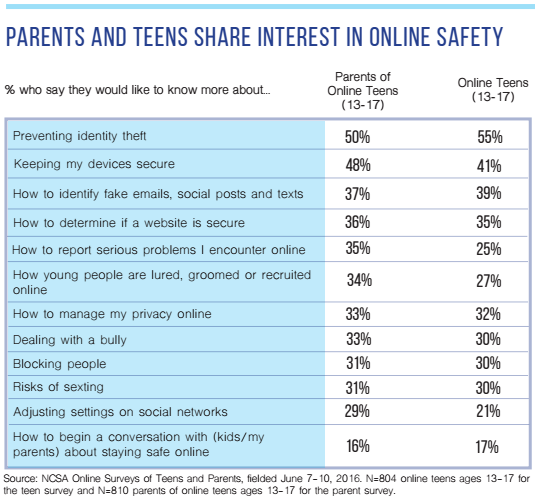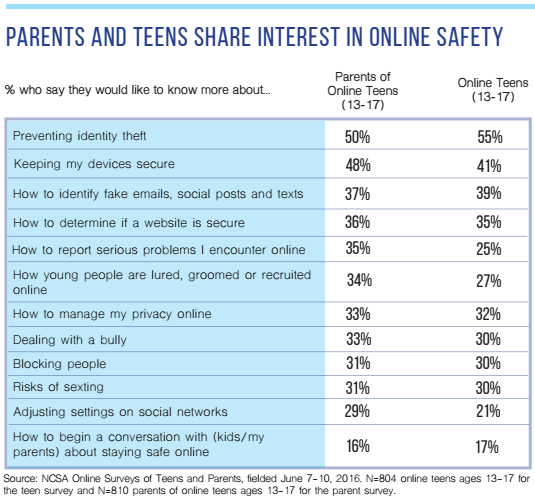 No matter what, both parents and teens are highly concerned towards the safety. Both want to learn the most to avoid any issue. Parents and teens have remarkably consistent priorities regarding online safety topics, identity theft being at the top.
There should be campaigns to educate teens as well as parents about online safety and security. Also, they should be taught about how to talk to each other in case of any issue or how to prevent them.  Digital issues can be effectively solved through digital campaigns. There could be a regular messaging campaign for both parents and teens creating a peer-to-peer network. This will help them to reinforce the measures to avoid any such issues. Stay Safe!