The holiday season in the US is just a few months away, and so is the inevitable war between the eCommerce portals to garner the maximum customer attention. From Mega Sales to Big Billion Days, companies put their best foot forward to attract customers via discounts and offers. In the US, most online shoppers buy gifts to pamper themselves as well as others during this holiday season as a custom.
In July, Kiip conducted a survey in the US asking mobile users about their holiday shopping habits online. While 71 percent of respondent agreed to indulge in holiday shopping, around 29 percent responded negatively. Surprisingly, despite all heavy discounts and offers available online during te the holiday season, only 5 percent admitted that they buy all the products online only. However, some people like to juggle between online portals and offline shops when it comes to gifts. As per the survey, 30 percent like to buy a smaller chunk (25%) of overall purchases online while 13 percent said they purchase the majority of their holiday season shopping online (75%). Only 23 percent seemed to make a perfect balance between their online and offline shoppings as they prefer to buy half of their purchases online.
Shopping decisions are mostly influenced by the 'price' of products. 40 percent respondents opined price is the most important element while making an online purchase, as compared to 25 percent who opted 'relevance' and 23 percent who voted for 'convenience'.
As we mentioned, budget plays a pivotal role in holiday shopping. Users prefer using platforms or stores that offer the best deal after hours of research and comparison. Most of the buyers spend 1-3 hours on holiday shopping. Moreover, if we talk about gifts, a whopping 69% users prefer buying gift cards over 31% who prefer physical gifts. Gift cards are more popular because they have greater time validity, and the receivers can use it according to their preferences later.
Preferred Device Type for Holiday Shopping in the US
While online mobile shoppers in the US prefer to take a mixed approach during the holiday season, it's is also interesting to shed light on the preferred mode of doing pre-shopping research and mode of purchase. According to another survey by Signal, among all the internet users in the US, In-store and Desktops/Laptops were the most popular channels for holiday shopping, along with mobile devices. The buying decision, however, highly depends on the type of product the users want to buy.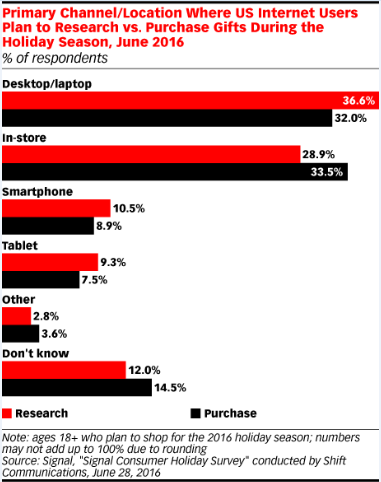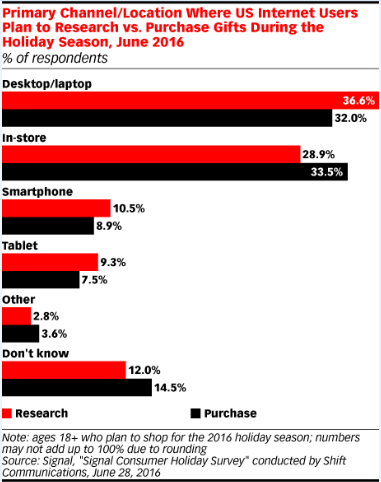 According to the report, 36.6% users research on their laptops about the product and its price whereas only 32% users make purchases using desktop or laptops. Compared to this, a mere 8.9% uses smartphones for holiday shopping. Another interesting fact is that about 28.9% users visit a physical store to research about a product while 33.5% users visit these store to make a purchase. This clearly highlights that online shoppers in the US who prefer using Desktop/Laptops do more shopping research before actually buying it, apparently make more informed decisions.
So, what are the products that online shoppers in the US are more interested in buying online vs. offline? Interestingly, the buying patterns and mode of shopping varies drastically depends on the product a person wants to buy, highlights another report from Salesforce.
The report depicts a majority of users prefer to buy clothes, food, home goods and luxury products in-store as these products needs physical attention to decide on variables like sizes, colour, material and quality.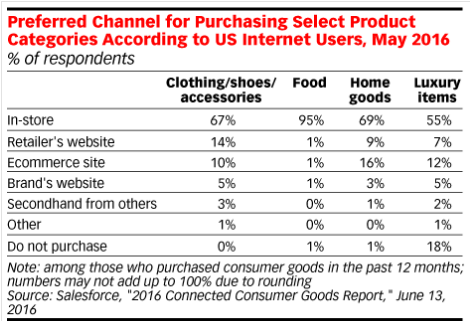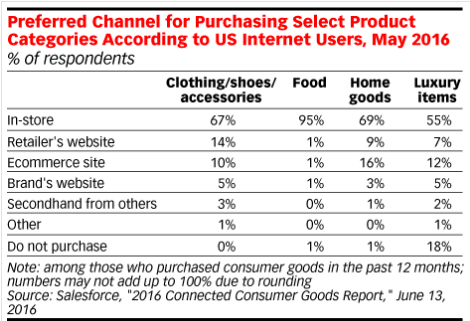 Looking at the way purchase decisions happen, sellers (whether online or offline) need to provide effective pricing to attract more customers. In one of our latest reports, we mentioned that generally, consumers are ready to pay more if the benefits justify the price. But here we are talking about gifts; hence price is the most important factor that the buyers consider.  Buyers prefer a platform which can provide them with the best price, quality, service and overall buying experience.
Effect On Retail Stores
The US is not the only country where online and mobile shoppers are leaning towards digital shopping. Similar trends are recorded in many other countries where the penetration of internet is deepening. The growth of online stores, however, has highly affected the brick-and-mortar stores. According to by Forbes, 2015 saw 23% growth in internet sales. This growth is expected to increase at the same pace again in 2016. Amazon accounted for 26% of total internet sales last year, which was at 22% in 2014. Based on Q3 2015 reports, about 604 off-price units were opened in 2015 in the US. Currently, there are 4,245 off-price stores in the US, which reflects a steady growth of 12% in just one year.
Consumers prioritise innovation and benefits to justify the price of any product or services. If the product and/or services adhere to supreme quality, a consumer will not flinch to pay few bucks extra for that premium experience.
According to the current scenario, retail stores need some real-time restructuring to survive and compete in the internet market. The operating costs have been increasing rapidly as the retail stores are becoming less productive. Surely we have a lot of reasons to worry about these traditional retailers in the coming days.