The growth of 4G/LTE enabled devices has been ground-breaking. There is a cut-throat competition prevailing in the market with smartphones leading the segment. However, data cards have also become very popular as they provide data services anytime and anywhere. If we talk about India data card market, there was a decline of 12% in Q2 CY2016 as compared to Q1 CY2016, with a drop in shipments from 6.4 lakhs to 5.6 lakhs units. However, within this drop, the shipments of 4G/LTE data cards went up by 26%. Consequently, there was a dip in shipments of 3G data cards by 35% as compared to Q1 CY2016, as you can see in the chart below.
According to a report by CMR India, the Chinese device vendor Huawei recorded a 10% sequential growth in terms of unit shipments in Q2 CY2016, with shipments of 63% of the overall 4G/LTE data cards. Every second data card in the quarter was shipped by Huawei, gaining a firm hold on the market. Even Micromax and Intex recorded a growth of 14% and 18% respectively.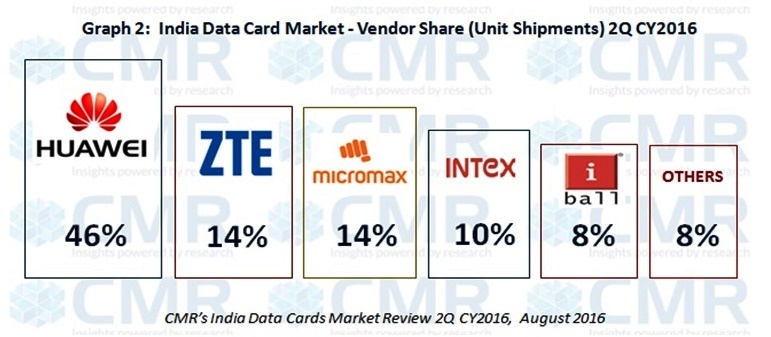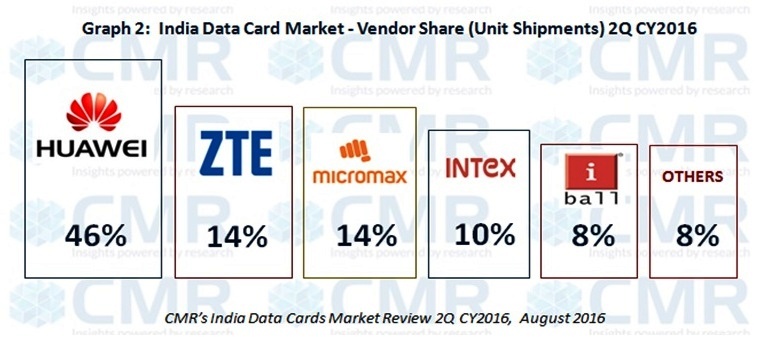 "CDMA data cards recorded sharp sequential decline of 78%, which was the main reason for the decline of 3G data cards in 2Q CY2016. Mi-Fi devices drove the growth of LTE technology in 2Q CY2016. LTE based Mi-Fi devices grew sequentially by 80% in 2Q CY2016," stated Narinder Kumar, Lead Analyst, Industry Intelligence and Channels Research Practices, CyberMedia Research.
The primary reason for this decline is that the 4G/LTE enabled data cards easily supports 3G, which makes it no point for the consumers to purchase a 3G data card. Also, the data charges for 3G & 4G services are the same, 4G being more advanced and fast. In today's scenario, all the new smartphones are also 4G/LTE enabled at very low prices. This is catalysing the preference of smartphones over carrying an extra device. In Q1 2016, out of more than 15.8 million 4G/LTE devices available in the market, smartphones stole the significant chunk of the market by covering 98% of the total market, as reported by CMR India.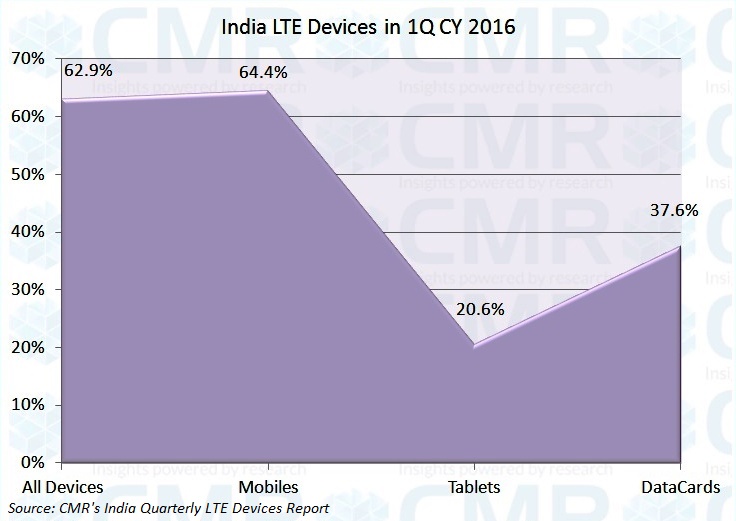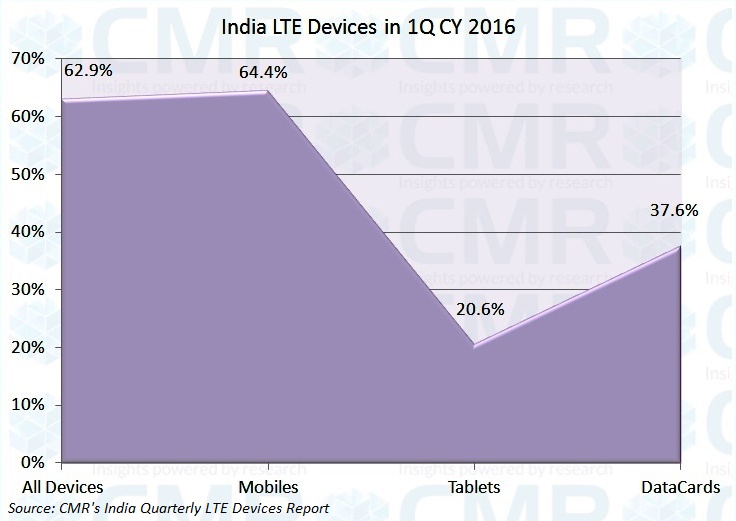 "Mi-Fi devices  show stupendous potential to grow in the future. In-built battery in Mi-Fi devices provides anywhere-anytime data connectivity, price correction of 4G/LTE services along with push by telecom service providers are making Mi-Fi cards popular in India. Mi-Fi devices are also finding growth traction among corporate houses." Says Narinder.
Huawei reported that its LTE-enabled Mi-Fi model E5573S-606 was the fastest moving device. One-third of the total shipments was contributed by data card with the data rate of 150 Mbps.
If we compare the shipments of 4G/LTE devices and 4G/LTE data cards in CY2015, with 33 million units, the LTE devices grew a whopping 1676% year-over-year in shipments. The growth rate marked was 1981% in smartphones, 148% in data cards and 90% in tablets; most of it consisted of Chinese brands. The launch of Reliance Jio indicates that the consumers and the market are moving towards the era of 4G. High speed with lowest data rates in the world, Reliance Jio is all set to capture a sizeable chunk in the market.
Findings:
India Data Card market registered 12% sequential decline in Q2 CY2016.
Huawei is leading the market with 63% of overall LTE/4G data cards shipped in the quarter.
Overall, the data card shipments have declined due to increase in budget smartphones enabled with 4G/LTE.
3G data card shipments declined by 35% in Q2 2016 as compared to Q1 2016.
4G data rates will be regulated by competition in the market.
CDMA & 3G data cards will have no relevance in near future.
The question that arises here is whether Huawei can still maintain its ground with smartphones becoming popular with the price tag as low as 3k? The competition is fierce, creating a very tough challenge for the manufacturers to maintain and grow in the market.