Push notification on smartphones is becoming a vital tool for apps to engage and retain users, and also plays an important role for a number of marketers. A recent report by Accengage illustrates that it's high time when brands must pay attention to and adopt the push notification feature to reach as many people as possible for various reasons. On an average, a mobile user spends 2 hours and 42 minutes per day on mobile, of that a whopping 89% is spent on apps alone. To make the most from those apps, a substantial 71% of the smartphone users have given the permission to send the push notifications.
Globally, the push notification interaction rates are considerably higher on Android devices than on Apple iOS devices. In fact, Android  leads with 100% opt-in rates as users are automatically opt-in when they download an Android app, whereas only 41% of the Apple iOS users grant the permission for the receiving push notifications.
For brands, it's all about engagement, and push notification seems to be doing fairly well compared with many other services, likes of e-newsletter and SMS. Overall, 8.7% of the smartphone users that receive the push notifications get engaged with it. To put this in perspective, on an average, only 2% – 3% of users click on emails they receive while the percentage is even lower with non-transactional SMSs.
The engagement percentage, however, on mobile operative systems differs significantly; With 13.1%, users on Android prefer to engage through push notification more in contrast to Apple where a meager 4.3% of Apple iOS users click on the push notifications.
The opt-in rate or the permission provided by the user to receive push notifications on Apple iOS platform is maximum in Telecom industry with 56%, followed by finance and travel at 51%. Interestingly, the FMCG industry whose opt-in rate (29%) is the lowest on Apple iOS has the highest engagement rate, i.e. maximum people who received its push notification and then clicked on it. Interestingly, with 25%, FMCG sector has the highest reaction rate on Android platform as well, followed by Travel industry which has recorded 21% and 6.3% reaction rate on Android and Apple iOS, respectively.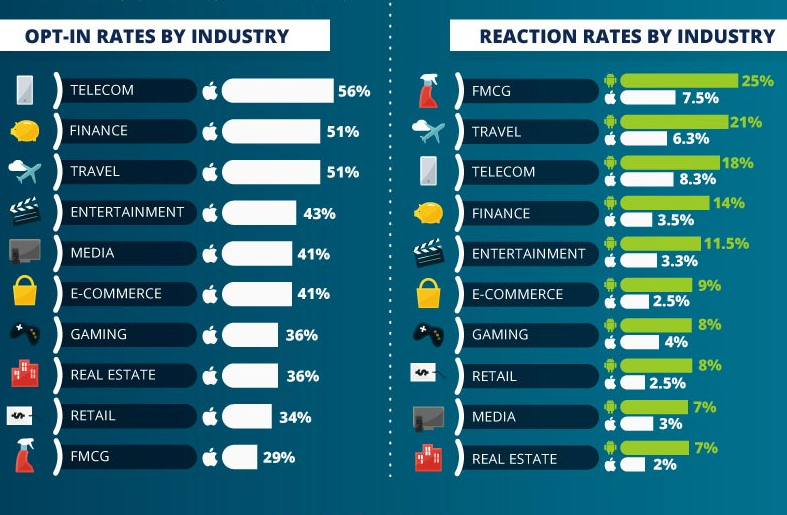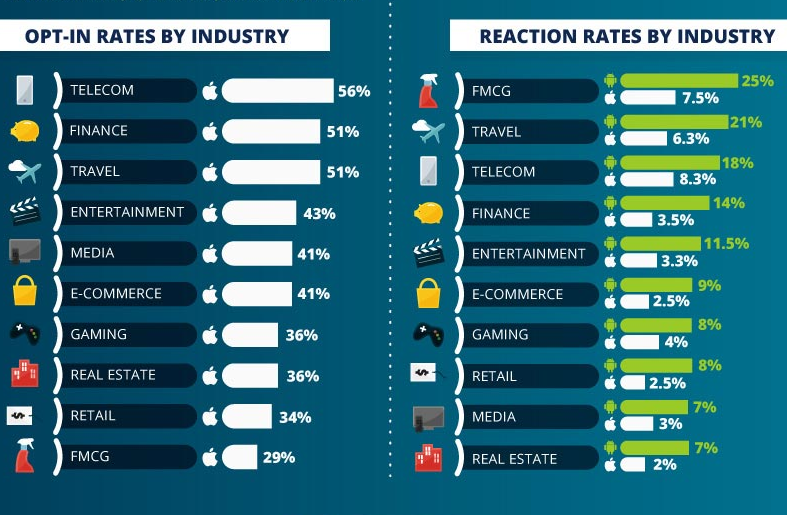 It's interesting to analyze why do smartphone users engage the most with push notifications coming via FMCG apps; While the report doesn't elaborate the finding, it's interesting to learn that Android apps users are more fascinated to discount coupons, offers and offers and therefore  engage with push notifications from FMGC apps the most.
While there are other Industries that are doing fairly well with push notifications, the apps offerings services/products from Telecom Industry are performing exceptionally well on both iOS and Android platform. Telecom ahs emerges as the Top Industries with the highest rate of opt-in as well as engagement rate on iOS platform and secures 3rd position on Android. This clearly indicates the differences in app usage behavior of iOS and Android users.
The report also highlights the popularity of push notification feature in apps by region wise. Android app users engage a significantly number of app users through push notification; In North America and Europe, Push notification engagement rates are 3X higher on Android than iOS. One of the possible reasons attributing to such a commendable performance of push notification in the regions is the deeper penetration of Android devices.
All Good, but Are Push Notifications Annoying Enough?
According to another report from Localytics, Push notifications considerably increase the app engagement by 88% though, a sizable 52% of the mobile users find push notifications annoying. Only 26% of users feel grateful as push notifications alert them about the app they are interested in. Only 20% find push notifications as a productive feature as this omits the need of app launch.
The report also highlights the fact that feeding a user with too many push notification annoys users. If a user is fed with 2 to 5 Push notifications in a week 46% of the respondents prefer to disable the push notifications. On the other hand, 32% of the respondents said that they would stop using the app if the number of push notifications rises between 6 and 10 messages in a week's time.
On the positive side, push notifications have helped the app retention rates go up. The average number of monthly app launches among the mobile app users, worldwide, who received the push notifications, went up by substantial 26.9% YoY compared to the users who didn't receive the push notifications.
All said and done, push notification feature offers positive as well as negative. If abused, it would prove to be fatal for apps and brands. On the other hand, it can be used as a vital marketing tool, for few industries especially, to improve the engagement and retention rate of apps – if used in a responsible manner.