About 2.2 billion internet users worldwide have already boarded social media platforms. This figure is expected to increase to 2.5 billion by the end of 2018. This makes social media as the most effective communication channel for brands as well as for every individual. Despite having such a powerful platform at their perusal, brands are yet to make use of social media channels to its real potential. And this could be because 61.1% of marketers find measuring ROI of social Media as the biggest challenge, highlights the latest 2016 annual report from Simply Measured.
The report, titled "The State of Social Marketing", illustrates the real challenges of today's social media marketers, how effective social media marketing is for organisations, how companies are building their social media team and creating roles and tracking buyers journey on social media channels.
Indeed, Social media is a powerful platform that can influence the buyers' decision in a very effective way. But the problem lies in those who are involved in social media marketing as they fail to make use of it beyond simple Sharing, Following, Commenting and Liking activities. According to Gartner and CMOSurvey.com, companies are spending, on an average, 10.6% of their marketing budget on Social Media Marketing activities. No wonder, the Simply Measured report claims social media is now a requisite part of the marketing strategy inside the organization due to which 63% of social media teams are now involved in marketing up from 57% last year.
Interestingly, while many of PR agencies have started offering social media marketing service as a part of PR activities, only 4.5% of companies prefer to roll social media marketing up to their public relations team or their agencies.
Social Media Positions: No More A Thankless Job
Social media is no more a side operation in an organisation, and companies have started designing their top level hierarchy to accommodate and acclaimed their marketing professionals. Social Media Manager is the most common role as 60% of teams has claimed they have the position in their organisation. The thing which will amaze us is, while the social media is growing at a fast pace but the team size has remained small. 68% of social media teams have only 1 or 2 members to perform social media activities. Companies are slowly embracing social media activities despite exploded growth in social media user base worldwide.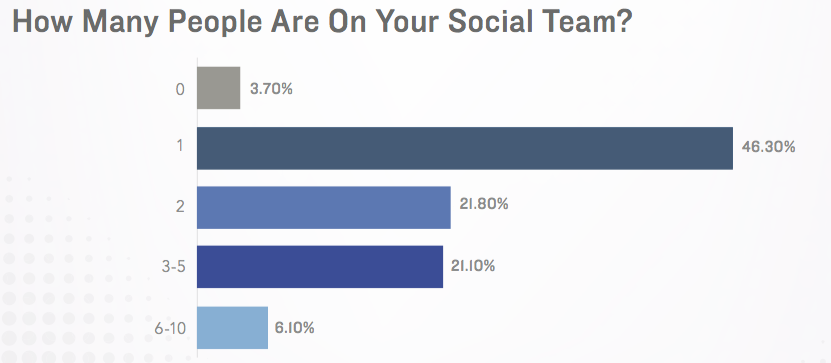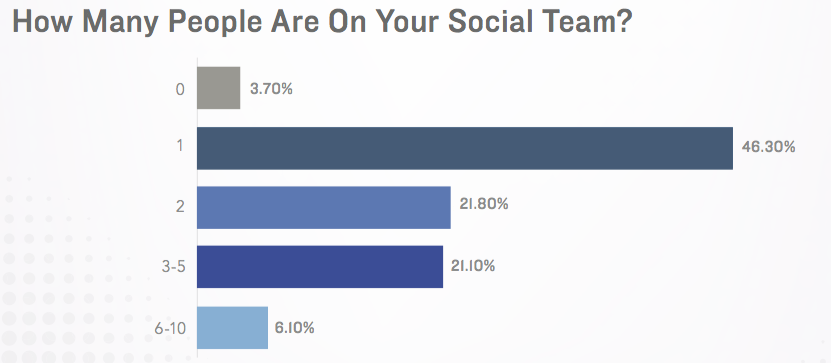 Companies are slowly embracing social media activities despite exploded growth in social media user base worldwide. The percentage of companies who have 3 to 5 employees to take care of their social media presence have grown from 18% in 2015 to 21% in 2016.
Social Media Marketing: What Do Companies Aim At
Nowadays social marketers are serving twin purposes, first as being the stewards of the brand and second as to generate revenue. While it is hard to measure the ROI of social media activities for a majority of companies, different organisations use different metrics to measure the success of their social media strategies. 56% of marketers citing engagement as the key metrics to measure the success of their social media activities. Interestingly, only 1 in five teams claimed to be focused on Conversion and Revenue Metrics. What is more interesting is, only 15% of marketers said their company's prime objective is to create brand awareness from their social media marketing activities.
This points to a clear disconnect between social media and other marketing channels. While a majority of organisations are focused on generating engagement on social media platforms, that consist of Likes, Shares, Comments, Followers, a majority of it fail to realise none of these activities are owned by them. In a bid to 'acquire' social media users as social fans, and engage them, companies turned their back to the fact that everything is owned by respective social media network, i.e. Facebook, Twitter, and not by then eventually. No wonder, marketing leaders report that the effectiveness of social media linked to their marketing strategies scores only 4.2  on the scale of 1-7.
Social media marketing is not about sharing links or comment anymore. According to the latest study from Buffer, the sharing frequency, update types, sharing time and content type are different on each social network to produce results.
Social Media Marketing: Not A Cake Walk For Marketers
While engagement is the key metric for a majority of organisations, measuring ROI of social media marketing investment is the biggest challenge for most of the organisations. 61.1% of marketers who participated in the survey tag it with the 'Biggest Challenge'. Interestingly, despite the fact that social media has an enormous potential to shape individual's career, organisations are struggling to find the resources. 38.2% of marketers say securing budget and resources is the second most challenge in social media marketing.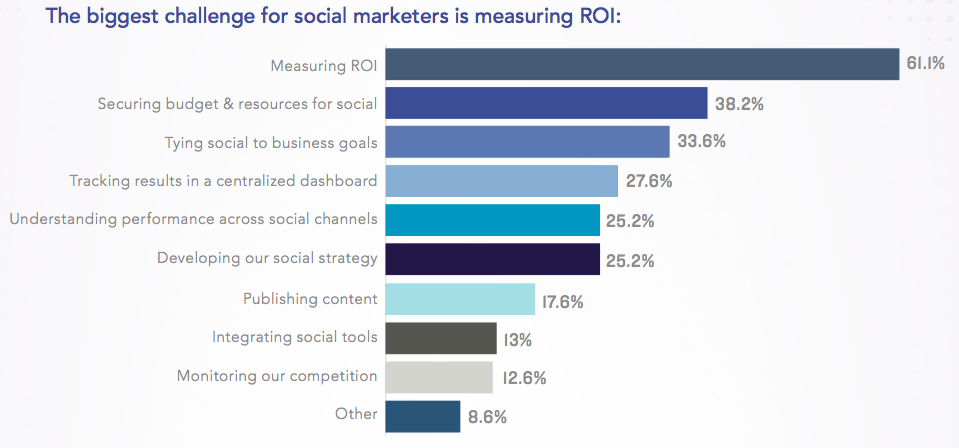 Interestingly 25% of marketers found that developing a social strategy is a challenge as well, while 17.6% feel that publishing content is also a challenge.
This is really surprising in the wake of the fact there are thousands of social media marketing tools available that have made social media marketing much easier than ever before. The tools, such as HootSuite, Social pro, FanPageKarma, not only help social media marketers to make informed decisions, but also allow them to design an effective data-driven strategy.
But that's not the only challenges for marketers, only 9.4% of marketers are able to quantify the revenue driven by social media. And to make the situation worse, 58% of marketers either never or rarely discuss the social media ROI with their bosses. This could be the reason why most of the marketers find it tough to implement an aggressive social marketing strategy that rides on the back of sizable approved marketing budget.
Most of the marketers are making these three social media mistakes in 2016 and failing to quantify the revenue driven by social media.
Social Media Marketing: Budget Is the Biggest Constraint
38.2% of marketers blame to the assigned budget for social media marketing activities. And the figure soars when it comes to buying software for social media marketing. Only 23.2% of social media marketers say they don't have a problem in getting the budget approved for social media marketing. Interestingly, 42.4% say though they have budgeted for social media activities, it falls short when it comes to buying some essential software required to effectively manage campaigns, strategies or monitoring.
So, what kind of software most of these social marketing seek? It's nothing but Analytics. 43% of marketers claim they have a need for Analytics Software to do their best work, while almost the similar number of marketers find the need of Publishing software.
Actionable Insights & Takeaways
Social media, one of the most indispensable platforms, is yet to win a confidence of top executives in organisations for generating the revenue. Consequently, social media marketers are failing to leverage to its true potential in the absence of important tools and resources. However, the report illustrates few invaluable insights for marketers and brands to succeed in social media space:
While it's a right mix of social media and marketing team, considering the growing number of users on each social network, organisations should assign not more than two social networks to each social media marketers. This will not only help him/her to stay focused but will also allow the organisation to measure the performance of each individual effectively. Therefore, depending on the size, most of the organisations must have 3-5 social media marketers in the team.
 Brands must use social media networks only to identify and reach prospects. The most important criteria to measure the success of social media activities should, and only, be the acquisition metrics on its own platform. Instead of investing in efforts to engage or acquire social media users on social media platforms itself, it's always more fruitful to have an access to users' information directly. Email subscription, asking them to register to avail free access to products for a limited period, deals and many other strategies could be deployed to execute such strategies.
Measuring ROI is no more an uphill task for social media masters. While only 37% of marketers are able to measure the ROI of their social media efforts, here is a step by step guide that helps social media marketers to calculate the ROI of their investment made in social media marketing.
Planning, Executing and Monitoring are the three crucial elements for social media success. However, a team needs to have access to tools required to perform these tasks. HootSuite, Buffer, Socialbro, CrowdBooster, and SocialBakers are few of the must have tools.