The smartphone has revolutionised our reading habits. A recent report by comScore reveals the staggering surge in the news consumption on mobile and it is the Millennials (aged 18-34 years) who are driving the trend. The report is focused on understanding the news consumption pattern compared to other information likes of Weather, Politics etc, on a smartphone.
The total number of 'news audience' on mobile grew by 66% in the past three years, compared to 57% growth in the total number of mobile internet users during the same period. The figures clearly state that mobile users are preferring to consume News/Information on the go and publishers must adopt the mobile-first strategy to keep readers engaged.
There has been a parabolic rise in the political news consumption on mobile in the past three years. The number of audiences who consume Political news on mobile grew by 6X whereas audiences seeking the digital newspapers recorded a 2X surge during the same period.
Social media channels, especially Facebook and Twitter, have been the prime feeder of news on mobile. Nearly 80% of social media time is now spent on mobile devices. Consequently, a whopping 96% of the millennials prefer consuming some of the news or all on their mobile devices/PC, while 36% of them seek the news exclusively through their smartphone devices only.
The trend of news consumption on mobile is not limited to millennials alone; People aged between 35-54 consume 94% the news via mobile devices (smartphones and tablets). To everyone's amazement, a whopping 72% of the 'news audience' aged over 55 years prefer to get their news on mobile devices or PC .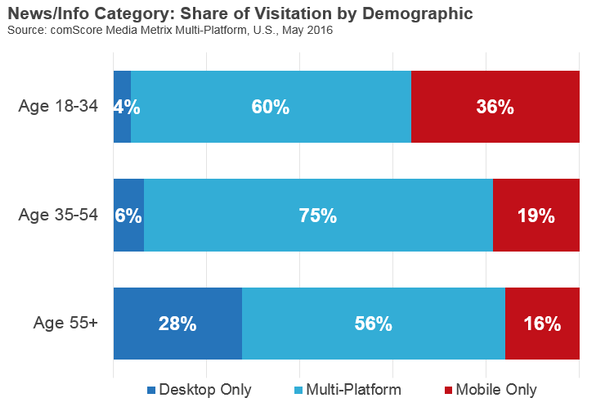 A recent survey by Harvard revealed the browsing interests of various ages of society in the US and not surprisingly a huge number of teenagers, aged between 18 to 24 years, and youngsters, aged 25-29, prefer browsing Facebook, followed by Instagram and Twitter. Put these findings next to the fact that users spent 80% of their social media time on mobile devices. It's safe to assume that social media is playing an instrumental role in growing news consumption on mobile devices.
By now it's clear that the so called people with 'new eyes' i.e. millennials aged between 18-34 years prefer consuming news/information through their mobile devices. The statistics converge as a chunk of 'news audience' between 35-54 years of age prefer smaller screen (mobile devices), whereas rest prefer bigger screens (Desktop) for reading the news. Not surprisingly, the elderly news audience aged over 55 years are still hooked with Desktops, and publishers serving to the demography must define their marketing strategy accordingly.
Mobile is not only leading in traffic to news websites, but also on time being spent by millennials on mobile in consuming news/information. 72% of time spent by millennials on consuming news comes from mobile, while users aged between 34 – 54, spent 58% of their news consumption time on mobile.
The 'social' quotient
Social networking sites are a key to a news website's mobile web traffic; a whopping 40% of the mobile web traffic of a news website is coming from social media channels. Thus, publishers engaged in creating news/information content cannot ignore the powers of social media.
Facebook and Twitter have emerged as leading social media channels driving traffic to news websites on mobile; Facebook holds a rather larger pie as an average 80% of the mobile social media traffic to news websites comes from it. On the contrary, Twitter has an upper hand when it comes to the total engagement time on a news article on mobile devices, with a 24% lead over Facebook.
Actionable Insights
The findings clearly point to the fact that mobile is a next-gen tool for news publishers. As users between age 18 – 54 are more inclined towards mobile devices for their daily dose of news/information, publishers and advertisers must design and define their content and marketing strategy giving preference to mobile users.