Are you ever got annoyed by the people who continuously record the concert on their smartphones and in turn block your view? Well, you may now take a sigh of relief as the patent that Apple Inc. (NASDAQ:AAPL) filed in 2011 has been approved. So, what's the big deal? The patent technology will allow Apple to disable smartphone's camera at a number of sensitive places like museums, concerts etc. It's, however, unclear if Apple will extend the technology to all the smartphones or keep it restricted to iPhone only. in the latter case, it would be interesting to see how Apple will make sense of the technology as 4 in 5 smartphones globally are powered by Android OS.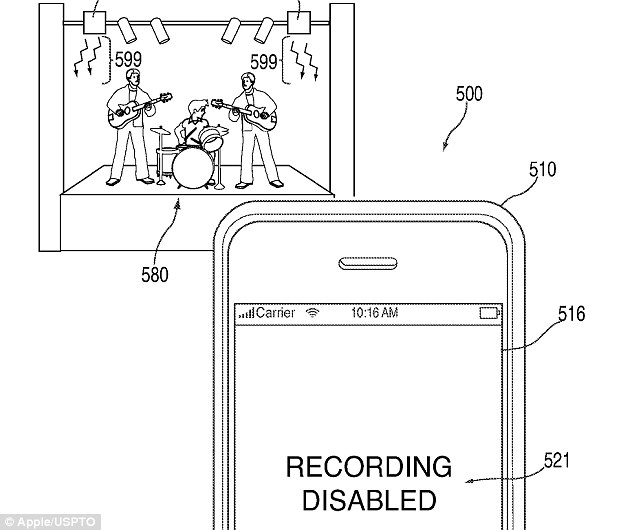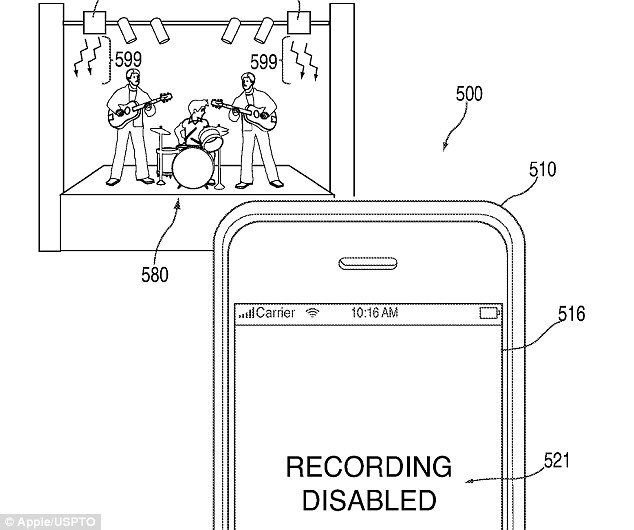 A number of coded infra-red emitters would block the smartphone camera the patent says. In turn, the smartphone user would not be able to click pictures or record videos at a particular place where the infra-red emitters are placed. Your camera may be temporarily disabled or the images would be blurred by the technology.
"In some embodiments, a transmitter can be located in areas where capturing pictures and videos is prohibited (e.g., a concert or a classified facility) and the transmitter can generate infrared signals with encoded data that includes commands temporarily disabling recording functions." The patent read.
A number of people feel that this move may hinder with their freedom of speech and expression. Whereas, many have welcomed the move; many celebrities in the past have been annoyed by continues filming of their concerts by their fans. While performing the play Hamlet, Benedict Cumberbatch pleaded the audience to stop filming by their smartphones. Earlier, to stop filming the concert lasers were used to point out the culprits by shining lasers towards them, a practice common in China's movie theatres.
It's a vital innovation by Apple for security reasons; for an example, a person could secretly record a video inside a bank to gain the details and, in turn, it would become easier to set up a plan to rob a bank.
"Innovate OR Die"- Silicon Valley's motto
Apple is vying for a number of sectors in technology; ranging from augmented reality to autonomous vehicles. The slumping iPhone sales in the recent Q2 2016 could have been a catalyst for Apple to enter new arenas. The Cupertino giant is betting on a wrap-around-display for its future iPhone. As competition is rising in smartphone segment other smartphone manufacturers are also gearing up to introduce new innovations in their upcoming devices. Google is planning to dominate the smartphone market with its Project Ara and a rumoured premium smartphone, while Samsung is working on a bendable smartphone.
The iPhone 7 doesn't look promising according to a number of analysts and thus Apple has applied for multiple patents to enhance its innovation. The other venture that Apple is vying is Augment Reality sector as recently the iPhone behemoth has applied for "transparent Electronic Device patent." The technology will allow information to overlay on the real picture when one points one's smartphone towards it.
Apple is also betting on wearable devices as well, the future of technology will apparently be dominated by wearables. The Apple's upcoming iWatch 2 appears promising and the Cupertino giant is leaving no stones unturned to keep its Numero Uno position unchallenged.
For its autonomous car project, Apple has hired the best talent in the automobile industry. The project is rumoured to be codenamed 'Titan'. it's still not clear whether the company is betting on the self-driving car or just electric car. The Cupertino giant has shelled out a whopping $10 billion to make its dream come true.