A strong majority of smartphone users in the US is not willing to upgrade their smartphones any sooner. Nearly, half of the US smartphone users wait at least 3 years before upgrading to a newer smartphone. This explains why the US market is moving towards saturation.
According to ad tech firm Fluent, 30% of the smartphone users admitted that they upgrade to a newer version of smartphone once in every 2 years. 19% of the users said that they upgrade their smartphones once per year and only a small 9% of the users were found upgrading their smartphones more than once in a year. However, a considerable 19% of the users upgrade their smartphone after 3 years of gap.
The study also addresses the upgrade pattern of Apple iPhone and Android smartphone users; 35% Apple users and 32% of the Android users are likely to upgrade their phones once in every two years as a number of carriers in the US offer a two-year subscription with discounted upgrade privileges. Nowadays, a majority of the carriers has decided to chuck off such plans, thus, a user has to shell out the printed amount to buy a new phone.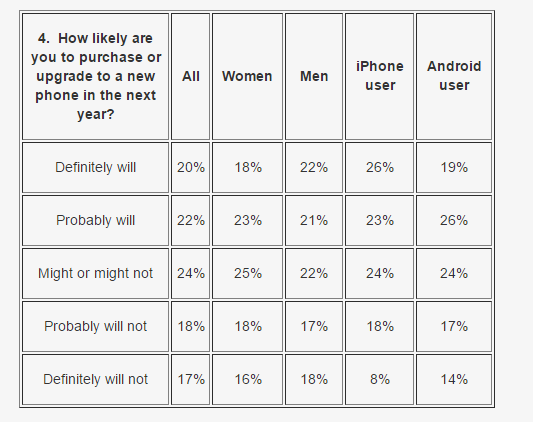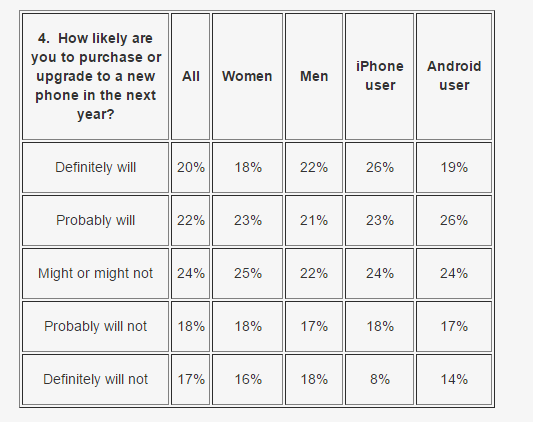 A minimal 20% of the users agreed that they will definitely buy a new phone next year. Of them, 26% were iPhone users and 19% hooked to an Android device. Another 22% of the smartphone users are not so sure about shelling out money on a new device and will probably upgrade their phones.
When asked about the device preferences for their next phone, a considerable 44% of the smartphone users said they would buy an iPhone whereas 39% agreed that they would prefer an Android phone. Interestingly, 87% of iPhone users say they would stick to Apple while one in four Android users are likely to ditch the Android ecosystem while buying their next phone.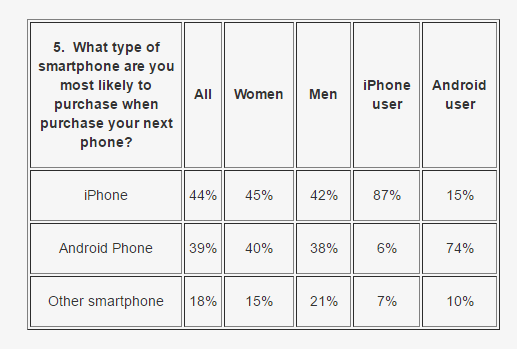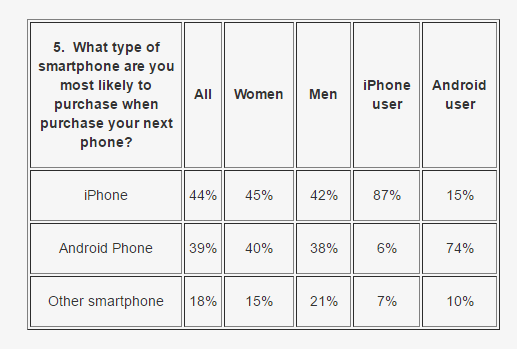 According to an another survey, done by Gallup, a whopping 54% of the smartphone users would not upgrade to a newer smartphone unless their device becomes totally obsolete. A tiny 2% of the smartphone users agreed that they would buy a new model every single year. And 44% of the smartphone users agreed on buying a new smartphone when their service provider contract expires, which is usually 2 years.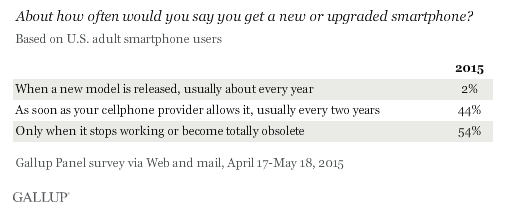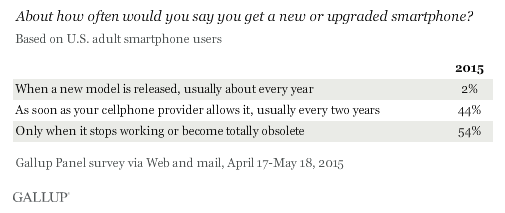 A majority of iPhone users around 51% said they would upgrade to a newer smartphone in every two years whereas 47% of the iPhone users said they would buy a new phone when their current device becomes unusable. However, a huge 58% of the Android users said they would upgrade to a new smartphone only when their device stops working.
So, what the main reasons people are hooked with the two generation old iPhone? Is it screen size or price? Income is the biggest influencer to upgrade for both iPhone and Android user. 55% of the households that earn $75,000 or more every year own an iPhone whereas 40% own Android Phone. According to Aytm research firm, 57.4% of the smartphone users were found overly satisfied with their smartphone, and that's the another reason a majority of people in the US are not seeing towards a new device anytime soon.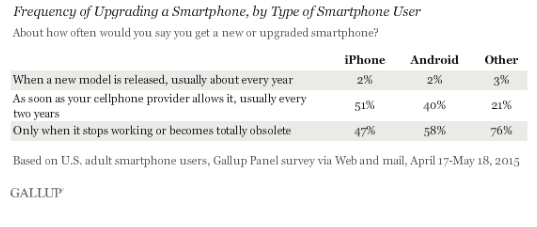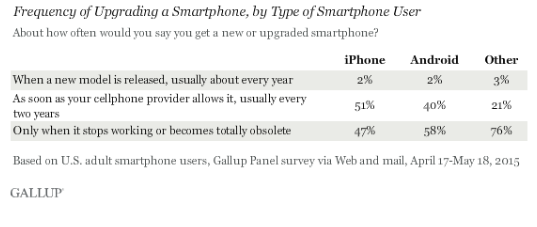 "The US market continues to be very competitive as smartphone penetration reached 65% among mobile phone users and 84% of the overall mobile phone sales. The pool of available new buyers is shrinking and Android's wider price range helps them grab late adopters looking for their first smartphone." According to Carolina Milanesi, Chief researcher at Kantar.
Smartphone Upgrade Cycle is Disappointing Manufacturers
Combining all the findings and figures together, it's safe to say that smartphone users in the US are seeking a great value for money from their device. 3 in every 4 smartphone users in the US are willing to remain hooked with their device at least for two years. Just 9% of users may fall for a company's latest offerings in the smartphone segment, be it iPhone and Apple.
Smartphone manufacturers in the US are equally informed about the trends which have started affecting their revenue books. Apple has recently recorded an unexpected slump in iPhone sales in Q2 2016. Android is gaining ground albeit at very slow pace.In January this year, Apple revealed that 60% of iPhone users who bought an iPhone before the launch of big screen iPhone 6 and iPhone 6 Plus had not upgraded their iPhone.
Consequently, smartphone manufacturers are making every possible move to poach new users to keep the sales flying every year. Android and Apple both are leaving no stone unturned to eat into each other's market. To lure customers and push the sales of iPhone, Apple has recently rolled out Apple Upgrade Program for online buyers as well that will offer a new unlocked version of latest iPhone every year on an instalment basis.
The future looks bleak for major smartphone manufacturers as a majority of their users seems satisfied with their current smartphones. Thus, the more powerful devices housing 6 or 8 GB of RAM are being pushed into the market to lure more customers. To the contrary, a number of analysts believe that by putting such powerful components under the hood manufacturers are only trying to boast off in the absence of real innovation.
Sensing the trends and users preferences, leading smartphone players, including Apple (Wrap-around-screen), Samsung (Bendable smartphones) and Google (Project Ara) have started relying on innovations to market their products. Though Apple iPhone 7 rumours aren't enchanting enough to persuade an existing smartphone user to upgrade their phone, but iPhone 8 due for 2017 is being touted as the most innovative iPhone Apple has ever made.
As the US smartphone market is edging towards saturation, a number of smartphone manufacturers including Apple are desperately vying for new geographic opportunities especially in India. However, it would be interesting to learn about the upgrade patterns of smartphone users in such emerging markets. Stay tuned !!!
[poll id="55″]