At a time when various OEMs are fighting hard among themselves for the top crown among smartphone manufacturers, Google with their Android OS has stamped their authority as the leading software vendor for smartphones. For quite a while now, the OS battle in the smartphone space has mostly been a duel between Apple and Google with both tech giants trading blows. In recent times, though, Google has emerged as the clear winner, at least as far as volume is concerned; with 4 out of 5 smartphones running Android. In light of that, it comes as a huge surprise that Huawei, the third largest smartphone OEM in the world has chosen to claim a stake in the OS pie by announcing their plans of creating a new mobile-centric operating system.
In the past, countless companies have tried their hands at making a viable mobile OS. The result more often than not has been an abject failure. Even companies with a long history of making operating systems like BlackBerry have been forced to accept defeat and switch over to Android in order to survive. And the stubbornness of Nokia to stick with Windows Phone ultimately led to the demise of the great Finnish manufacturer. So does this foray into Mobile OS development somehow signal an ultimatum for Huawei? Or does it have some more aces up its sleeve? We find out in today's analysis.
Huawei: China's Wonderkid Now Knocking on Western Doors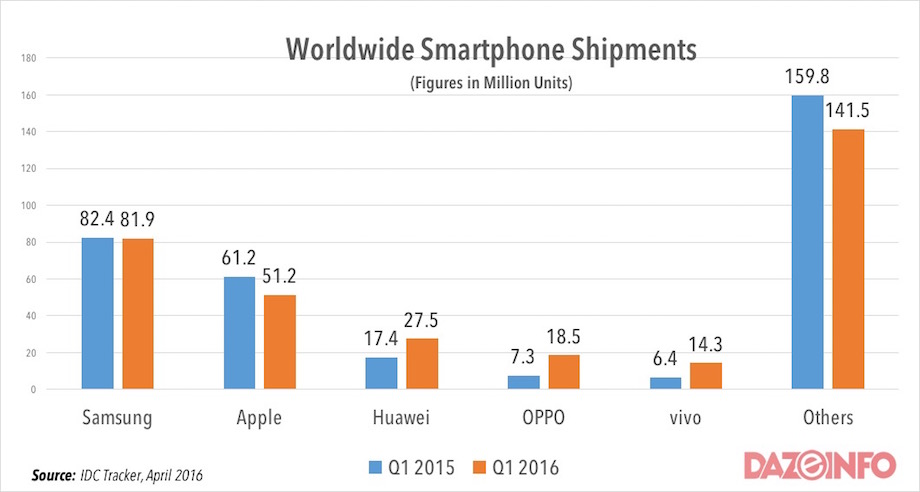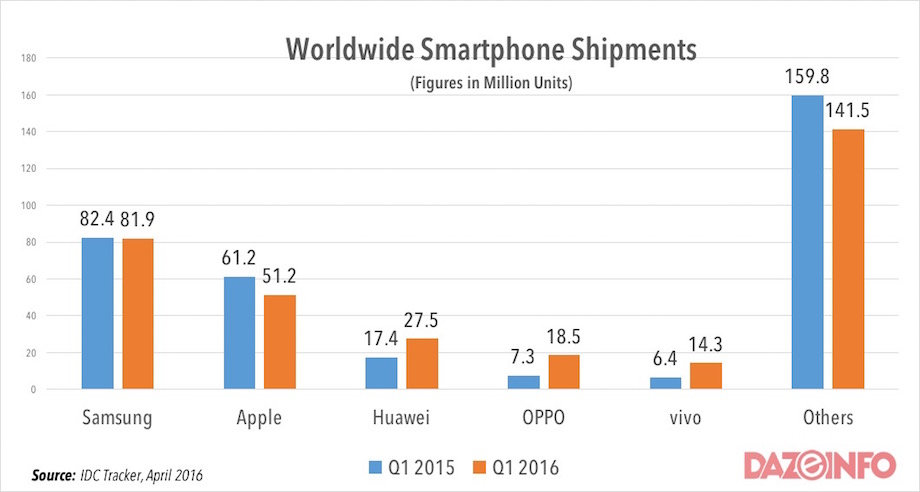 Q1 2016 has been tough for most smartphone OEMs across the world as the sales have flattened out due to global economic fluctuations as well as saturation in key markets. Despite all of these, Huawei managed to do fairly well for itself both in its home China as well as make significant headroom into Europe and other western markets. This was made possible mainly due to the success of the Nexus 6P-the beautifully constructed Nexus device had received rave reviews from smartphone enthusiasts all over the world thrusting Huawei into the limelight in the western markets.
In spite of the success of the Nexus 6P, Huawei has not really been able to break into the top tier markets on the west as most of their sales in Europe and the US has come from their midrange offerings. One of the primary reason behind this is the fact that Huawei's EMUI looks eerily similar to iOS and while that has worked wonders in their native land, the UI has failed to garner followers in the west.
To remedy this, Huawei has hired former Apple designer Abigal Brody, who is scheduled to give EMUI a clean and more nexus like look next fall. So why is all of this relevant to our topic on hand? Well, this just goes to show that Huawei although they're making baby steps in the western world, are not yet ready to launch their own OS anywhere other than their home country of China. The situation in China though is quite different and in the country protected by the Great Wall, even Android's free and open source nature is very restricted. So will a homegrown OS find favour among the Chinese consumers? We find out in our following segment!
Huawei's Experiment in Their Homeland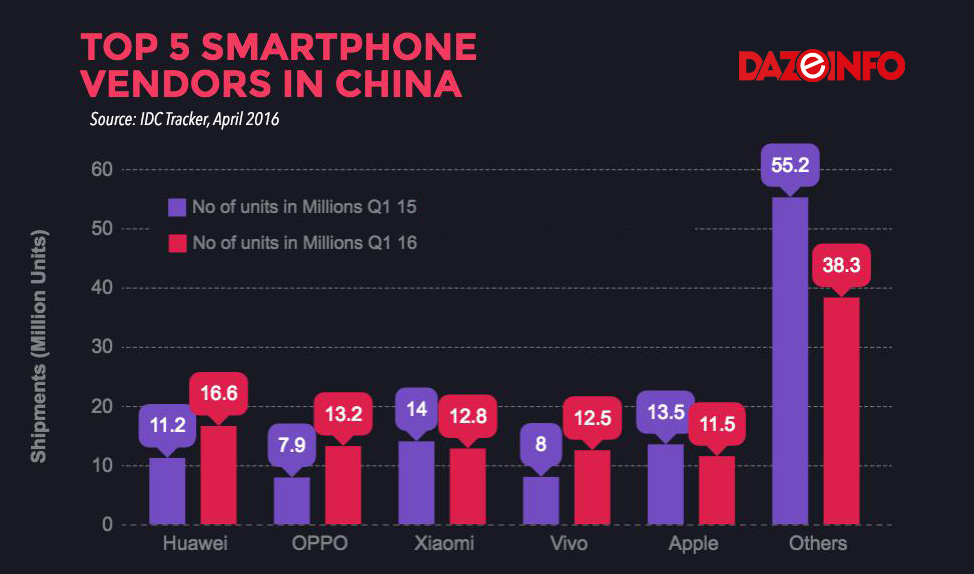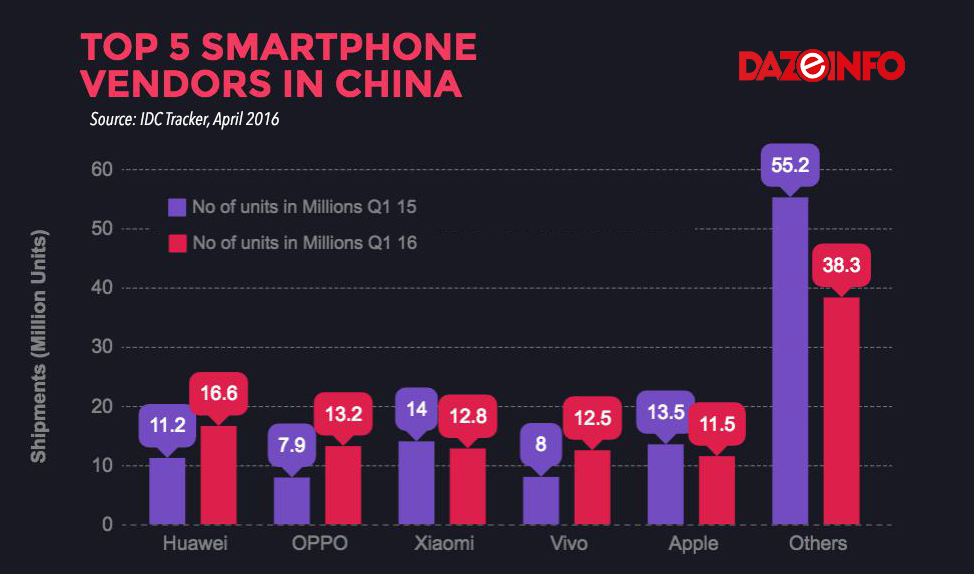 Huawei has grown rapidly in the past year in their native country. Their success can be attributed to popular models like the Mate 8 and their extensive offline reach and distribution channels which have led them to increase their shipment from 11.2 million in Q1 2015 to 16.6 million in Q1 2016. Even though China's overall smartphone market saw a decline of 5% annually, Huawei managed to record an impressive 48% growth in sales volume YoY. This means that the consumers in China like the iOS esque skin of Android that Huawei uses and thus a new operating system built on the same basic structure might prove to be beneficial for Huawei.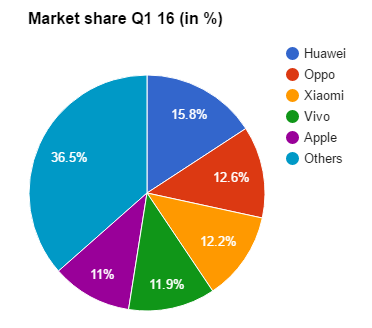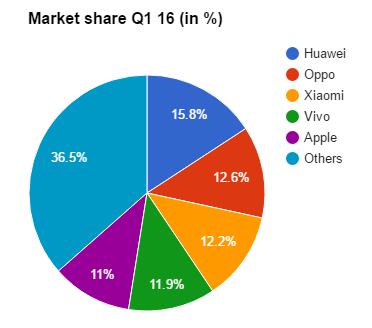 While Huawei has maintained that developing the new OS is nothing but a contingency plan, should Google ever become tyrannical with their demands from Android OEMs, the Chinese smartphone manufacturer may actually be looking at a more present scenario than a doomsday possibility. The new trend in budget smartphones from China like Xiaomi and Le Eco has been to sell the phone almost at cost and then recuperate profit margins by investing the user into the companies ecosystem. If Huawei manages to convince even a fraction of their user base to switch to their in-house OS, the company stands to make huge sums of money.
China is currently home to the largest smartphone user base, and the latest market share pegs Huawei at 15.8%. Considering Huawei manages to convert even a third of their user base to their own proprietary OS, Huawei would be looking at something around 5.5 million devices sold in just China itself. However these are very optimistic estimates, and if Samsung's foray into Tizen is something to go by, selling even a million phones of a new OS in each quarter is a very tall order.
Ultimately all of it comes down to developer support and the quality of the OS. Recent reports claim that a team of developers who include 'ex-Nokia employees' on the roster, are currently hard at work developing this OS somewhere in Scandanavia. How does this news affect Google? Are they worried at all? How about Samsung? We answer all of these questions and make some educated guesses about the future of this OS in our final thoughts section.
Final Thoughts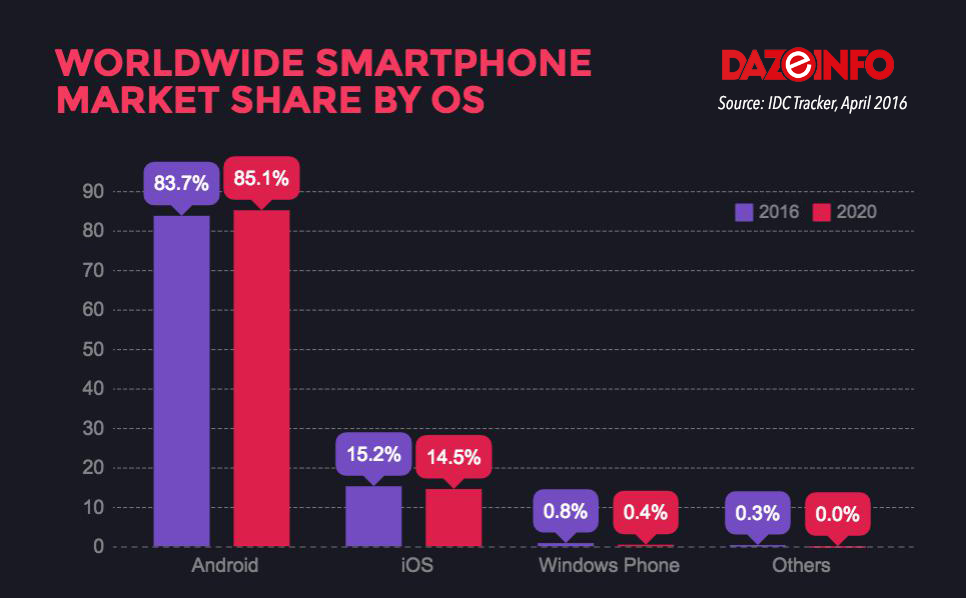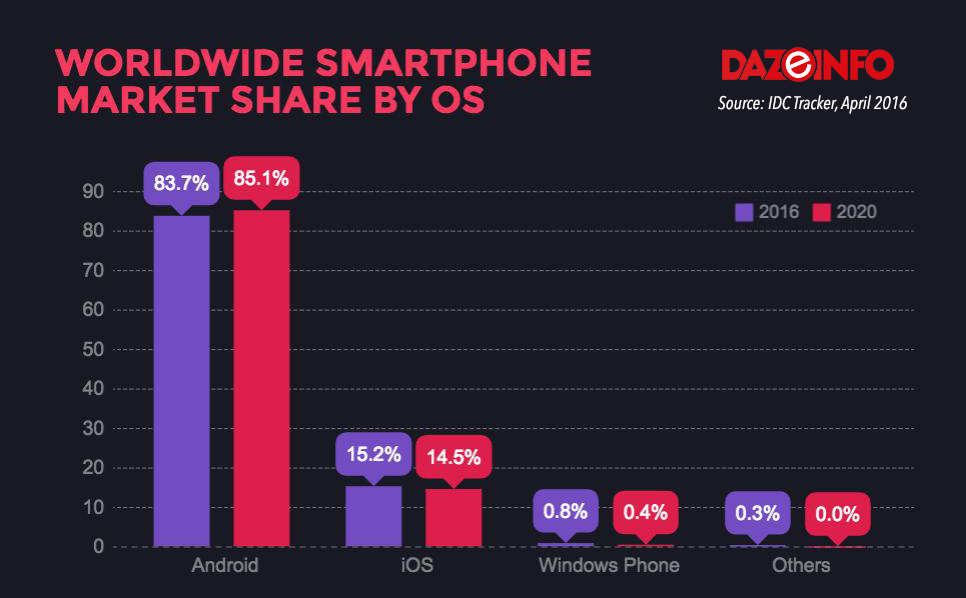 As the chart above shows, Android and Apple are all set to continue their domination well into the next 4 years. Well, the contenders for the top two spots are virtually a foregone conclusion for the foreseeable future. In fact, we believe that Huawei also does not entertain hopes in their mind of ever challenging Android or iOS with their new operating system. In fact, taking all things into consideration, Huawei has quite a different approach and end goals for this new endeavor. We have summarized the most prominent ones among them below
Like it has already been mentioned by none other than Huawei's Android design lead, the new OS is nothing more than a contingency plan for Huawei. In fact, one of the reasons that Huawei choose to release this news of their OS development is such a nascent stage could just be so that they can hold it over Google as a bargaining chip and maybe eek out another Nexus device contract from them.
In China where Google doesn't have any presence, Huawei could look to promote their own OS and stand to make some profit by creating their own ecosystem. Their recent success with Nexus devices in the West would mean that now more developers would be keen to work on Huawei's platform thus giving them something of a launchpad to work off of. Although it can be imagined that like most alternative OS's released in the last few years, Huawei's OS will also have the ability to run Android apps natively as well.
Huawei has recently been looking to get into the IoT sphere as well. Having a mobile OS in their kitty will only bolster their efforts for a consumer based Home automation suite as they will have an in-house developmental SDK and framework to base their central hub on.
Having said all of that, how much would we bet on Huawei's OS being able to enamour the Chinese consumers? Not very much at all. While it is very true that ever since Windows has all but bowed out of the race on mobile, the 3rd spot on the Mobile OS market share graph remains open for new competitors to come in and take the spot. While Samsung and Tizen seem to be the forerunners for that spot right now, Huawei can hope to catch up under the guidance of Abigail Brody.
In fact, Brody has been quoted as saying that she thinks Huawei software could one day be "the world's No. 1, the most advanced and favorite 'lifestyle-centric' ecosystem, and without having to copy Apple at all, ever!"
Standing at where we are right now, Brody seems overly optimistic in her outlook and even if the Chinese Government were to help Huawei by endorsing their OS as the official OS of China, even then Android's strength in the rest of the world, especially in developing nations like India would mean that Huawei would have their work cut out for them.
Would Google even bat an eyelid at the prospect of Huawei taking over the 3rd spot? Not at all. But Samsung may shift uncomfortably in their seat as their hopes of developing Tizen will take a fatal blow if this comes to fruition. We believe that rumors like Samsung's alleged move to Tizen, are nothing but power plays in the world of tech companies looking to intimidate each other into cutting a better deal for themselves. Most of them, like Samsung's apparent pull out of the smartphone industry, shall never come to pass. Thus, it with heavy skepticism in our minds that we end this analysis as we fear that this new venture from Huawei would suffer an untimely death akin to Mozilla's Firefox OS.