Smartphones have been around for a fair while and in the decade that they've been here, they've managed to slip into every aspect of our lives, from shopping to bank accounts. From a consumers point of view, online shopping and payments are both there to save us some precious time in a hectic lifestyle; and most merchants and organizations have embraced this new stream of revenue as well. However, there is a flipside the world of online sales that is rarely explored. That is why in today's analysis, we take a look at the world's largest study focused on Mobile Payments Trends to understand both the risks as well as rewards from the sellers point of view.
The global mobile payment market is expected to hit $620 billion in 2016. Despite being a fairly new field, we have begun to see fraudulent practices creeping into the world of online purchases from smartphones much in the same way that we observed a similar trend in apps. One of the driving forces behind it could be due to the fact that nearly 1 in 3 merchants have reported that more than 30% of their revenue is coming in through the mobile channels. As more revenue comes in, and more merchants jump into the fray, we see that fraudulent practices have increased as well. But to combat the growing trend of fraudulent online transactions on smartphones, more than one-third of the merchants are using 4 or more security measures, a number that was at just 21% last year. Stick with us as we dive deeper into this intriguing battle in the online smartphone marketplace!
Why Are Mobile Payments Being Heralded As The Next Big Thing?
As this graph above clearly demonstrates, the larger the total revenue of the merchants, the more important is a mobile-based strategy to their future plans. In fact, 94% of businesses with over $50 million in revenue consider going mobile as a big part of their strategy. Interestingly enough, though, in the $10-25 million yearly revenue range, the emphasis on mobile has dropped off quite sharply YoY as we see 1 in 5 merchants say that mobile does not play an important role in their strategy going forward.
Other than that, there is positive growth in interest in mobile payments and apps and mobile websites across the board, especially among smaller retailers who jumped from 31% to 54%  in 2015 a fact which bodes well for the smartphone-centric consumer world who have become accustomed to the convenience offered by these services.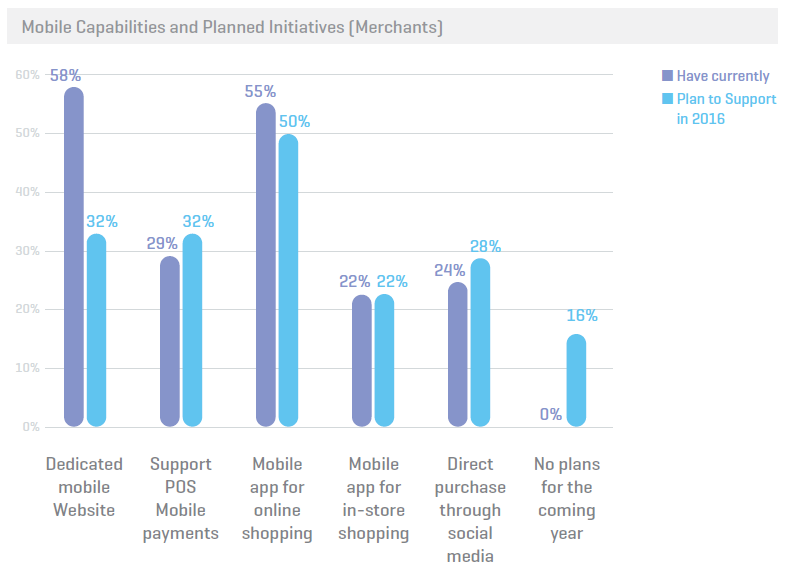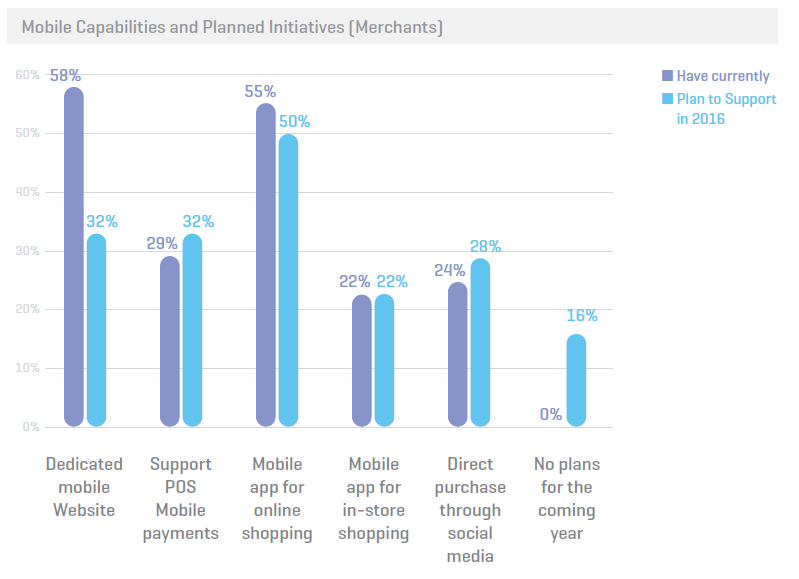 While Google Wallet has been there for a while, we have seen that since the launch of Apple Pay last year, the focus for companies with mobile strategies has been diverted towards mobile wallets. In fact, as smartphones have become ever more popular, we see that the popularity of dedicated mobile websites is on the downward curve having slipped from 58% to 32% over the course of the last year.
We have also seen that mobile apps through in-store shopping have not managed to make that big a mark despite the introduction of many options for contactless mobile payments, like Apple Pay, Samsung Pay, and Android Pay. One of the interesting things that have come out through this survey is the fact that in 2015, 34% of merchants have been willing to accept mobile wallets, a solid 10% growth YoY.
But one of the main hindrances behind going mobile payments is the inbuilt risk of fraudulent practices. Mixed with the fact that most merchants are not yet able to identify mobile traffic properly, it becomes a very hard task to identify fraudulent online transactions on smartphones; let alone stop them! We talk about the challenges and measures taken by the merchants and other organizations in this field in our next segment.
Fraudulent Practices in Online Payments Via Smartphones: A Looming Threat?
While a slim percentage, 1.9% of the sellers have noticed a major increase in mobile fraud, one of the more worrying signs is the fact that nearly 1 out of 2 sellers are uncertain if the rates of fraud have changed over the past one year. This highlights one of the major problems in the mobile online transaction industry- there is a distinct lack of knowledge among the sellers as to whether mobile fraud is even occurring at their end.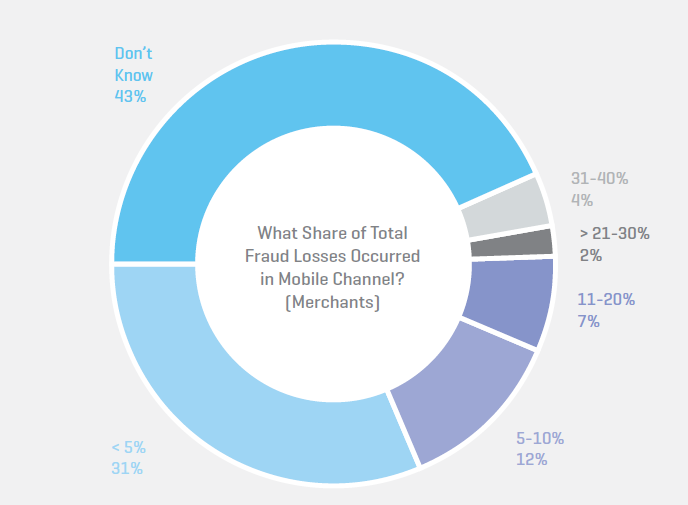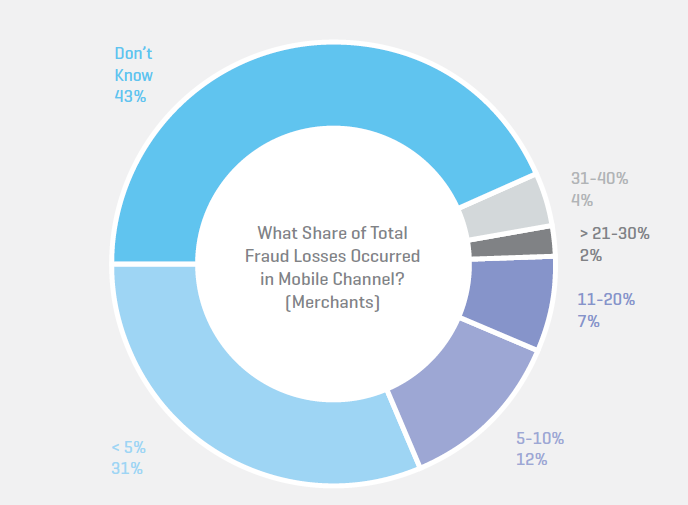 The infographic to the right shows that a startling 43% of merchants have no idea how much losses they have incurred through mobile frauds. Of the remaining 57% keeping tabs, a vast majority of 43% say that mobile frauds account for less than 10% of their total fraud losses.
While the fact that the losses from the channel have been kept to a minimum is indeed good news, one of the more interesting facts that have come to light is the fact that for most sellers, domestic frauds and international frauds occur at almost the same frequency with 31.4% for the former and 28.6% for the latter.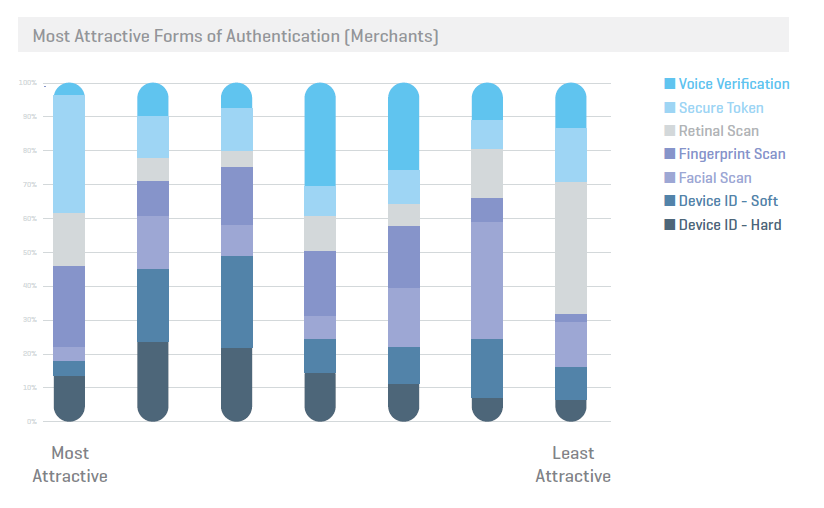 However, most sellers have wizened up to online fraud through mobile channels and have started investigating various authentication methods as has been detailed in the graph above. While secure Tokens and Biometric Scans like Fingerprint have been the top choices for most sellers, a far easier to implement and cost effective method of unique device ID also makes it to the top three.
Prevention is better than cure and sometimes to stop the criminal you have to think like one. This one is where however the community seems to be very divided as we see that only 20% of sellers think that very sophisticated and specialized tools are required for mobile online frauds. The remaining are at odds with 44.5% considering standard eCommerce fraud techniques enough for mobile frauds while the other 35.5% are against the very notion.
With so many conflicting opinions, and no apparent solution in sight how does the industry deal with this growing menace? We investigate in our ending paragraph!
How to Curb This Menace: Our Final Thoughts
While there is an increase in the percentage of sellers, who can track their frauds from their channels of origin, 43.9% of sellers are still in the dark about where their frauds are originating from. While this number stood at a jaw-dropping 60.6% in previous years, the situation has to improve a lot if online frauds are to be dealt with sternly. As the graph above has described, two of the major problems in stopping this problem arises at the first two steps.
Going forward, sellers need to be more aware of where their frauds are occurring from and need to be willing to spend a bit more on acquiring services that can prevent such frauds from happening. One of the main reasons why 31.1% of the people have cited the cost of building an anti-fraud solution as too expensive is due to the fact that online frauds via the mobile channel is still fairly new and hence, the prices for such solutions remain pretty high. We hope to see the prices go down as the services mentioned below gain in more subscribers.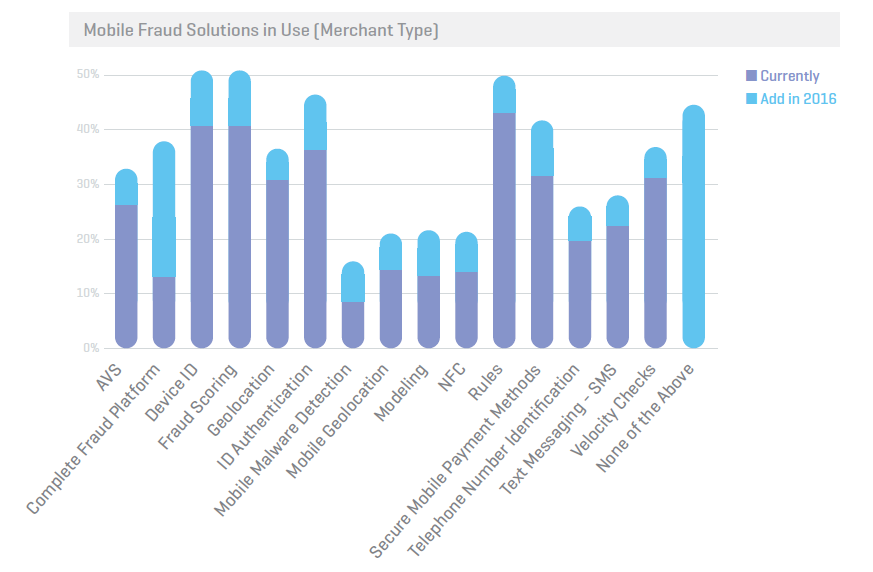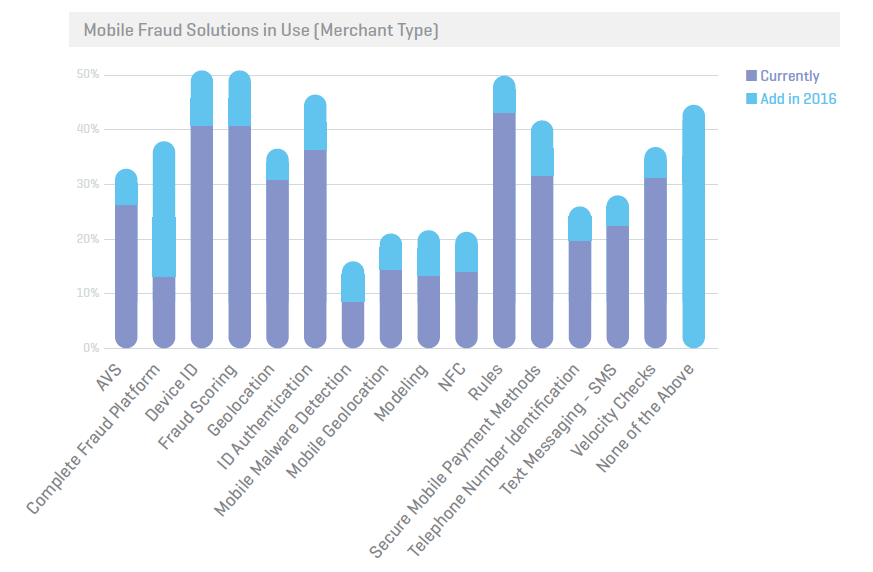 One of the main problems against combatting the menace of online mobile fraud is the complacency of the sellers as 45% of them do not intend to add any fraud prevention services coming into 2016. However, the security has improved from last year as we see that the number of sellers using three or less are at two-thirds of the total surveyed group while last year 40% of the sellers just had one security service, with 79% topping out at most two.
So what does the future hold for online frauds in the mobile sector? We have gathered some of the actionable points in the bullet points below
Sellers have to get more knowledgeable about online frauds and how they're affecting their revenues as, without that, the fight against these cyber criminals would be a losing cause.
Nearly 1 in 3 sellers considers data breaches to be a source of many online frauds and as such, the security of such online databases needs to be strengthened.
While 46.3% of the respondents think that EMV cards with their added security would help in minimising frauds, the numbers are expected to be much higher once the cards have been in circulation for a longer period of time.
Knowledge is power. Information is liberating- Kofi Annan
And thus, the best way to win this fight against cyber criminals is to arm ourselves with the necessary knowledge and security outfits so that we can squash this growing hazard and continue the progress towards easier smartphone-centric consumer experiences.