Almost 1.6 billion people around the world use Facebook. As a result, most of the content marketers are failing to engage a sizable number of Facebook users. A majority of users check their Newsfeed various times a day, whether to voice their opinions, interact with friends or simply scroll down the timeline.
For brand owners and content marketers who use this platform for engaging actively with their audiences, it is essential to understand how their readers react to what appears on Newsfeed. A better understanding of their target audience's sharing habits on Facebook can help any business get the most of their time, money and effort spent on Facebook by helping them post the right kind of content i.e content which gets shared over and over again.
Facebook Users' Sharing Habits: Key Findings
In a bid to assist business owners in knowing this better, Fractl conducted a study in April 2016, wherein they studied responses from 2,000 Facebook users. They then compiled their habits regarding sharing content from various video platforms and external sites into an infographic.
Average Facebook User: Sharing Habits


More than half the Facebooker users, 56%, who formed a part of this study said they checked their Newsfeed various times a day. 28% of the users admitted to logging into the site at least once a day. Only 16% of the respondents said they used it a few times a week or even lesser.
When asked to shed more light on their sharing habits (which, according to this study, referred to 'clicking the "share" button on someone else's third party Facebook content or posting a link from a website on your wall'), only 18% admitted to being active sharers, sharing more than once every day.
While 35% of the respondents said they shared once a day or 2-6 times a week, 38% said they shared third party content on Facebook less than once a week. 9% said they never share such content across their timeline at all.
What Men and Women Share on Facebook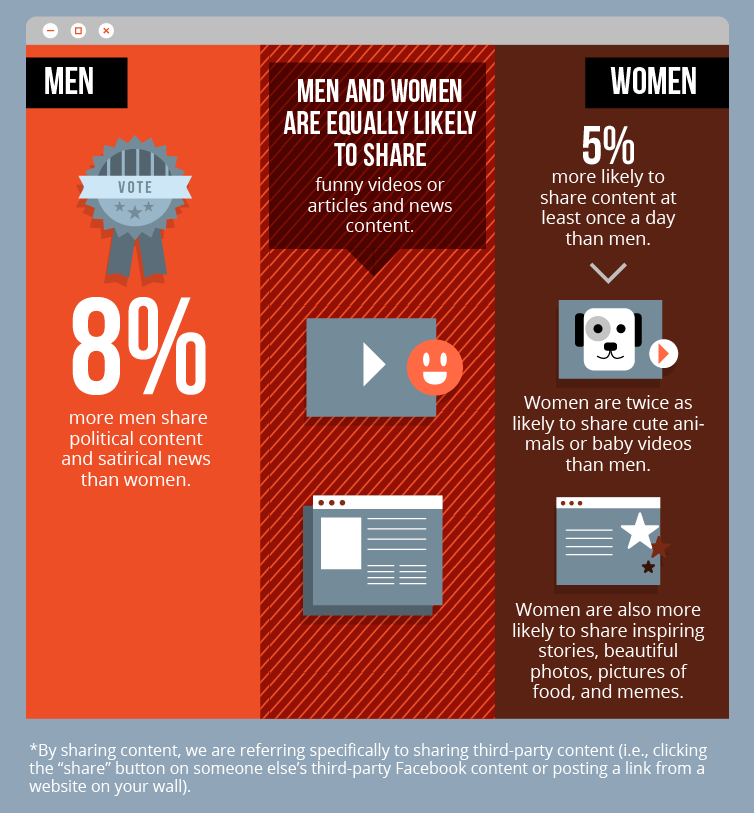 Both men and women showed a strong liking for funny articles and videos, and news based content, and were equally likely to share it.
Men were 8% more inclined to share political and satirical content when compared to women.
Women were found to be more active sharers, as they were 5% more likely to share third party content at least once a day.
Female Facebookers were twice more likely to share 'cute animals or baby videos when compared to men.' They also showed a stronger affinity towards inspiring stories, beautiful photos, food-related pictures, and memes.
Millennials, Generation Xers and Baby Boomers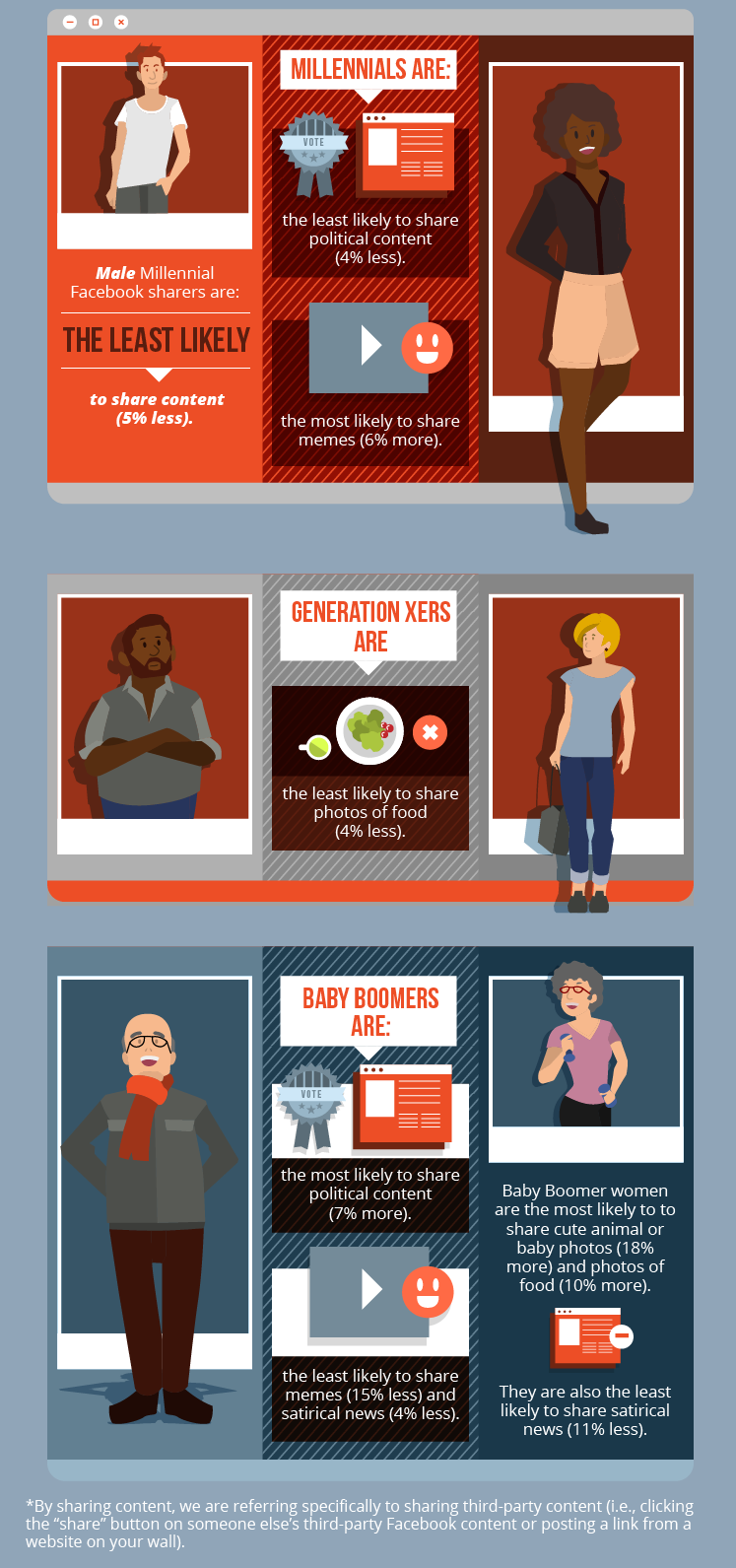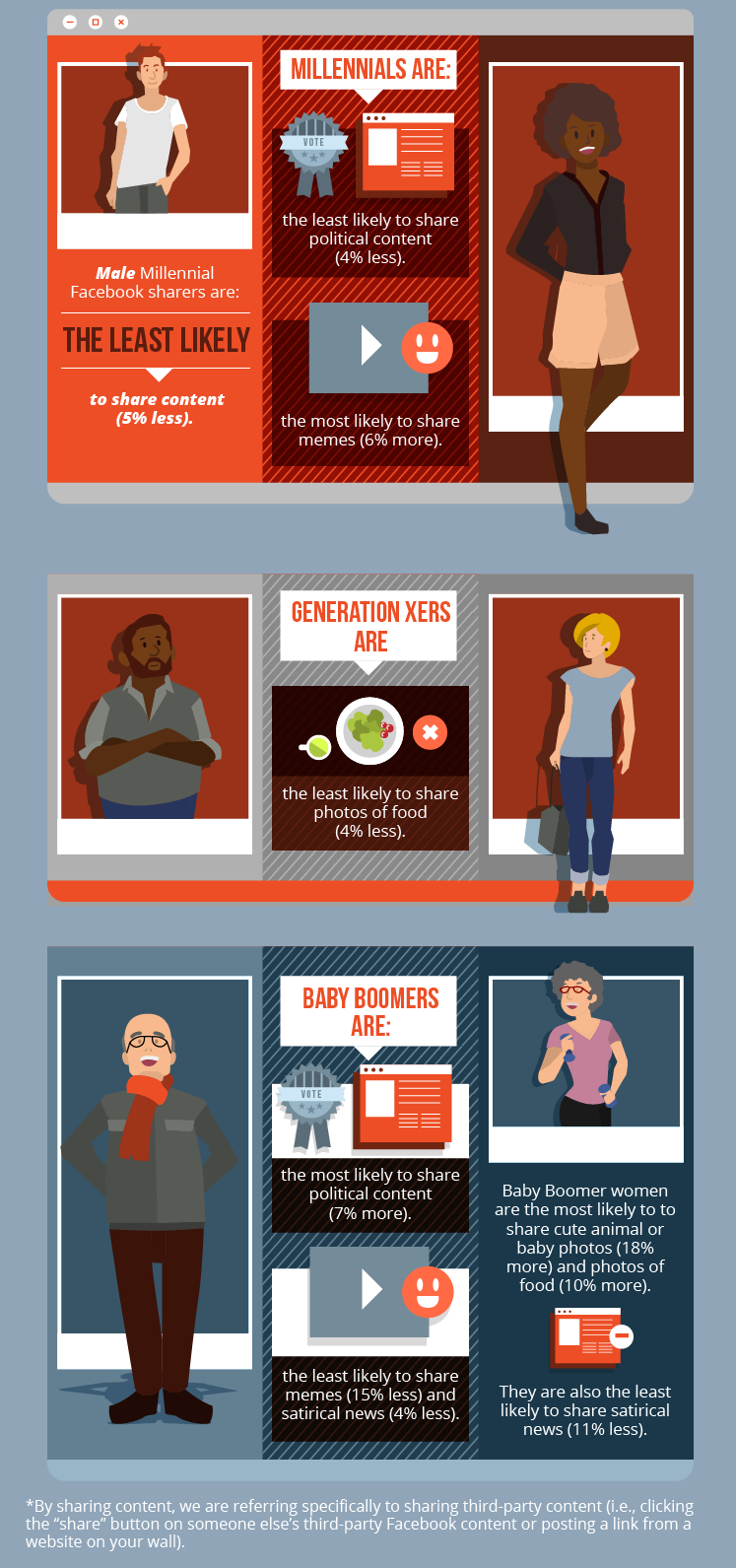 Male millennials were found to be the least likely shares of third party content, sharing upto 5% lesser. Overall, this category of Facebook users was found to share memes more prolifically, and not very appreciative of political content.
Generation Xers were least likely to share food related pictures.
Baby boomers were found to be the most active sharers of political content, but least likely to share memes and satirical news. Baby boomer women, on the other hand, continued to show a greater liking for cute animal and baby photos, as also food related pictures. They continued to avoid the satirical news.
"With their love of sharing food snapshots and their propensity to share cute videos of baby or animals, female Baby Boomers may have taken over for Millennials since Facebook became "uncool," observed the report.
Takeaway
Facebook users share the content appearing on their Newsfeed for a variety of reasons. If it is funny, important or interesting, or resonates with them, they are more likely to share it. they might even go ahead and recommend a product or service. Now, that is what businesses with an active Facebook presence want!
Tailoring their Facebook content marketing strategy using these findings could help brands and content marketers get a better engagement and reach out to a wider audience.
Their content getting shared by their fans is a 'quick and easy nod,' as pointed out earlier by Quicksprout. And who would mind that?
The only type of content which was a hit among all verticals was humorous, funny content. No one minds spreading a little cheer. So, the safest route is to tickle the readers' funny bone. For appealing to niche audiences, however, the content marketing strategy will have to tweak accordingly.
A crafting site, for instance, would do well to create visually appealing pictures, use more animal and baby pictures videos. The same however might not work for an insurance site selling retirement plans.
As pointed out by an earlier Frac.tl study,
"each group of people has "unique expectations, values, and experiences that influence its consumers' behaviors, and offering your audience content that reflects its shared interests is a powerful way to connect and inspire action."
Living up to these expectations and delivering the form of content which each vertical finds most palatable is the key to benefiting out of Facebook presence.