Smartphones have stagnated. And while that is true from the sales point of view, one of the main reasons behind it could be the fact that the hardware has caught up with people's expectations. While OEMs continue to push forward with higher resolution screens, greater storage, and RAM, and ever more powerful processors; the general consumer remains indifferent to the spec war and doesn't feel the need to upgrade from their older yet still capable device. Can the OnePlus 3 with its jaw-dropping 6 gigabytes of RAM and top of the line Snapdragon 820 processor change that trend?
From its inception, OnePlus as a company has focussed on making powerful phones at an affordable price point. Their marketing strategy till now, has depended on flashy yet questionable ad campaigns and an Invite System that has created an artificial supply-demand gap. And while they've managed to grab the eyeballs and loyalty of a few spec heads out there, for the most part; the general population has been visibly annoyed at these sales tactics. With the launch of the OnePlus 3, the company has done away with all gimmicks and has let their device speak for itself. But will it manage to utter more than a whimper before being dissolved into the ocean of smartphones? Stay with us, as we find out in today's analysis!
OnePlus And Their Philosophy
In an exclusive video interview with us, way back in 2015, Carl Pei, founder of One Plus said that OnePlus smartphones are not meant for first-time smartphone users. What does this really mean? Well, in essence, it just highlights the difference in mentality between any major OEM like Apple or Samsung and this up and coming startup. One of the most important things for a startup is to focus on their niche audience and looks like One Plus may be doing just that by devoting all their attention to making phones that are geared towards power users.
While one may believe that targeting only power users will decrease the effective target audience for a potential smartphone buyer, results from a study conducted some time back show otherwise. In fact, it has been found that 1 out of 4 people on Android are power users and considering that Android has more than 80% of the smartphone market share, that comes out to be just shy of 21% of the entire smartphone market. OnePlus, therefore, has quite a large audience, considering that there are over 2 billion smartphone owners worldwide already, and 1 in 5 of them comes out to around a potential customer base of 40 million.
But why choose a smaller segment when one can target the entire audience? As recent reports have shown, even top Android OEMs like Samsung are finding it difficult to keep their profit margins afloat. This is because as the years have rolled by, the competition in the smartphone market has reached a rat race to the least price possible and the ASP of smartphones worldwide has been plummeting at an alarming rate. The worldwide ASP for smartphones in 2015 has been around $293 and is expected to reach $236.68 in 2019. One Plus has very consciously decided to stay out of the rat race for the mid-range and lower range smartphones and choose instead to fight it out in the premium price category. This is where their comparatively lower price point of $399 for the OnePlus 3 makes so much more value for money compared to the other competitors.
Thus having realised why One Plus chooses to pack their phones with top of the line specs instead of maybe lowering their price further and settling for lesser cutting edge hardware, we can now delve deeper into discussing whether the spec sheet on the One Plus 6 is justified or is just for bragging rights.
OnePlus 3 vs. Competitors: A True Flagship Killer?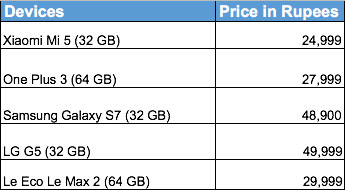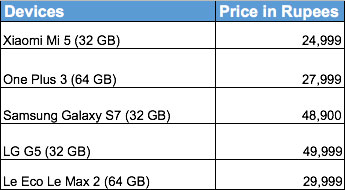 For our comparison chart here, we have chosen the flagships of this year from various international as well as Chinese OEMs. What stands out from this data comparison is the almost double price difference between Samsung, LG and the OnePlus 3. While we have demonstrated this in INR, this trend holds true pretty much across the world where the 399$ OnePlus 3 with the Snapdragon 820 and 6 GB RAM punches way above its weight and clearly outperforms every device in its category.
Turning our attention to the Indian and One Plus's native Chinese market, the situation flips a bit as we see that two of the competitors, LeEco and Xiaomi have phones with nearly the same specifications and at very competitive prices as well. While one can argue that One Plus holds a distinct advantage as a global brand, our recent report points out that brand value doesn't command any priority for most Indian buyers.
Interestingly enough, in recent times, the mature market of China has seen the increased intake of phones priced around the $300 range as we have seen Vivo and Oppo reap the rewards of customers looking for slightly more premium handsets in recent times. The same trend has been noticed to an extent in the Indian smartphone market as well with Chinese brands like Le Eco and Xiaomi managing to increase the influx of phones in the 200$ price range. While this bodes well for One Plus, one must wonder how well it will do when pitted directly against Xiaomi's Mi5. Does the extra 3GB of RAM warrant the price increase of 3,000 INR? We find out in our ending segment!
OnePlus 3: Over the Top Specs Or Just Right?
While the video does give you a basic idea of what the phone is all about, I would like to point out two important things that Marques Brownlee mentioned in his review. Being one of the world's most prolific phone reviewers he places himself firmly in the seat of power users and even then, he wasn't able to get the RAM usage on his OnePlus 3 above 4GB. This means that average users, even heavy users won't be able to utilise the entire 6GB of RAM on their phones no matter what the scenario is. So that gives us our conclusion right? The OnePlus 3 has excess RAM, and it was just a bragging right for the company.
Hold on, though! There's that another point I alluded to before. In the video, Marques also mentions that the OnePlus 3 is possibly the fastest Android device he has ever used. Now while the 1080p screen and the blazingly fast Snapdragon 820 does help, we have seen the same combo fare quite badly in the Mi5 when it comes to multitasking. The 6Gb RAM and the stock Android OS does play their part in here and as has always been true for the Linux kernel- "Free RAM is wasted RAM".
But all of these are extreme use cases and for a regular user, the 6GB of RAM would rarely make any sense. In fact, as recent reports show that most general consumers do not really care about the internals of their devices. For those who do, we have mentioned a few fringe cases where this 6 GB RAM might come in useful.
Android N is scheduled to launch later this year and bring along with it DayDream Virtual Reality. While the specification of DayDream Ready devices has not been revealed yet, but the 6 gigs of RAM may come in handy in such a scenario
Another case where excess RAM always comes in handy is in battery consumption. No matter how powerful the CPU inside a phone is, reloading apps from Flash memory always use excess power and CPU cycles. Having most used apps in RAM ensures a smoother experience and better battery life.
And lastly, for 4K video recording at high bitrates (something the OnePlus 3 is capable of) the storage write speeds often fail to catch up with the RAW sensor data and in such cases, the excess RAM with its high write speeds comes to good use.
However, as we have mentioned quite a few times before these are not everyday tasks and as such most normal users won't ever face them in their daily lives. Thus, if the OnePlus 3 were a normal phone, the specs would definitely have been overkill and the price would have been quite steep. But the OnePlus 3 isn't a normal phone. It's a phone designed specifically for heavy users and tech geeks in mind. What then remains to be seen, is how the tech community embraces this new beast of a smartphone!
[poll id="54″]