The tech world as of late has been rife with news of mergers and acquisitions. While some like the $67 billion Dell-EMC merger has been desperate bids to survive in a rapidly evolving industry, others like Facebook's $19 billion investment in acquiring WhatsApp had been a plan for expansion in the future. Today, however, we have an interesting story on our hands – Microsoft Corporation (NASDAQ: MSFT) of Windows fame has splurged a massive $26.2 billion, in order to acquire LinkedIn Corp. (NYSE:LNKD).
Tagging this huge development in the enterprise world as 'interesting' might surprise our readers, but as we progress into today's analysis, we will highlight how lurking behind the details of this merger is a much deeper motive. Till now, Microsoft has primarily been focussed on their PC operating system Windows as their primary source of revenue. However, after the failed experiments of Windows Mobile and the Nokia acquisition; it seems like Microsoft has learned their lesson and is focussing squarely on their desktop based software arsenal. With PC sales declining rapidly at the rate of 9.6% YoY, Microsoft has been looking at other avenues for bolstering their revenue and LinkedIn might be the golden goose they've been looking for.
LinkedIn Acquisition: What's In It For Microsoft?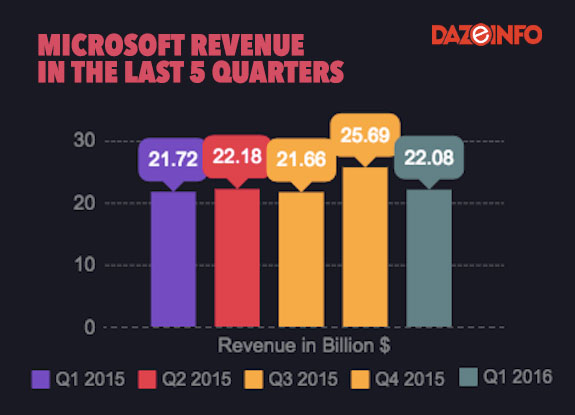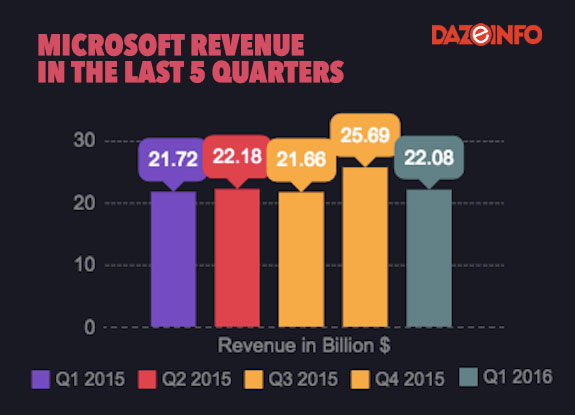 For Microsoft, the sales of Windows OEM licenses are intrinsically dependent on the sale of PCs. And even though in recent years, the growth of 2 in 1 and ultraportables have given some hope to the dying PC industry, yet revenue from OS sales has declined 2% in the latest quarter. The story has been the same for Microsoft in the last few quarters as we see that Cloud and Office products have been the main segment that has shown appreciable growth in revenue as well as market share. The revenue from Office 365 has grown 63% in this quarter, and Azure has posted a 1.2 times increase in revenue. Why does this matter in the context of this deal?
With the focus of Microsoft firmly set on expanding their enterprise solutions for the cloud, this multi-billion dollar acquisition starts to make more sense. As had been detailed by Satya Nadella in his email to the employees at Microsoft, the world leaders in cloud technology wanted to partner with the leaders in business networking. As we head towards a future where most of the heavy lifting from computing to storage is handled by cloud solutions, Microsoft wants to take the burden of social networking in the workplace away from the shoulders of the users and into an intelligent platform like Cortana that is integrated into every aspect of Office and other productivity suites offered by the company.
To understand why Microsoft and LinkedIn are the perfect fits for each other, at least on paper; we first need to understand the expertise of both the companies in the enterprise space. As the graph shows, Microsoft has one of the largest consumer base of productivity tools in the workplace with over 1.2 billion users for Office alone. However, where Microsoft falls short in the social aspect of it.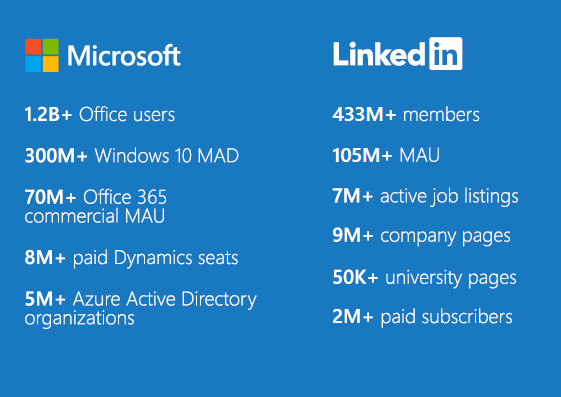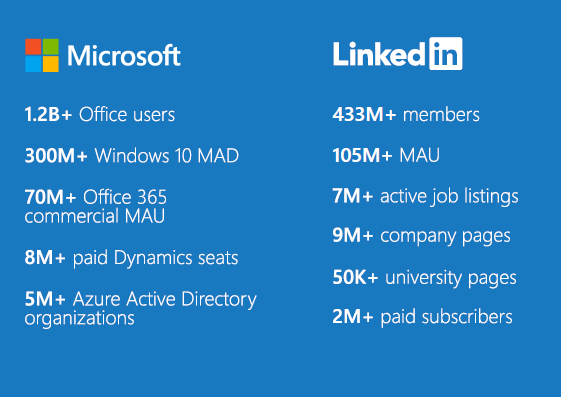 In the past, Microsoft has invested in Facebook and had also acquired the Enterprise based social media company, Yammer for $1.2 Billion. But despite all of these investments, Microsft had not managed to gain a strong presence in the social media circles and thus their investment in LinkedIn with it's 433 million strong member base becomes one of the key missing aspects in the companies armory. Microsoft has also declared that they wish to let LinkedIn operate as a separate entity under their own CEO Jeff Weiner, who would report directly to Microsoft CEO Satya Nadella.
So that might raise the question in quite a few minds, why is Microsoft exerting so much leeway to their newest acquisition. One of the main reasons behind this could be the fact that Nadella has recognized the fact that Microsoft is expanding into new territory and LinkedIn being world leaders at what they do should be given their own time and space to flourish and integrate themselves into the Microsoft environment. What forms of integration are Microsoft and LinkedIn looking at? We discuss briefly in the bullet points below
Bolstering Cortana as a Business Tool: 2016 has seen the rise of AI and machine learning in making day to day tasks easier for humans. From Google's efforts at I/O to Microsoft with their acquisition of Linkedin's vast repository of over 7 million job listings and over 105 million MAU, the goal has been the same, making parts of our life easier be it at home or in the workplace. With this huge database at their disposal and Microsoft's tie in with Outlook and Office 365 into every aspect of the workload, meetings can be made much easier with much more detailed information about prospective business partners and clients being available at a glance.
Increasing Sales Conversions: One of the major afflictions of the modern day Internet has been the rise of ad blockers. And a primary cause behind that has been the ads that are rarely useful for the audience and as a result are viewed more as an annoyance and hindrance to the workflow. Microsoft seeks to change this with a synergy between Microsoft Dynamics CRM and other CRM aggregators and Linkedin Sales Navigator. The company hopes that the joint effort will lead to actionable insights for sales cycles which in turn would help in providing more in-depth data for targeting the consumer.
Increasing Workplace Efficiency by Exploiting the Social Element: With Linkedin and Office 365 products in tandem, project managers can easily manage and distribute workloads according to the skill sets and experiences of teammates as based on their LinkedIn profile and experience. Another important aspect of this is that in the present scenario only 4 out of 10 people believe they can grow and learn new skills at their workplace. Microsoft seeks to change that by introducing LinkedIn's eLearning Platform Lynda.com and their professional skill tutorials into their range of workplace and productivity tools.
But while this might be a shot in the arm for Microsoft's cloud platform, one must wonder why Linkedin that once had a stock price of over $250/share, would agree to sell the company at a price of 196$/share. The crux of the matter is, like Azure from Microsoft, LinkedIn has been struggling in recent times to maintain sustainable growth and revenue streams from their current business outlook.
"Today is a re-founding moment for LinkedIn" said Reid hoffman chairman of Linkedin when speaking of the acquistion.
What might have prompted him to utter such a statement? We see that in our next little segment where we focus on LinkedIn's opportunities from this deal!
New Growth Opportunities For LinkedIn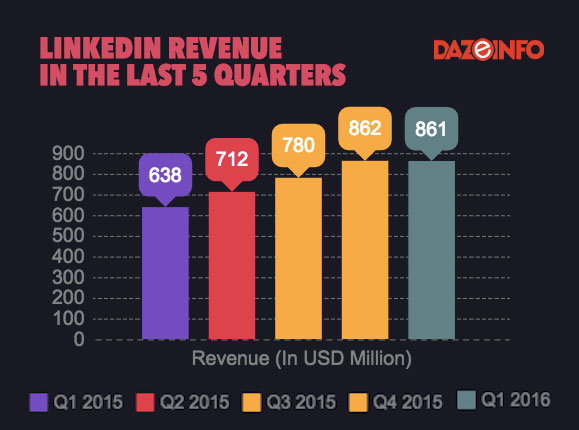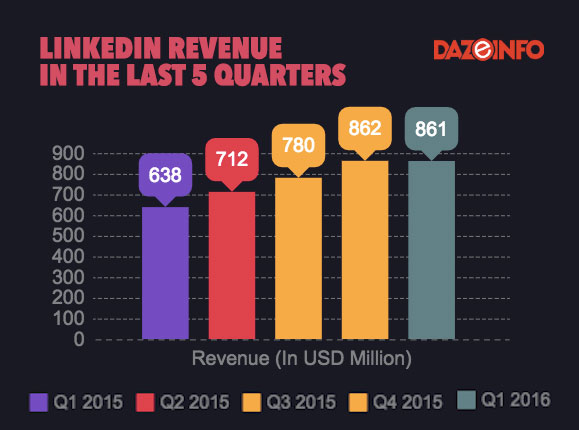 In spite of having a user base of over 433 million users, LinkedIn has only a monthly active user count of 105 million users. If nothing else, this statement clearly proves that LinkedIn doesn't have a huge amount of engagement on site from their registered users. However, in stark contrast to this statement, we find that the quarterly views for LinkedIn stand at 45 billion, a staggering amount of traffic by any standards. What's more, with a 101% YoY growth to over 7 million job listings and 60% mobile usage, it is quite difficult to pinpoint why LinkedIn would be struggling.
But a breakdown of the revenue of the website reveals where the problem lies. In Q1 2016, 64% of the revenue came from the Talents department which contributed $558 million to the total revenue. This intense dependence on the Hiring revenue makes sustained growth difficult for LinkedIn till now. However, coming under the wing of Microsoft changes all of it in a flash as the company is able to stay independent as well as gain access to the enterprise solutions and customer base of the Giants at Redmond.
Increased Total Addressable Market: With this merger the TAM for both the companies reaches a whopping $315 billion, nearly 3 times that of LinkedIn's $115 billion.
Larger Audience for Lynda.com tutorials: LinkedIn can expect the revenue from Lynda.com to shoot up as Microsoft looks to integrate the video tutorials into their Office lineup of tools. That is a whopping 70 million people who have easy and quick access to Lynda.com tutorials.
Increasing the Reach of LinkedIn feed: Till now, the LinkedIn feed has been mostly a hit and miss affair with news of various jobs in the Industry as well as latest happenings in Enterprise all bundled together. However, with Microsft's Outlook and Azure integration, the company can use the power of targetted news to get more conversions on job listings as well as deliver news that is essential to the particular audience with respect to their current workload.
So does this mean that it is all roses and diamonds from here on out for the two companies? Not really as there might be quite a few thorns in their way forward. We cover all of that in our final segment!
Final Thoughts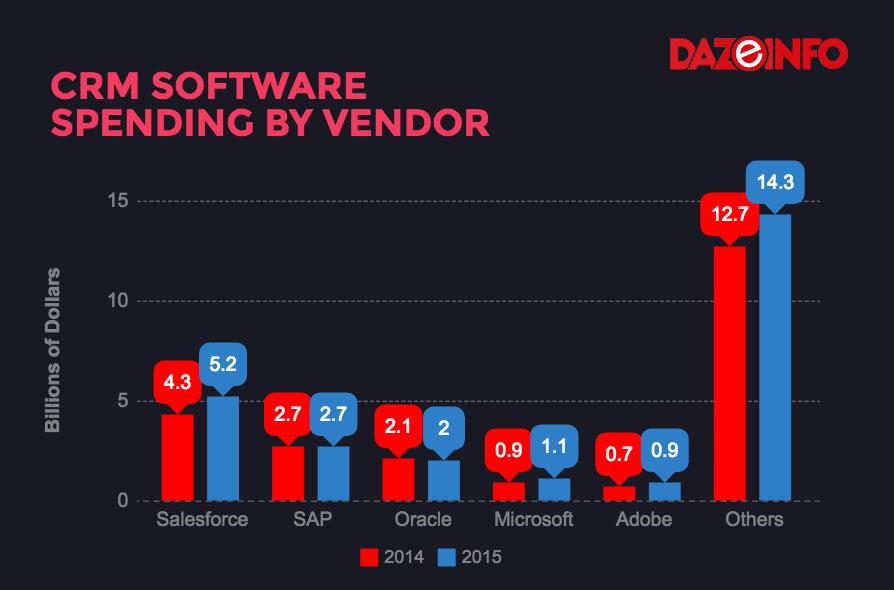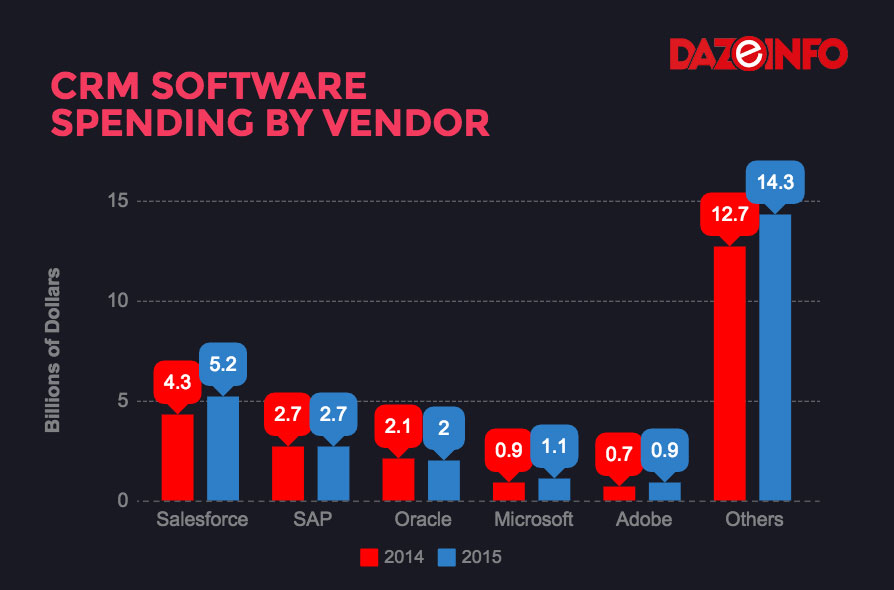 While Microsft is upping the ante in the CRM department with the acquisition of LinkedIn and especially their LinkedIn Sales Navigator and Linkedin Recruiter assets, Microsoft is under heavy pressure from Salesforce in this category. Even in the enterprise cloud category, Amazon Web Services as well as Google Cloud Platform, Azure faces some stiff competition. Keeping in mind that big deals rarely work out, it is natural that some analysts are skeptical about this mega acquisition as well.
Even WhatsApp, which now stands at over a billion active users, had been acquired for almost half the price by Facebook. Keeping that in mind, is Microsoft overpaying for LinkedIn? While the potential disaster of a merger can never be ascertained from afar; from what we can see currently, both the companies seem to fit perfectly into each other's strategies.
Furthermore, the idea that someone would outbid Microsoft to acquire LinkedIn is not something that should ponder much discussion as the sheer amounts involved makes it difficult for other companies to step in and jeopardize the deal.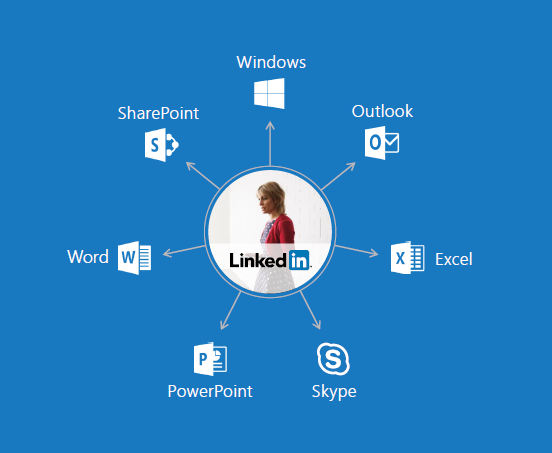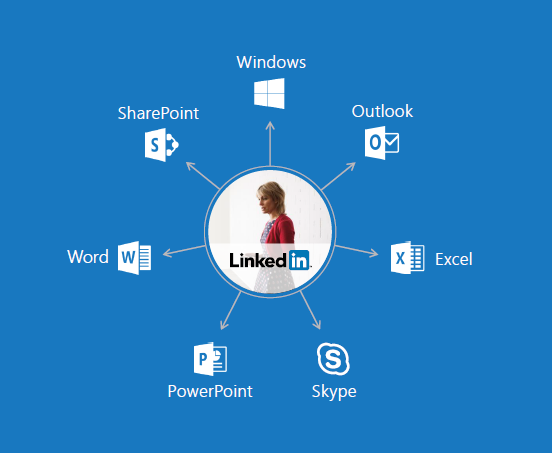 Besides the apparent benefits that Microsoft stand to gain from this acquisition, there are a few subtle benefits that might come to the fore in the long run as well. We have a listed a few of them down below
With the failures of one of their biggest acquisition, Nokia, still fresh in their minds, the new acquisition under the new CEO Satya Nadella seems to be headed in a different and ostensibly better direction.
Defending his first major acquistion Nadella said that "I consider if an asset will expand our opportunity – specifically, does it expand our total addressable market? Is this asset riding secular usage and technology trends? And does this asset align with our core business and overall sense of purpose?"
And not only for the CEO of Microsoft, from Analysts across the world including us, keeping in mind the Microsoft-LinkedIn acquisition; the answer to those questions seem to be a resounding yes!