Apple's visionary CEO Steve Jobs once said 'Innovation is the only way to win.' Taking a clue from its arch rival the Korean smartphone giant, Samsung Electronics Co. Ltd. (KRX: 005930) has apparently learnt the real meaning of 'innovation'. The rumours regarding the introduction of bendable screens in smartphones do seem to end in the near future as the Korean behemoth is slated to launch two models of its smartphone featuring bendable screens in 2017 according to sources.
The smartphone will feature organic-light-emitting-diode (OLED) screens with 4K display capabilities. Samsung has already taken a leap with its Edge series smartphones that feature a classic screen, unlike others. The company introduced OLED screens with its flagship devices Galaxy S7 and Galaxy S7 edge to offer brighter colours, thinner and better display without stressing the devices' battery.
https://www.youtube.com/watch?v=dI42oN2_deM
The information is surfaced at the time when the Korean electronics' giant's arch rival, Apple, is facing a tough time with its iPhone sales. Samsung's innovation will provide a stiff competition ahead and may lure Apple's potential customers as well.
According to sources, Samsung's next big thing codenamed "Project Valley", may be revealed in February 2017 at Mobile World Congress in Barcelona.
"This product could be a game-changer if Samsung successfully comes up with a user interface suitable for bendable screens." As analysed by Lee Seung Woo, analyst at IBK Securities Co., Seoul
Amazingly one of the handsets may feature a screen that folds in half like a notebook. The other model could have a 5-inch handheld screen which unfurls into an 8-inch display, thus giving nightmares to the tablet manufacturers. According to Bloomberg, the sources that revealed this futuristic innovation don't want to disclose their identities.
One of the sources also made a claim that the next smartphone in Note category will be named 'Note 7' thus skipping digit '6', as Samsung wants to bring its Note series parallel to its flagship Galaxy S series.  The person also divulged that the futuristic foldable devices won't follow the Samsung's 'S' series naming pattern.
The South Korean electronics giant is currently enjoying the proliferation of profits from every space. Samsung is rumoured to supply 100 million OLED displays of 5.5 screen size to Apple in a deal worth $2.59 billion.
Final Words
'Strike the iron when it's hot'- well, Samsung undoubtedly knows when to strike the iron as the demand for large screen phones or call Phablets is constantly increasing among the customers. According to Statista, 2016 will mark an estimated 146 million units of smartphones shipments featuring 5 inch or larger screens. Comparatively, the adoption rate of large screen smartphone is increased by a whopping 141.7% between 2013 and 2016.
The act may be a nightmare for Tablet manufacturers: The tablet market has already suffered from the exploded adoption of large screen smartphones and Phablets. According to Statista, Phablet shipments are estimated to rise by 31.21% in 2016 whereas the tablet shipment witnessed a steep annual decline of 8.1% in 2015 according to IDC. Samsung's futuristic device poses a serious threat to the tablet market in the near future.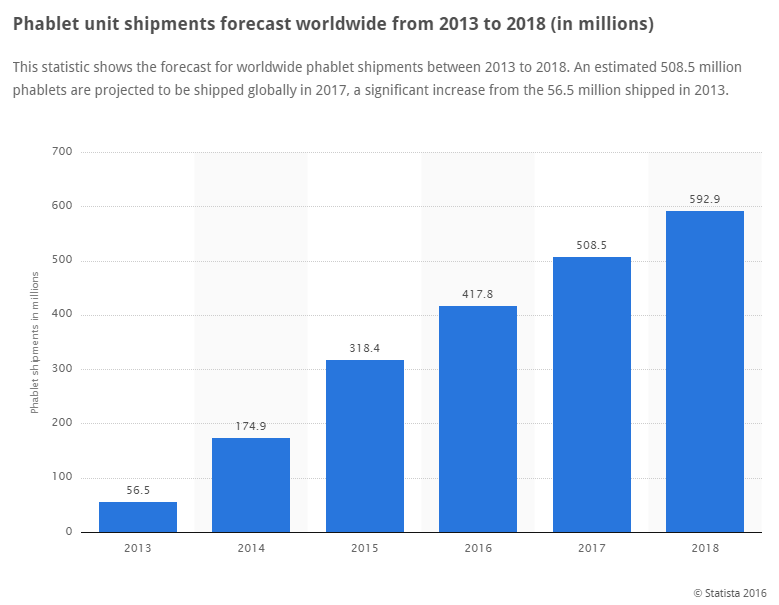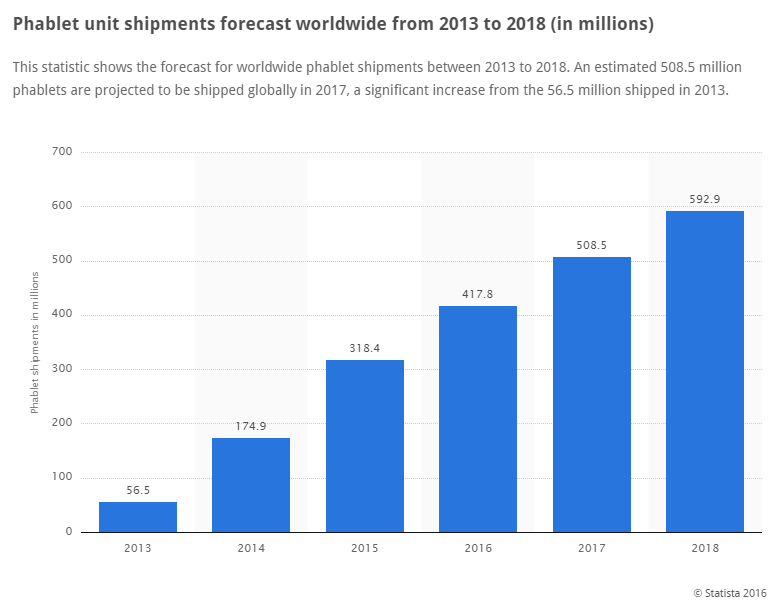 Samsung's South Korean counterpart, LG is also bidding on a bendable device and has developed an 18-inch foldable screen prototype device which was announced at Consumer Electronic Show (CES) in 2016.
The bendable screen is being considered as a next generation technology meant for the new segment of innovation. Besides Samsung and LG there would be many other smartphone manufacturers who may be closely monitoring the development in this segment, but only time will tell, how smartphone users will respond to such devices.