The Internet as we know it is at risk. While the statement, at first glance, may appear to be very clickbait-y, nothing is closer to the truth. For the past couple of years, companies ranging from Google to Facebook has been scratching their heads, trying new methods, newer ways to fight an ever more powerful enemy- Mobile Ad Blockers. However, till now there has been one saving grace, or so we thought. As many previous reports had shown, desktop users had been considered the primary source of ad blocking. While this had raised some cause for concern, companies that depend on ad revenue were happy in the knowledge that as we migrated to a smartphone-centric Internet, the menace of Ad Blocker would be faced with a steep adoption curve. But a new report by PageFair has shed some stark new light into the world of mobile ad blocking that will force everyone to rethink their strategy on going mobile.
An earlier report had pegged the total number of desktop users who use Ad Block at the north of 200 million. And while everyone agreed that it was a gigantic number, the common consensus of people was that the adoption rate of Ad Blockers in mobile was slower. This idea was further fuelled by research that took into account public opinions and surveyed small sample sizes instead of working on raw empirical data. That's why the startling revelation by PageFair that more than 419 million smartphone users are using an ad blocker currently has caught the Internet off guard. With 1 out of every 5 smartphone users out there having an ad blocker installed on their phone, where does the mobile Internet and it's content creators go for revenue? We try to answer that question and take a deep look at the Internet's grim future in today's article.
The Rise of The Ad Blocking Mobile Browser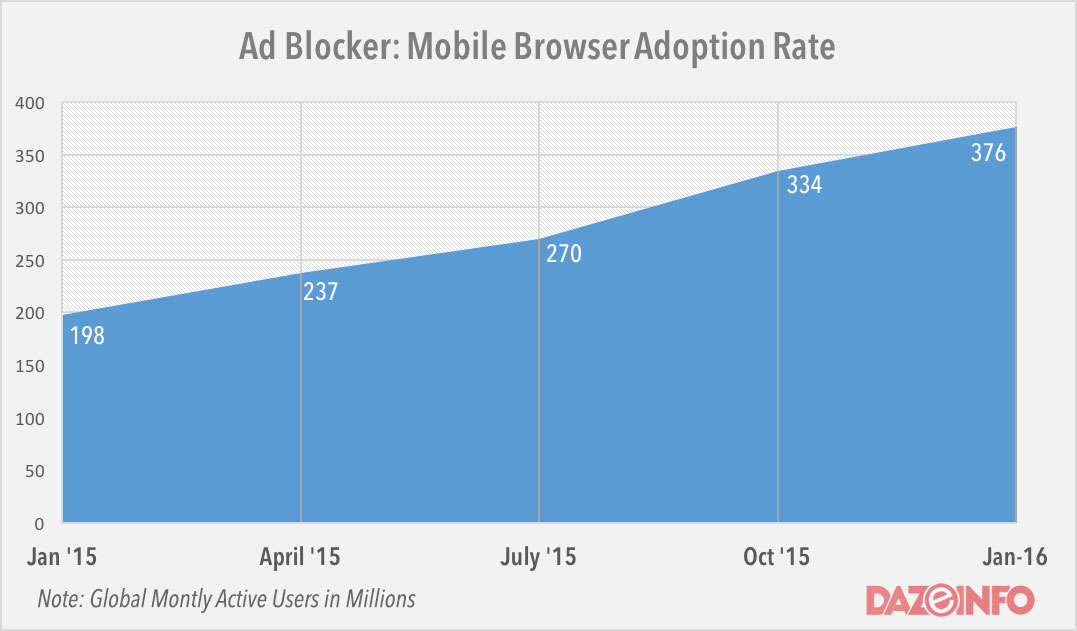 Ad Blockers have grown stealthily and at a rapid pace in the realm of smart devices. By March of 2016, the mobile ad blocking Industry with 408 million active users has far surpassed their desktop counterparts. Putting those numbers into perspective, that means that now 22% of the world's smartphone population of 1.9 billion devices use some sort of Ad block. And this rapid growth rate of almost 90% YoY has been fuelled by a number of geographical as well as technical reasons which has led to the dominance of Ad Block enabled browsers in smartphones across the world.


Taking a quick look at the distribution of ad blocking browsers by region, we find that the highest concentration of users comes from the Asia Pacific region. What is even more worrying is the fact that two of the world's biggest smartphone markets contribute the most to the list of ad blocking individuals.
Before we take a look at the data for the individual countries, it is important to understand the conditions of cellular connectivity and mobile data in the Asia Pacific region that has led to 93% of the Ad Blocking browsers to be used from this region.
This is a frightening revelation for not only the users from this region but also worldwide as 55% of the world's smartphone population hails from this region, with the percentage only set to increase in the future years.
As the APAC is a region where the smartphone markets are just hitting a semblance of maturity, data prices remain relatively high, and mobile data is at a premium. This is why we see that in evolving countries like India and Pakistan, people prefer to use browsers like UC Browser and Opera Mini to circumnavigate the data hungry nature of Internet Ads. And as we shall see in our rundown of Ad Block enabled browsers below, speed, loading times as well as small footprint, are deciding factors in who takes the crown among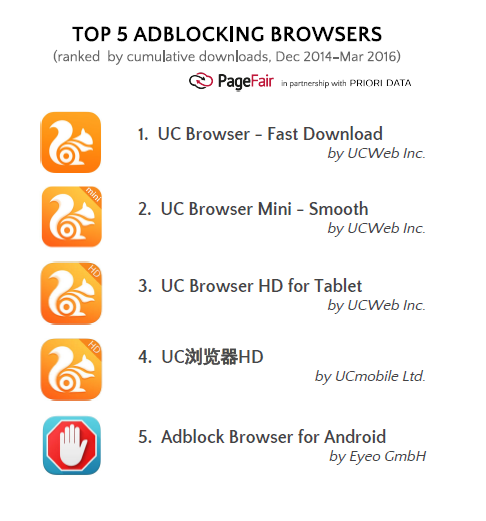 the Ad Block enabled mobile browsers.
Among the various sort of browsers that are sometimes bundled by first party OEMs like Samsung to third party ones like UC browsers, there is a total of 45 different browsers that have Ad Blocking capabilities in iOS and Android combined. Leading the pack by a quite healthy margin is UC browser with 4 variants of the browser taking up the top 4 spots in the list.
Looking towards the OEM side of things, Apple had set the precedent with Safari supporting Ad blocking via the inbuilt API. Ad Block Plus, Crystal Ad Block, and 1Blocker are the forerunners among the 225 other apps and plugins that have been made available for supported iOS devices.
On the Android side of things, Samsung was the first to follow in Apple's footsteps, and we have seen that they've enabled Ad Blocking by default in their own Android browser. Following the lead of Samsung, Asus has coined a deal with Ad Block Plus that will see 30 million Asus handsets released in 2016 being shipped with Ad Blocking capable browsers by default.
With regional offices in China, India, Vietnam, Russia and Indonesia, UC Browser is racing ahead from its competitors in the 3rd party Ad Blocking browser space. But while Ad Blockers in Internet Browsers have been terrorising the Media and content creators in the East, the Mobile Internet on the West have a very different type of Ad Blocking to contend with!
In-App Ad Blockers And Content Blockers Make Their Presence Felt
While 36% of smartphone users in the APAC use mobile browsers for ad blocking purposes, there is a new form of ad blocking that is on the rise that seeks to threaten in-app advertising as well as ads from content providers such as social media giants, Facebook, and Instagram. Available on both iOS and Android, these apps use HTTP proxy servers and more recently VPNs to cut off the ads traffic from various apps that depend on in-app advertisement as a source of revenue. While previously being banned from the Android Play Store, some of the new ones have managed to utilize the loopholes in the law to skid by for now.
Next up are content blockers. Making their debut in September 2015 with iOS 9, content blockers have the ability to selectively block the content be it normal ads like banners to rich media ads on web pages using Apple's Webview API.
During the seven months since their launch, there have been 229 of such apps that have made their way to the Apple App Store, and yet the download numbers have stayed at 4.5 million globally. 
Among these apps, Ad Block Plus and Crystal Blocker lead the pack with market shares of 22% and 12% respectively, with 1Blcoker, Shield, and Adblock for Mobile claiming the remaining three spots in the top 5 list.
The growth of content blocking apps from Apple has been slow in most markets as we find that in the western markets where there is a higher concentration of iPhone users, the affordable prices of data packs have stifled the growth of Ad Blocking practices. In fact, the US with 1.9 million of downloads is one of the places with the lowest number of mobile ad blockers. We look at the state of ad-blocking in the west in our following segment.
Ad Blockers on Mobile In Mature Smartphone Markets
While we did see that only 2% of iPhone users in the US used the content blocking services, looking at just that data doesn't give us a clear picture as we have seen in the past that North America has been one of the major adapters for Ad Blocking in the desktop arena.
Ad Blocking Browsers is more popular in Europe as compared to NA with over double the number of people using the services at 27.4 per 1000 phones in EU compared to 12.4 in NA. However, the tables are turned when we glance on over to the content blocking side of things with NA taking the lead with nearly three times more in terms of users. In-app blocking services remain negligibly low in both these places compared to the rest of the world.
However one of the most recent trends in the UK has been one where one of the major mobile carriers 3 has implemented a form of ad blocking at the end of the carrier itself, and while this has not been very widespread across the world yet, the implications of such a service can be more far-reaching than is immediately apparent. This forms the perfect segway into our final segment where we predict the future of Ad Blocking, and it's devastating effects on the Internet in general.
Final Thoughts on the Future of Mobile Ad Blockers
With the next billion smartphones scheduled to come from the emerging markets like India and Brazil, the growth of ad blockers in these regions means that advertisers on the Internet may never be able to tap into this huge potential market. 66% and 61% of mobile users in Indonesia and India are using some form of Ad Blocking Browsers, and that is a scary statistic for any Internet content creator.
What's even more frightening is that we have seen in our previous analysis that one of the major deterrents to people using an Ad Blocker had been the technical know-how required in getting one set up. However, with the influx of apps that have it on by default, Ad Blocking is getting as easy as clicking a button. Sometimes, it is easier than that as we find in places like the Carribean, carriers like Digicel has been blocking ads on their network since September 2015. While this is a blatant breach of net neutrality laws, we fear that more and more carriers may tread this path to save bandwidth as well as provide a better end user experience for their customers.
Not only, carriers, the smartphone consumers preference for Ad Block enabled browsers have all but forced the hands of most browser makers on mobile to put some sort of ad blocking capability into their browser to remain relevant.
Firefox for Android with an estimated user base of around 173 million has around 17.6% of their user base use some sort of ad blocking add on along with their browsers. Recently, another major player in the field, Opera Mini has also rolled out similar services in May of this year. Marathon browser, another alternative with an install base of around 15-20 million has jumped into the boat as well.
These three browsers alone contribute nearly 30 million and 24 million users to the Ad Blocking pie. And with mounting pressure, we expect that other browser makers will follow suit as well.
Taking inspiration from the popularity of Ad Blockers on Browsers, content aggregator apps with inbuilt Ad Blocker capabilities have sprung up as well. One of the most advanced among them is an app called Friendly Social on iOS that seeks to accumulate all of the users Facebook and Instagram feed into one cohesive app.
In an attempt to stand out from the competition, Friendly Social goes one step further. In the premium version of this app, the app scrutinizes the data in your feed and even blocks sponsored posts from the Social Media, a feat yet not possible for most Ad Blockers. With this new generation of Ad Blocking even Rich Media and User preference based Sponsored ads have been shown the door, thus, there is little to wonder why even the Internet giant Facebook is quaking at its knees at the mention of Ad Blocker.
As David Chavern, CEO, Newspaper Association of America puts it ,"The public is not inherently hostile to advertising. There are magazines (like Vogue) and TV programs (like the Super Bowl), where people's primary interest is the ads. What people hate are bad ads."
This what the Internet content creators and publishers must realize. That the way forward is not to use anti-ad blockers or restrict content behind paywalls so high that the common man denied access to the news. The way forward is to make ads interesting and worthwhile for the consumers again, and there are several companies like InMobi that are working towards just that. We can only hope they can get their fast enough to save the free Internet and the millions of people that depend on it for their livelihood.