A recent report released by CyberMedia Research (CMR) highlights the growing demand of sub Rs 5,000 ($75) tablets in Indian market. The tablet market in India recorded a modest 7% QoQ growth with 0.91 million units of tablet PCs shipped in Q1 2016.
Datawind that manufactures tablets under Akash brand has ruled the throne with 34.2% share of all tablet shipments in India in Q1 2016. The numbers are not astonishing as a majority of Datawind's tablets are tagged around Rs 5k. a majority of Datawind' tablet sales came through e-commerce channels.
Samsung remained the runner-up, garnering 21% of all tablet shipments in India. Samsung tablets are tagged around Rs. 30,000 ($448) thus explaining the comparatively low market share of the Korean giant. Pantel (BSNL) secured the 3rd spot with 20% share of the tablet market in India in Q1 2016.
Tablets with the Wi-Fi managed to substantiate the sales posting a rise of 48% QoQ whereas 4G and 3G devices saw a decline.
Datawind's tablet shipments share went up 11% point in Q1 2016 compared to the previous quarter, thus registering a handsome growth. Samsung recorded 3% point increase in its market share whereas Pantel (BSNL) also has something to cheer for as its market share increased 2% point from the previous quarter.
On the other hand, Micromax, Lenovo, and other tablet manufacturers presented a disappointing show in Q1 2016 compared to the previous quarter, registering 6%, 4% and 7% decline, respectively, in their market share.
According to Tanvi Sharma, CMR Analyst that tablet market in India took a hit due to the rising demand for smartphones sporting large screens, also known as Phablet. Another reason for the disappointing sales performance of tablet PCs is delayed software updates. Due to comparatively slim sales and slow upgrade cycle, Tablet manufacturers don't push the latest OS updates and features to the devices. The margins for vendors are quite discouraging as a majority of tablet sales in India hovers sub-5k category.
Tablet Market In India: In Depth
The year 2015 seemed rosy for Tablet PCs as the year saw 4.4 million tablet shipments and 13% surge YoY in tablet shipments.  Samsung, Datawind, and Micromax ruled the tablet market in India in 2015. Android OS dominated the tablet platform as around 92% of the tablet PCs were powered by Android OS.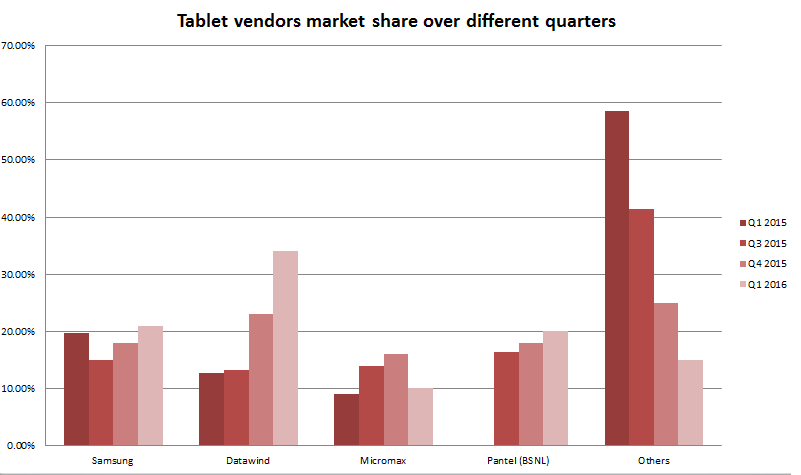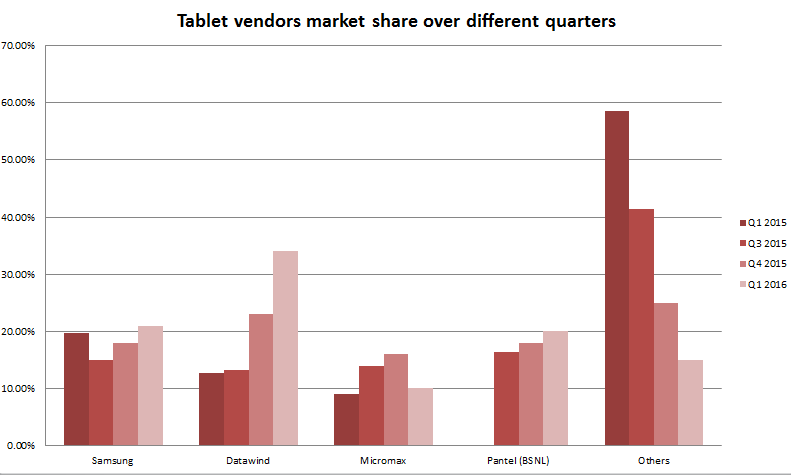 The tablet shipments in India is declining and this is clearly visible when we put the quarterly sales figures of tablet PCs side by side. The number of tablet PCs shipped in Q1 2016 is almost identical to the figure in Q1 2015.
The prime reason for the disappointing growth in tablets PCs shipments is the growing adoption of phablet devices. Consumers view a tablet PC as a convenience device or to say larger screen versions of smartphones without many distinct offerings than a five-inch smartphone.
However, due to Government's support tablet market in India still seems to be lucrative enough albiet the vendors need to evolve to compete in the market.
Growing Adoption of Phablets is Killing Tablet Market
The competition from smartphone industry is taking a toll on the tablet market in India, as a majority of smartphones sport 5-inches or larger screens. From a consumers point of view, a tablet PC is an enlarged version of a smartphone with absolutely no distinct feature to offer. According to Statista, the number of tablet users in India is estimated to reach 47.1 million in 2016, whereas the number of smartphone users in India is expected to reach 204.1 million, more than 4x tablet users.
According to a recent report by Counterpoint Research, 60% of smartphones that were shipped in India in Q1 2016 were Phablet devices – smartphones sporting more than a 5-inch screen. The similar trends are being observed at the global level as Phablet market is slated to increase in the coming quarters, which in turn will continue eating into the tablet market worldwide. In Q4 2016, Phablet market is expected to capture 46% of the overall phone and tablet market globally.
Besides Phablet, the increasing penetration of Ultrabooks and Chromebooks will also affect the tablet shipments. While Ultrabooks are handy and easy to carry, akin tablet PCs, the lowering price of is also taking customers away from tablet PCs. 178 million units of Ultrabooks are estimated to be shipped in 2016 while the much affordable Chromebooks have gained a substantial momentum since its launch and have emerged as the Numero-Uno in US market dethroning Apple's Mac. Tablets future seemed to be sandwiched between the Phablets, Ultrabooks and Chromebooks.