With over 80% of the market share in the smartphone industry, there is no denying the fact that Android by Google is by far the most popular mobile OS in the entire world. However, one thing that has led to the downfall of many a great company has been the complacency that has followed once the target market has been captured. Google though seems to be well aware of the pitfalls and continues to innovate quite rapidly with their Android OS. At Google I/O 2016, the company gave us a glimpse at what the future held for Android and that included a myriad of things- from their foray into VR with DayDream to expanding their reach into the living room with Google Home and Android TV.
However, what was probably the most important part in all of these announcements was the fact that Google had a core focus, a cohesive direction towards which they wanted to take Android as a mobile OS. The biggest complaint levied against Apple, their arch rivals in the mobile OS scene has been the fact that iOS has failed to really innovate since the launch of the iPhone. While iOS remains very user-friendly and easy to use, the grid lines of icons on a screen has started to show it's age as features like 3D Touch fail to woo consumers and tech enthusiasts alike. In today's analysis, we take a deep look at what Google has to offer from Android versions in the future, and if it will be enough for them to remain ahead of the curve!
Android and VR: Google's Bold New DayDream
Let's face it; Smartphones have become stale. The modern smartphone has reached its zenith and from the tepid enthusiasm of consumers to plateauing global sales numbers, the monotony of iterative improvements has taken its toll. Google desires to change that, and the best way to rekindle the interest in smartphones is the introduction of new technologies that will attract the users towards an upgrade. Google's weapon of choice? Virtual Reality on Android devices.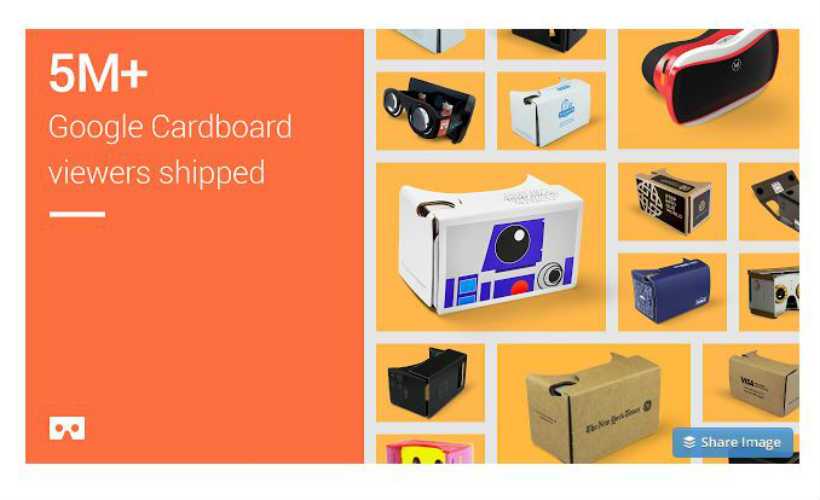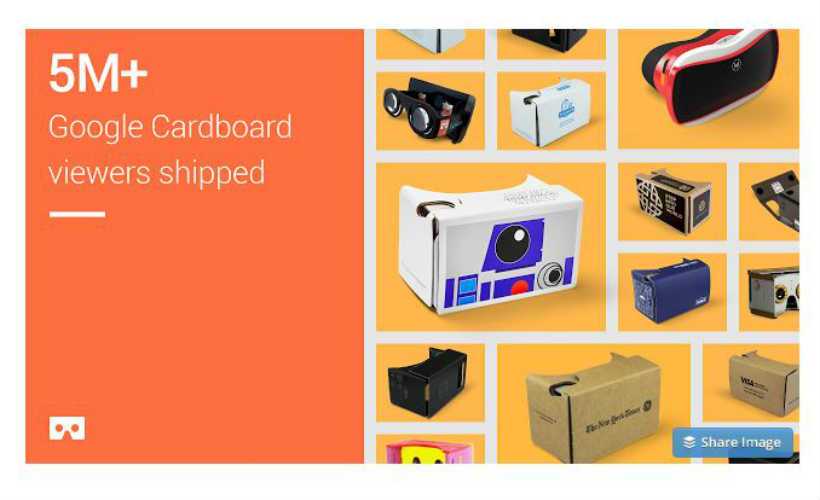 Debuting in I/O 2014, Google Cardboard has been an unlikely yet massively successful torchbearer for VR experiences on mobile. The unassuming assortment of cardboard and a couple of lenses with sometimes a strap to hold it in place retailed for under $20 and often was given away as part of promotional offers by various companies including Google themselves. However, with over 5 million of these Cardboard units shipped till now, Google has managed to proliferate VR into a  wide audience. The mass adoption of Cardboard has also built up an ecosystem for VR with over 25 million app installs till date and a massive 10 million between October and December 2015 which shows a surge in VR app usage as time progresses.
Cardboard though was more of a large scale experiment than an actual implementation of VR on the Android platform. While cheap enough to draw many people and thus developers into the VR bubble, Cardboard lacked in hardware capabilities which have severely hampered the experience and immersiveness on the platform till now. Clay Bavor, leader of the VR development at Google seeks to change all of that with his company's latest offering to the mobile VR space- DayDream.
"Daydream is very much our platform for virtual reality," says Bavor.
And as it is with any platform, there is a hardware as well as software aspect to it. We outline both in bullet points below
Hardware: The hardware side of DayDream consists of a VR Headset, a Remote control and an Android-powered smartphone to run it all. The caveat of being this incredibly powerful piece of technology means that DayDream is not compatible with each and every device. In fact, as early reports indicate, early iterations of the platform may be restricted to flagships only with the first Daydream certified phones launching this fall. While Google will be making their own reference design similar to the Nexus line, other manufacturers will chime in with their own take on the VR headset and controller and multiple OEMs like LG, Samsung, Xiaomi, Huawei and HTC are already on board for making Daydream ready smartphones.
Software: Much like Android Wear, while OEMs retain their ability to customize the hardware, the software side of things will remain firmly in the hands of Google, at least in the beginning. Starting from various media-centric apps like the New York Times VR app, Google has formed partnerships with IMAX, HBO, and Netflix to bring their content onto the platform. YouTube VR is, of course, present and accounted for as well. Gaming though is one of the primary attractions of VR and for that Google has baked in the Vulcan API into Android N as well as form partnerships with bigwigs of the gaming developmental community such as Ubisoft and EA
But while VR maybe the highlight of the new generation of Android, one feature is certainly not enough to sell a smartphone and certainly not a novelty one as VR. Google, however, has more tricks up their sleeve and in the segment, we will have a look at some of the newer technologies that have made their way over into the latest iteration of Android.
Productivity and Android: Merging the Mobile and Desktop OS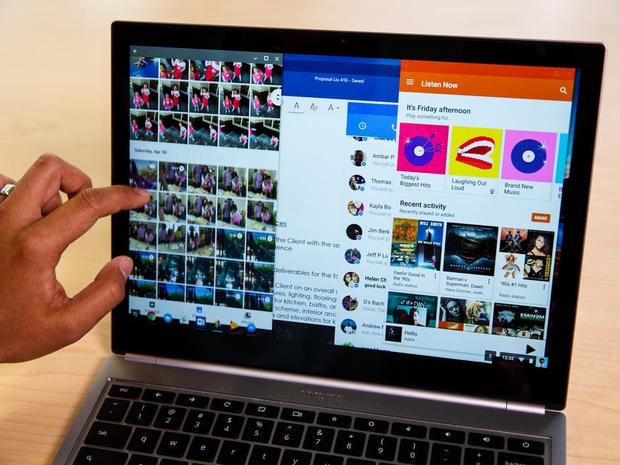 While Chromebooks have gained massive traction in the US, garnering over 2 million in sales in Q1 2016, and even outpacing the Macs in sales volumes during this time frame; the state of these affordable devices isn't that rosy outside of the States. This is probably caused due to the fact that in spite of offline apps, the usability of the Chromebook is severely hampered in places without continuous Internet connectivity.
Google, however, have come up with pretty much the perfect solution to this problem as they have ported the already gigantic library of Android apps over to Chrome OS, and now users of Google's Cloud Platform can enjoy the benefit of the already established ecosystem.
While a merger for the Android and Chrome platforms seems to be on the cards for quite some time, it seems that for now, cross functionality will be all we get. After all, with the introduction of yet two more messaging apps into the Android space, Google is clearly exhibiting no signs of consolidating their services. And while the messaging apps Allo and Duo can be criticized on many an aspect, one thing remains clear, the introduction of AI into messaging apps is going to be a major game changer for the Android system. As Google Now becomes a more integral part of the Android ecosystem, the power of AI will help Android consumers not only respond quickly but also in a way that would be in tune with each specific users.
Apart from that, Google has brought in some changes to the basic UI of Android as well, allowing people on phones and tablets to multitask easily with Multi Window and Picture in Picture mode although the later has till now been restricted only to the Android TV lineup.
Final Thoughts
Android is expanding as an ecosystem, and that involves crossing new frontiers and decoding new device boundaries. With Android TV, Google will be looking to make a splash in the TV market that has much like the market for smartphones, experiencing consumer fatigue with a YoY decrease of 4% in sales. With 15% of the 226 million TV market, 4K televisions posted a huge YoY growth of 173%, shipping 32 million units. This is good news for Google as well as Android TV, as new entrants into the Android TV Scene, Xiaomi is planning to capture the US market with their affordable 4K capable Android TV box.
Another bone of contention for Google has been the wearable space, where despite having a better product, Android Wear has suffered a heavy defeat at the hands of Apple Watch. With Android Wear 2.0, Google has looked to transcend the devices from smartphone accessories to standalone devices. However, with the dismal battery life provided by smartwatches thus far, it remains to be seen if this focus on behaving as a solo device and amped up fitness capabilities do end up boosting sales for the AW devices in the long run.
As for now, Android's grasp on the smartphone throne seems pretty well set and with Apple faltering on all fronts, it is reasonable to expect that Google will make some headway into the Mac as well as Apple TV markets. However, the Cupertino giant looks ready to strike back with their own concoction of VR at WWDC. Would it be enough to save Apple from a woeful year ahead? Or does this mark the ascendancy of Google as the platform for all our computing needs? That is something only the coming months will reveal.